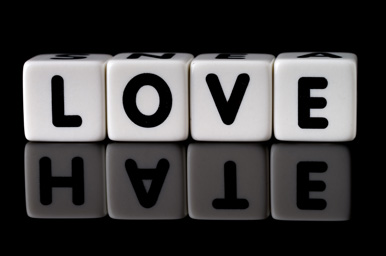 Racism is learned. But for Derek Black, it was also inherited. 
The only son of Don Black—a former Ku Klux Klan grand wizard and prominent white supremacist who founded Stormfront, the first major hate site on the internet—Derek was born prejudiced to his father's hate-fueled ideology. As a 10-year-old, Derek taught himself to code and launched a Stormfront site for kids, where he mused that he was "learning pride in myself, my family, and my people." By the time the child prodigy became a man, he was hosting a daily radio show with Don and was poised to bring white nationalism into the political mainstream. 
Intellectual and articulate, Derek never used racial slurs or advocated violence, which made his message—that a "white genocide," resulting from immigration, affirmative action, political correctness, and multiculturalism, was just over the horizon—more palpable to those on the far right. It's cherry-flavored cough syrup: racism that goes down easy.
The godson of David Duke—the former Louisiana legislator and neo-Nazi dubbed "America's most well-known racist" by the Anti-Defamation League—Derek was the anointed one, the heir to a movement now 155 hate groups strong.
And then, inexplicably, he walked away.
In his book Rising Out of Hatred, Pulitzer Prize-winning journalist Eli Saslow chronicles Derek's evolution from soft-spoken leader of the white nationalist movement to one of its most outspoken critics. It's a painful process that has required shedding both his beliefs and the family that shaped them, and wrestling with overwhelming guilt for his harmful and hateful actions, for which Black has said it will take a lifetime to atone. 
It's a journey that began at liberal New College of Florida. 
Derek was known on the Sarasota campus for his studiousness and the black cowboy hat that sat atop his flaming red hair. Astonishingly, he was dating a Jewish woman when his true identity was revealed on a message board in 2011: "Derek Black. White supremacist, radio host . . . New College student???"
"When I showed up [to college], I was not looking to have my mind changed. I really thought white nationalism was true and that we were the real heroes," Derek said during the July 28 episode of Cape Up, the podcast hosted by Washington Post opinion writer Jonathan Capehart. "But when the campus turned against me, once they realized what I was advocating, I couldn't just say, 'Oh, you don't matter.' They were real people who I couldn't dismiss. They weren't anonymous people on the internet. I knew how smart they were. I took classes with them. I knew them as full human beings." 
That the seed of such a powerful transformation was planted at a university is one reason why professors in AU's Writing Studies Program named Saslow's book their 2020 Writer as Witness selection. 
Now in its 23rd year, the program convenes all incoming students around a "community text," which they read over the summer, before meeting with the author at the start of the semester for a Q&A session. The book—always a work of nonfiction, selected within five years of publication—explores challenging and often controversial issues, from corrections and climate change to gentrification and genocide. Professor Maya Brown, chair of the Writer as Witness selection committee, said the program is an entrée to the intellectual and emotional rigors of college: students learn how to craft a researched argument, pose tough questions, listen respectfully, and engage civilly—even when the answers are uncomfortable. 
"College can be a scary time, a vulnerable time, a time when you're asked to think differently and challenge what you always believed," Brown said. "Derek's story is an extreme version of this, but it's a common experience. I still remember the rug being pulled out from under me in a number of wonderful ways in college. It changed the way I think." 
Saslow, who met virtually with students on September 2 from his home in Portland, Oregon, described how his own beliefs were challenged as his reporting took him deeper into the bowels of white nationalism. 
"I have a lot of practice in my work spending massive amounts of time with all kinds of people. But sometimes I'd leave my conversations with white supremacists and just want to go back to my hotel and stand in the shower," said the Washington Post writer. "Hearing somebody sit there and espouse racism and anti-Semitism . . . my job in those conversations was not—unless it was useful to the reporting—to challenge them and have ideological fights. My job was to get as much information as I could so I could hold it to account in the text, which is a much more powerful place to do it." 
"No one wants to spend 100 pages in the horrific cocoon of white nationalists," Saslow said. So the bulk of the book focuses on Derek's transformation and those classmates who forced him to reconcile the ugliness of his ideology: Matthew Stevenson, an Orthodox Jew who hosted him for Shabbat dinner every Friday, and Allison Gornick, a cautious but curious woman who sought to understand Derek's beliefs so she could effectively dismantle them. 
"When Derek was outed on campus, every student, almost to a person, made the choice to do something," Saslow said. "They had radically different ideas, but they all decided to engage. I have taken that as a lesson for myself, that apathy is the worst choice, and defeatism is the worst choice. There are a lot of good conversations about what to do when confronted with awful, hateful ideas. But the first choice that we all need to make is to do something and to invest some of our energy in fighting back."
On September 17, FBI director Christopher Wray warned that white supremacist and anti-government groups pose the most pressing threat to domestic security. Less than two weeks later, during the debate with former vice president Joe Biden, President Trump told the Proud Boys—a group known for their anti-Muslim and misogynistic rhetoric, according to the Southern Poverty Law Center—to "stand back and stand by."
Derek Black may have turned his back on white supremacy, but the movement hasn't abandoned its racist and divisive objectives.
"The fact that white nationalism has been, if not tacitly endorsed, at least dog-whistled to from some of the highest places in our country, has emboldened and empowered these ideas," Saslow said. "White nationalism is not an outside agitator. What makes it so dangerous is that it's inherently part of what America has been, and dismantling it means reexamining and confronting many of the things that this country has stood for.
"This is the fight that's in front of us."
Excerpt from Rising Out of Hatred: The Awakening of a Former White Nationalist by Eli Saslow
During the next month, Derek began to feel as if he were occupying two lives: breakfast at New College with Rose and one of her transgender friends and then Thanksgiving dinner with Don, Chloe, and a few former skinheads in West Palm Beach; overnight talks edging toward dawn with his Jewish girlfriend and then early mornings spent by himself in the courtyard outside, calling in to his white nationalist radio show as Rose continued to sleep, laughing along as his co-host mimicked a Jew by whining about Israel in a nasal, high-pitched voice. Once, Rose asked him for a ride to her early morning doctor's visit, and the appointment ran long. They were just beginning to drive back to New College at 9:00 a.m., when the cue-in music from "I'm a White Boy" began playing on the radio in West Palm Beach. Derek's co-hosts and his audience were depending on him. He couldn't miss the show. He lied to Rose and told her that he needed to make a phone call home, but instead he dialed into his radio show. He spent the next ten minutes broadcasting live on the air, making innocuous small talk to his white nationalist audience about the Florida weather while Rose sat oblivious in the passenger seat. She could only hear his side of the conversation, and she believed he was on a routine call with his parents. 
Derek had been cultivating separate identities ever since he was about ten, when he built two websites in the same week. On one, DerekBlack.com, he shared photos of Spider-Man, Alan Jackson, and his baby niece, "A.K.A. The Cutest Baby in the World!!!" The other, kids.stormfront.org, was aimed at "white people across the globe," and it had links to racist songs and Duke's website. Children could play a white pride version of the video game Doom, shooting watermelons at villains who had black faces, talked in gangster slang, and wore big golden chains. Or visitors could cast a ballot in the fake presidential campaign Derek created, listing Don Black and Robert E. Lee as candidates for president and Adolf Hitler as a possible running mate. "Now is the time for white people to take back our freedom and win so all can see our heritage in its greatest glory," he had written.
Derek's personal web page created a few thousand hits; his Stormfront page surpassed 400,000 visits within a few years. For almost a decade, Derek updated both pages, maintaining both a public and a private life, and there was always room for both. But now at New College it felt to him as if both identities were eating up ever more space—his fame expanding within the movement, his private relationships deepening—and a conflict between them seemed inevitable. Every day he waited to be unmasked, the tension exploding within him in waves of anxiety and guilt. Either his New College friends would learn about his political activism and shun him, or, much worse, white nationalists would discover that he had befriended a Peruvian immigrant and begun dating a Jewish woman, and he would become an embarrassment to his family and a discredit to the cause. 
Copyright © 2018 by Eli Saslow, published by Anchor Books, an imprint of the Knopf Doubleday Publishing Group, a division of Penguin Random House LLC. 
FURTHER READING
The Writer as Witness selection process begins with a crowdsourced spreadsheet of titles, which is whittled down to 10 texts that every committee member reads. While Brown and her colleagues wade through the contenders for 2021, here are the previous years' selections:
2020 
Rising Out of Hatred, Eli Saslow
2019
The Sixth Extinction, Elizabeth Kolbert
2018
Strangers in Their Own Land, Arlie Hochschild
2017
We Gon' Be Alright: Notes on Resegregation, Jeff Chang
2016
S Street Rising, Ruben Castenada
2015
Chasing Chaos, Jessica Alexander
2014
The Influencing Machine, Brooke Gladstone
2013
Notes from No Man's Land, Eula Biss
2012
The End of Country, Seamus McGraw
2011
The Good Soldiers, David Finkel
2010
The Moral Underground, Lisa Dodson
2009
True Enough, Farhad Manjoo
2008
The Devil's Highway, Luis Alberto Urrea
2007
The Ponds of Kalambayi, Mike Tidwell
2006
Love in the Driest Season, Neely Tucker
2005
Fragments of Grace, Pamela Constable
2004
Newjack: Guarding Sing Sing, Ted Conover
2003
First They Killed My Father, Loung Ung
2002
Savage Inequalities, Jonathan Kozol
2001
Bad Land, Jonathan Raban
2000
Almost a Woman, Esmeralda Santiago
1999
My Own Country, Abraham Verghese
1998
There Are No Children Here, Alex Kotlowitz