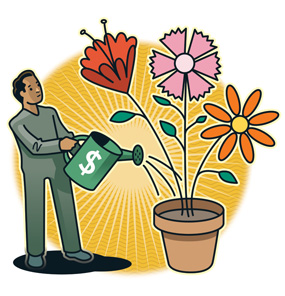 Two central components define an American University education: academics and beyond-the-classroom experiences. Scholarships, internships and leadership development, research alongside faculty, alumni mentors, living-learning communities, and more help students achieve their full potential. Anchored by a commitment to inclusive excellence, AU seeks to remove barriers that prevent some students from embracing aspects of the AU experience. Right now, we are working to address these disparities and provide equitable access for all Eagles. Powered by philanthropy, AU is committed to providing opportunities free from economic hurdles and championing a more inclusive world. 
Creating a diverse, enriching environment
Diversity, equity, and inclusion are part of AU's guiding values. Over the last year, the urgency to live up to those values has only intensified. In a rapidly changing world, students and their families need support from the university—and our global community—in new ways.  
AU is committed to ensuring that all students can thrive—intellectually, socially, and emotionally—and we believe this is intrinsically linked to inclusive excellence (IE). Guided by our 2018 Plan for Inclusive Excellence, we aspire for every student to access the entirety of the AU experience. But our data shows that participating in experiential learning, finding networks, and securing financial flexibility is difficult for many, particularly low-income students and students of color.
"There are often invisible gaps that students must navigate to thrive, even if they have fully-funded tuition," says Amanda Taylor, vice president of diversity, equity, and inclusion. "As a result, there are many small but impactful ways for inequity to surface."
Our five-year IE plan addresses the finances, resources, and time students need to overcome such gaps and help create a diverse, enriching environment. Since the plan was introduced, philanthropy has helped pave the way for greater access and opportunity at AU. 
In 2019, Derek Jones, CAS/BA '79, and his wife, Cheryl, established scholarship and experiential learning funds to support Kogod School of Business students from historically underrepresented backgrounds. University trustee Mehdi Heravi, SIS/PhD '67, also established a scholarship that supports similar undergraduate students in the School of International Service. 
For some students, experiential learning is a luxury rather than a rite of passage. The Career Center's Eagle Internship Fund opens the door for low-income students who want to pursue unpaid internships. Twenty to 30 percent of fund recipients are first-generation college students, and 50 to 60 percent identify as being from multicultural backgrounds. Many of these students could not otherwise accept an unpaid internship; finances are the make-or-break factor.
"Part of inclusive excellence is creating a pipeline for those who encounter systemic marginalization in numerous areas of their lives," Taylor says. "In addition to scholarships and experiential learning, it is equally important that students from underrepresented backgrounds see themselves in others across AU, whether student groups, faculty, staff, leadership, or alumni."
More than 10 percent of our student body identify as first-generation, but many assume they are alone. In 2019, the Center for Diversity and Inclusion (CDI) published the inaugural First-Gen Yearbook, featuring advice from nearly 50 first-generation AU faculty and staff. Last year, CDI also launched an annual Black Women's Retreat for students, faculty, and staff.
A range of AU alumni affinity networks also celebrate identity, industry, interests, and student experiences. From orientation through commencement, many networks engage in student life through mentoring, events, and career planning. "These groups bring community-building to both alumni and students," says Asantewa Boakyewa, director of alumni multicultural and affinity engagement. "We see a real sense of fellowship and belonging in affinity-based connections." 
Every day, AU works towards new programs, policies, and practices that advance access, equity, and inclusion to help all students thrive. With additional philanthropic support, we can shape a new era of inclusive excellence at American University and build diverse leaders who will serve as the next generation of changemakers. 
For information on how philanthropy can support AU's inclusive excellence initiatives, contact Courtney Surls, vice president of development and alumni relations, at 202-885-5900 or vpdar@american.edu. 
Critical Conversations
Motivated by the nationwide racial justice movement in summer 2020, Cynthia Warshaw, SIS/BA '93, CAS/MFA '20, and Matthew Warshaw, SIS/BA '94, wanted to support the university's commitment to an academic environment that reflects the fight against systemic racism and encourages critical inquiry. 
They helped establish the School of International Service Antiracism Lecture Series, which offers four conversation-style webinars with leading antiracism scholars throughout the 2020–21 academic year. The series is illustrative of student opportunities that align with university-wide inclusive excellence goals, complement the academic experience, and promote student thriving.  
A collaboration between SIS, the Office of Campus Life, and AU's Antiracist Research and Policy Center, the series addresses critical and timely questions around manifest and structural racism and antiracist principles and practices. Through topics like mass incarceration, voter suppression, and health care, the series helps students understand the history of race in America, challenge their personal biases, and recognize how oppressive systems function across society. 
"We are deeply committed to civil discourse about antiracism and creating dedicated space for AU students to learn, share experiences, and act," say the Warshaws. "We need more thoughtful, even uncomfortable, conversations that lead to meaningful, but peaceful, actions."
Events kicked off in September 2020 with "Global Abolition and Its Implications on the United States," a conversation with professor, activist, and author Bettina Love. Her discussion about modern abolitionism in education drew more than 700 virtual attendees from eight countries. 
The series has created ripple-effect conversations across AU, bringing together student panels and staff and faculty collaborators. The second event with Ijeoma Oluo, author of So You Want to Talk About Race, inspired a full day of events within other AU schools and units. SIS is currently planning the final two events of the series.
"As members of a higher education institution, it is our responsibility to do the personal and collective work of understanding and confronting the urgent need to dismantle racism," says SIS dean Christine BN Chin. "This series is instrumental in allowing us, as educators and scholars, to continue to ask difficult questions of ourselves, our students, and our work."