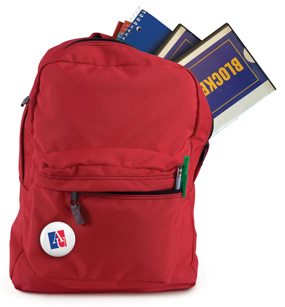 The last decade of the twentieth century has been called a holiday from history—a time of relative peace and rising prosperity. But SOC professor W. Joseph Campbell says the '90s—which saw the acquittal of O.J. Simpson, the impeachment of President Bill Clinton, the deadliest act of domestic terrorism on American soil, and the rise of the internet—are ripe for critical examination. Students agree. The course, which Campbell created in 2014 and is teaching for the sixth time this semester, always boasts a waitlist as long as the line at Sam Goody for a Nirvana release. 
From the Unabomber to Y2K mania, Campbell's syllabus dials up the decade that brought us fanny packs and Tonya Harding: 
A show about nothing or one of the most influential sitcoms in TV history? Students screen a trio of Seinfeld episodes—"The Little Kicks" (in which George likens a dancing Elaine to a "full body dry heave set to music"), "The Mom and Pop Store," and "The Pie"—and write a 3–4 page paper arguing whether or not the eponymous sitcom would have a place in prime time in 2022.
Turning their attention from Jerry to Richard Jewell, the security guard accused of the 1996 bombing in Atlanta's Olympic Park, students read The Suspect by Kent Alexander and Kevin Sawlen. "I haven't gone into much detail about this case in previous versions of the class, but it's fascinating, especially given the media frenzy surrounding it—and after all, this is a communications class."
The syllabus also includes one of Campbell's seven books, 1995: The Year the Future Began, which explores the exceptional year that saw the "Trial of the Century," US-brokered negations that ended the Bosnian War, and the beginning of Clinton's affair with then 24-year-old intern Monica Lewinsky.