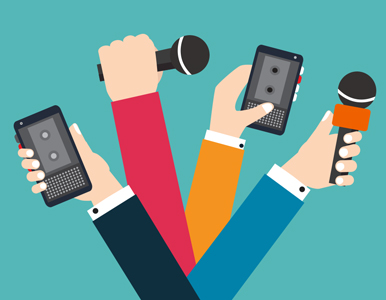 When Charles Lewis founded the Center for Public Integrity in 1989, it was only the second journalism nonprofit in the United States. Today, there are 120 of them, including AU's Investigative Reporting Workshop (IRW), which Lewis also started.
Now in its eighth year, the institute, housed in the School of Communication, landed an unprecedented $2.44 million in grants in December, solidifying its status as the largest university-based reporting center in the country and the only one in the Washington area.
"It's an incredible affirming moment about what the workshop represents—a melding and a mentoring of the next generation of journalists with premium, high-quality content that is of great interest to the commercial media, from the New York Times to the Washington Post to the New Yorker to Frontline," says Lewis, who serves as IRW's executive editor. "To me, a crusty veteran, this is startling and wonderful."
The money comes in the form of a five-year, $1.5 million general support grant from the MacArthur Foundation, $40,000 from the Rockefeller Brothers Fund, and $900,000 for a three-year project grant from the Logan Foundation. Those funds will be earmarked for a massive data organization project Lewis says will create a user-friendly database of millions of government data for the first time, "in a way that makes it accessible to the public and journalists."
IRW publishes in-depth stories at investigativereportingworkshop.org about government and corporate accountability, ranging widely from the environment and health to national security and the economy. It pairs experienced, professional reporters and editors with graduate students and copublishes with mainstream media partners and nonprofit newsrooms. Four other SOC faculty members are vitally involved in the workshop's projects: Managing Editor Lynne Perri, Data Editor David Donald, Senior Editor John Sullivan, and Executive Producer Larry Kirkman. 
Since its inception, more than 100 students have worked on more than 70 investigative journalism projects. Among this year's highlights: a report that found about 90 percent of those charged with assaulting a police officer in Washington were black, and nearly two-thirds of people arrested for assaulting an officer weren't charged with any other crimes.
"Half the commercial journalists have lost their jobs in the United States," Lewis says. "As the watchful eyes of journalists looking at power and government and companies has diminished, what has also been substantially hurt is the most expensive, time-consuming type of journalism: investigative reporting. And so foundations realize that if you don't have information, including sometimes critical analysis about society, it hurts communities. It's crucial to have enterprise investigative reporting."