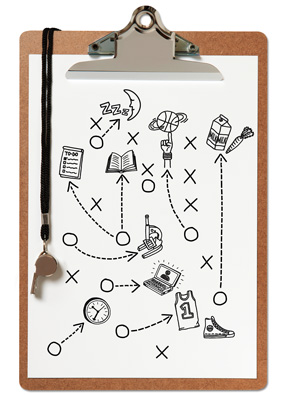 Vinny Barone at 18 sure could have used somebody to lean on. Someone like 22-year-old Vinny Barone. 
"My high school didn't really prepare me for college," the senior soccer player says. "My first week of school I was gone for five days at a tournament in New Mexico. We were traveling, so I thought we didn't have to do any schoolwork. I came back and was crushed with homework. Time management was always a problem for me. I always had questions, but I didn't know how to ask my teammates."
Barone, CAS/BA '18, would frequently knock on the office door of Ashley Rozendaal, director of the student-athlete support program, but he yearned for an older peer with whom he could converse. Now, thanks in part to him, young student-athletes can have such a relationship. 
The AU Athlete Mentor Program (AMP) pairs four first-year student-athletes with one junior or senior. There are currently 20 mentors and 80 mentees.
"It's like a buddy system," Barone says. "They can come to us with any type of question or concern: sports, time management, academic issues. It takes some of the pressure off."
AU AMP was conceived of by Barone; field hockey player Maura Jacobs, SOC/BA '19; runner Corina Velazco, CAS/BS '17; and academic and life skills counselor Spencer Bonahoom during a conference for student-athletes and administrators in 2016. 
"There's a need to give these freshmen someone they can relate to who's outside of their regular circle of teammates, coaches, or the rest of our student-athlete support staff," Bonahoom says. 
Still in its pilot year, AU AMP already is making an impact. Peyton Smith is a first-year player on the women's lacrosse team. Like many new student-athletes, she's struggled to manage her time. Most spend close to 20 hours per week—the NCAA limit—training for and practicing their sport, plus they must adjust to the new rigors of collegiate classes. She's paired with Shannon Exley, a senior swimmer. 
"Shannon has been great to me not just as a mentor, but as a friend," Smith says. "She would check up on me to make sure I was doing well every week, and has been very supportive. She helped me organize my schedule. College is a big transition, so it helps to have another, more experienced, student-athlete to guide you and inspire you."
Each mentor is assigned student-athletes from different sports. The idea is to encourage cross-sport relationships, and to ensure mentors can give mentees unfettered advice. 
"You might feel like it's [easier] to talk to someone on the track team if you're on the swim team," Jacobs says. "You don't want to say 'I'm really having problems with Coach' to your teammates. This way, it's a safe, neutral environment, but with someone who still gets it."
So what advice would Barone offer his younger, less experienced self?
"It's very tough, but you have to put your social life aside if you want to get good grades," says Barone, whose first-year GPA was 2.6. The past two semesters it's jumped to around 3.5. 
"This is such a difficult school, and you have to put in the time to get results," he says. "I learned that the hard way."
Thanks to AU AMP, other student-athletes won't have to.