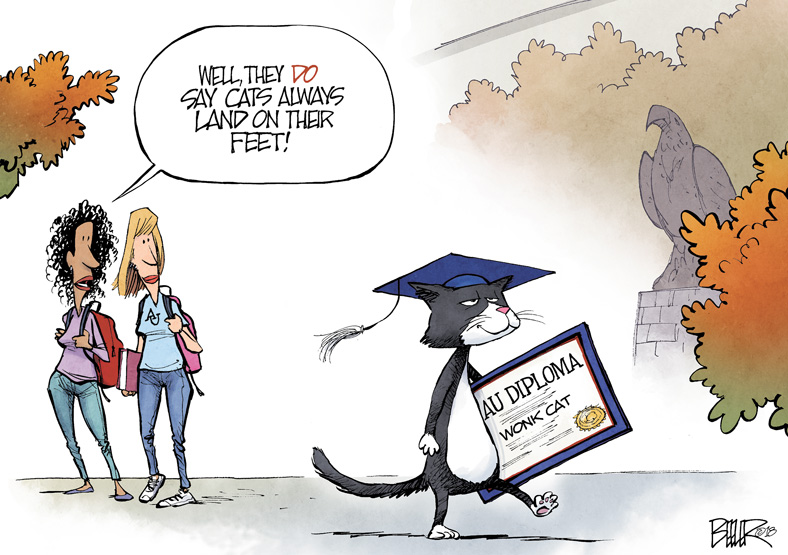 No one's quite sure when or how Wonk Cat appeared on campus. And to be purr-fectly honest, no one's even certain whether it's a "he" or a "she." (As one student quipped: "Wonk Cat exists outside the gender binary.")
But we do know this: The lil' fur ball is the cat's pajamas.
"This cat gets more attention than many cats that live at home," says Grounds Operations Manager Stephanie DeStefano, who knew something was (tuna) fishy last fall when she started finding Meow Mix in the flower beds around the McKinley Building.
By the time the cat was out of the bag with the administration, students had already adopted—and named—Wonk Cat.
The tuxedo kitty has bright, green eyes, and is vaccinated, sterilized, and doted on more than any self-respecting feline would prefer. "She definitely accepts lots of pets from lots of different people. She does not have any interest in being picked up or anything," Alice Bershtein, SOC/BA '20, told the Washington Post in June.
That's right, AU's glamour puss is something of a media darling. In addition to the press coverage—Post writer Sarah Larimer suggested that the cat might've been "kicking around the idea of a political science major"—it also stars in a "wonkumentary" directed by Bershtein, a film and musical theatre major. The eight-minute movie is available on YouTube and has received two paws up from 
all 1,451 viewers.
Wonk Cat also has Twitter (@WonkCat) and Instagram (@WonkCat.AU) accounts, maintained by several two-legged friends, for whom puns are like catnip. 

"Come pet me today!!" reads an October 9 Instagram post. "I'm not KITTEN around."
After the Post story ran, another collegiate kitty—Hofstra University's Hof Cat—gave AU's favorite wonk a shout-out on social media. "Nice to meet you Wonk Cat!" said the tweet, which was signed with—you guessed it—a cat emoji.
Even those who prefer Fido to Fluffy can't help but share Hof Cat's enthusiasm for AU's new mascat. "Wonk Cat found us," DeStefano says.