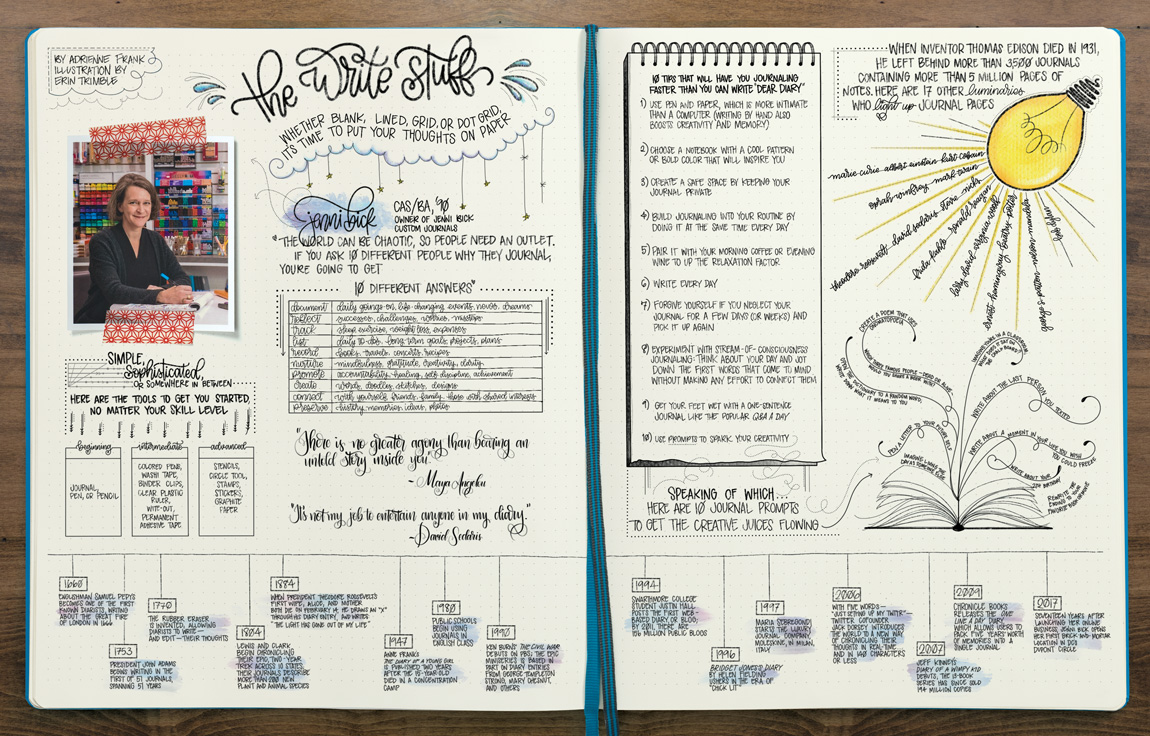 Every morning, Jenni Bick jots down five things she wants to accomplish.
"My list always gets longer as the day goes on, but if I get those five things done, I'm good. If I get more done, it's a bonus," says Bick, CAS/BA '90. 
She's applied the same practical philosophy to building her business, Jenni Bick Custom Journals. The company was born in 1990 at her kitchen table in Annandale, Virginia, where she meticulously crafted photo albums and journals by hand. After years of working the craft fair circuit up and down the East Coast with three toddlers in tow, Bick and her husband, Robby, launched their online store in 2000. 
As the Internet grew, so too did their business. "Our teensy sliver of the pie has gotten a little bigger every year," Bick says. 
But the couple, who've been married for 31 years and have never not worked together, were hankering for a new challenge. "We hit a ceiling online. We're never going to be Amazon, nor do we want to be. But in order to expand our business we had to try something radically different: a brick-and-mortar location," says Bick, who moved back to Washington from Martha's Vineyard in 2017.
Tucked off Connecticut Avenue in bustling Dupont Circle, the store—which opened in May 2017—has been an education of sorts for Bick. "It's an entirely new business to me, even though I've been 'in the business,' with the same name and selling the same product for 25 years," she says. "It's cool to see our digital brand manifested in a physical way. It's really energized me."
The airy, 2,000-square-foot retail space is a paper lover's paradise, offering the largest selection of journals in the capital city. The store is bursting with notebooks, notepads, and notecards; calendars and planners; gift wrap and greeting cards—many from DC brands like Cherry Blossom Creative and The Card Bureau that Bick discovers on Instagram or Pinterest. "I love seeking out little startups that are where we were 25 years ago," she says.
An entire wall is devoted to colorful pens and the occasional foil-stamped pencil ("Stationery with an e," reads one). Customers are encouraged to test different tips and hues on a display featuring several dozen open journals, framed by paper flowers and a sign that reads "the write place."
The shop has an aspirational feel to it. From the display of bullet journals (the hottest thing since scrapbooking, Bick says) to the inspirational quotes on the walls ("Let me live, love, and say it well in good sentences," reads one by poet Sylvia Plath), the store makes customers not only feel like they can tame chaos in their lives—but that they can do so in style.
"Crossing something off our to-do list is deeply satisfying," Bick says. "It scratches an itch for all of us."
While the shop carries popular brands like Moleskine, Leuchtturm1917, and Rhodia, it's truly a showroom for the line that bears Bick's name. 
Her one-of-a-kind journals feature a curated selection of paper—from slips of lokta made from daphne plants in the Himalayas to Japanese rice paper—enveloped by a single piece of supple calfskin, hand-dyed at a tannery in Lynchburg, Virginia. The journals start at $100 and are hand-stitched and tied with ribbon. Like virtually everything else in the store, they can be personalized on-site with the hot stamp embossing machine, set to exactly 245 degrees. 
"We do it all—initials, poetry verses, swear words," laughs Bick. "You never know what's going to inspire people."
Her collection also includes the bestselling Harborview journal; its simplicity stands in stark contrast to her early designs, which were adorned with bookmarks, charms, and embroidery. "My taste, and that of my customers, has grown more sophisticated 
over the years," she says.
The notebook starts at $32 and comes in 14 colors. Mocha is a perennial favorite; jewel tones like emerald and violet do well in fall, while lighter hues like sage and sky blue are hottest in summer.
Choosing a color is the easy part. Filling those empty pages—with memories, sketches, simple to-do's, or deep, dark secrets—is an exercise in creativity and self-reflection that takes time, care, and commitment. 
"I've always loved being surrounded by books," Bick says. "These are different kinds of books because there are no words in them yet—so the possibilities are limitless."