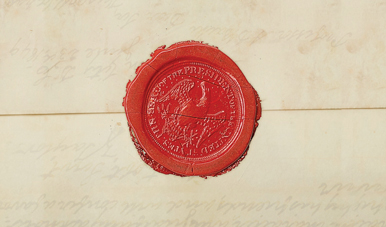 Sometime between 2035 and 2040, Michael Cohen will type the final words of The Correspondence of Zachary Taylor and Millard Fillmore, wrapping up a decades-long project that produced a treasure trove of historical documents: 14,000 transcribed letters dated 1844 to 1853, more than 1,100 of them annotated. 
Scholars like Cohen—a research professor in the Department of Government and a faculty fellow at the Center for Congressional and Presidential Studies (CCPS)—don't have short-term deadlines, but they do have perspective. Cohen came to AU in 2020 after a 10-year stint at the James K. Polk Project at the University of Tennessee, where he served as the final editor of a 14-volume collection of the 11th president's letters—an initiative that spanned 61 years.
Unlike the Polk project, the Taylor-Fillmore undertaking, launched by CCPS this year, is one "that I can actually live to see done in its entirety," says Cohen, the project editor. "Just focusing on 10 years of these men's lives, it's much more manageable."
Funded by the National Archives and other organizations, the Taylor-Fillmore project will publish three volumes of selected letters and a complete collection online. The correspondence examines a pre-Civil War America defined by a contentious slavery debate, national expansion, and the removal of Native Americans from ancestral lands. Cohen also expects many letters to focus on another global pandemic—cholera—which began spreading across the US in the late 1840s.
Cohen will transcribe thousands of words penned by the 12th and 13th presidents and far more from the Americans who wrote the two leaders, as postage in those days was typically paid by recipients. As he examines original letters along with copies of thousands more from libraries, archives, and private collections, Cohen will keep a ruler nearby to decipher style quirks that can alter the meaning of the text. Does that tittle denote an "i," "j," or "g?" Is that a space between words or a compound word? And, what Cohen calls the guiding question of his field: Is that a comma or a period?
In transcribing the words of mid-nineteenth century writers, Cohen also must weigh whether to skip or repeat words or ignore capitalization and punctuation rules as many of them did.
"On one hand, we want to be faithful to the original," he says. "On the other hand, it's being kind to our readers so that they can actually understand these without taking too much time."
Out of respect for others' time, Cohen will take many years of his own.