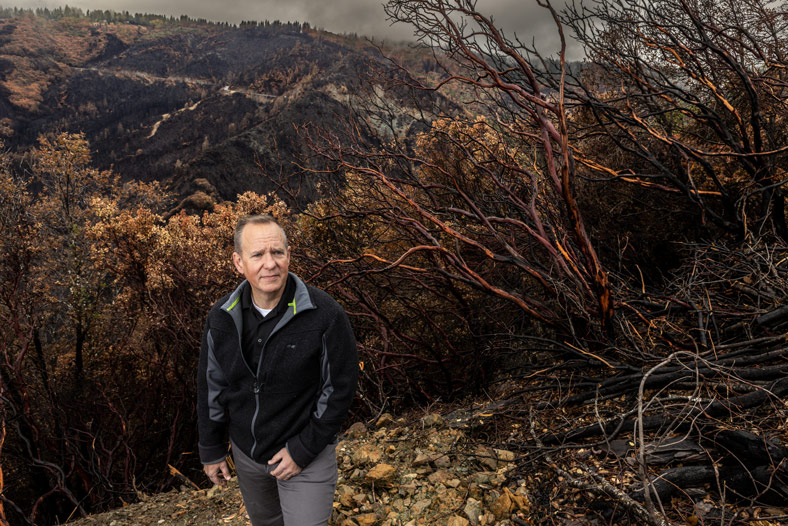 It's a sticky substance meant for sticky situations.
Dense red clouds of up to 10,000 gallons of long-term fire retardant are released from the rumbling bellies of low-flying aircraft, coating the dull landscape below and adhering to brush, leaves, shrubs, and anything else that might fuel a raging wildfire. When deployed correctly and not blown off course by howling winds, the fire line enhancer slows wildland blazes through a chemical reaction that robs flames of their heat, allowing firefighters to close in and extinguish them.
Good timing and well-formulated product are necessary to offset the risk and expense of deploying it. Robert Baird, Key '13, believes he can deliver both. In April, Baird—a retired United States Marine Corps (USMC) lieutenant colonel and United States Forest Service (USFS) fire and aviation management executive—made the leap from big government to lean startup, accepting a position as chief base operations officer for Fortress Fire Retardant Systems. Today, he builds staff and capacity at Fortress, which is completing field testing at an air tanker base in Ronan, Montana, while preparing proposals for the Forest Service and other state and federal agencies. The goal: competing in 2023 and 2024 for national retardant contracts long held by a single firm, St. Louis–based Perimeter Solutions.
Before the viscous liquid can be used for good, the Forest Service determines the extent to which retardant does harm: to humans, the environment, or through corrosion on the inside of firefighting aircraft. Over the last two summers, Fortress's magnesium chloride–based products have undergone a battery of agency lab and field tests, with preliminary results revealing higher efficacy and lower fish toxicity than current ammonium phosphate alternatives. Fortress is entering what Baird calls the final stages of the approval process for its aerial retardants. On the horizon, he imagines an operation akin to "a Formula 1 pit crew" reloading air tankers throughout the West.
There's green in bright red. Used in 5 percent of wildfires nationwide, USFS spent $200 million on retardant in 2020 and 2021. It deployed more than 50 million gallons on federal, state, and private land for the first time in 2017, then three more times over the next four years. But Baird is motivated by more than market share: "It's not just about making a chemical, it's making sure that you support the firefighters out there who need help trying to protect the public with the best tools possible."
Retardant is but one tool aiding in that protection, although its increased use highlights a monstrous undertaking for wildland fire professionals in a battle, inflamed by climate change, that shows no signs of slowing.
According to a February 2022 report from the United Nations Environmental Programme, the number of extreme wildfires is expected to rise 50 percent globally by 2100—a grim projection that will force firefighters and civilians alike to make more difficult decisions under increasingly stressful conditions. Baird has spent a career practicing just that.
Irregular warfare is waged not by squaring up with an enemy and fighting a battle of resources, but by moving obliquely and exploiting weaknesses.
Baird knows the concept well, having spent three years as branch head at the USMC's Center for Irregular Warfare. He sees parallels in wildland fire: crews proactively engaging and containing vulnerable fires before moving on to bigger targets, all while war-gaming internal weaknesses.
The comparison between a firefight and fighting fire bothers some. "They say, 'You're not at war with fire. You can choose whether to engage. You're not being attacked by an enemy,'" Baird says. "I would argue that very few know what it feels like to be on the defensive side of an active wildfire. Yes, it's inanimate and chemical, but it is chaotic, uncertain, and dangerous, and you put people at risk to achieve the mission." The shared stakes, strategies, and leadership responsibilities of war and fire have guided the last two decades of his career.
The South Canyon Fire, which killed 14 firefighters on Colorado's Western Slope in 1994, bears a tragic legacy—and a corrective one. In its aftermath, officials from the Forest Service, the Bureau of Land Management, and other agencies implemented more rigorous training standards, examined more critically the human element of wildland firefighting, and explored how other organizations developed leaders. That led to a partnership in the early 2000s with the Marine Corps in which fire leaders participated in officer training at Marine Corps University while MCU personnel, including Baird and his supervisor, Eric Carlson, helped organize the National Wildfire Coordinating Group's nascent staff ride program.
The staff ride is a century-old military exercise that brings leaders to the site of a past battle or fire to spark discussion about tactics, terrain, communication, and psychology. Conversations reflecting on past experiences also provide opportunities to heal. "There's a lot of pent-up anxiety and sorrow from firefighters and battles lost," says Carlson, a retired USMC lieutenant colonel. "Wildland fire, before they started the staff ride program, really didn't have a place to go to talk about that, to share those stories."
Also shared in Baird's early trips to the sites of fatal fires like Mann Gulch and battlefields like Little Bighorn was an understanding that good and bad leadership permeates war and wildfires alike. The crossovers hooked the infantry officer. In the mid aughts, an important one found him.
After a combat tour in Afghanistan and before two more in Iraq, Baird worked on a master's thesis on pyroterrorism at MCU's School of Advanced Warfighting. There, he met Tom Harbour, on a half-year detail to Quantico prior to his promotion to USFS national director of fire and aviation management. "We had tremendous conversations about strategies and building leaders and organizations," Baird says. After retiring from the Marine Corps in 2012, he helped build Harbour's, joining the Forest Service as deputy director of fire and aviation management.
"I had always been interested in that individual firefighter and what he or she can do to stay alive and [remain] effective in the face of extraordinary chaos," says Harbour. Once a $1.88-an-hour GS-2 firefighter, he knew those who followed faced a more intense beast. "New kinds of fires, new kinds of climatic conditions required new approaches."
Harbour found Baird "instrumental" in helping implement a crucial change in organizational thinking that took a page out of the Marine Corps's book: an emphasis on applying doctrinal principles—like timely decision-making and clear communication of task and purpose—to rapidly evolving fires as opposed to bogging down firefighters with a glut of rigid rules.
Across the Forest Service, Baird displayed a similar knack for leadership. At the national level, he ushered in a renaissance of fire intelligence—better and faster sensors, satellite data, and infrared imagery—and pushed the agency toward a new generation of air tankers. He yearned, however, to see how USFS worked on the ground.
After a four-month detail to Cal Fire in 2014, Baird took the reins as supervisor of Los Padres National Forest. Part of overseeing California's third largest national forest involved fire management, and there were a few monsters. In 2016, Baird was the agency administrator guiding response to the Soberanes Fire, which devolved from an illegal campfire to an 83-day, 132,000-acre, $260 million blaze—at the time the most expensive in US history. But much like his workplace, two million acres spanning Santa Barbara to Big Sur, Baird's responsibilities were vast: recreation to watershed preservation, media to tribal relations. "It felt a lot like a commander's role in warfare, where you have to cover the whole spectrum of operations and figure out where to accept that you're not going to be perfect and delegate," he says.
The lesson served him well upon his 2017 promotion to director of fire and aviation for the Pacific Southwest region, placing him in charge of all 18 of California's national forests, along with more than 100 aircraft, 274 engines, and 5,000 firefighters.
He sustained a five-year run first by trusting his operational staff. "In my opinion, the worst thing you could create is a 'Mother, may I?' mentality in your organization," Baird says. "You have to empower people and never publicly embarrass somebody for a decision that might not have been the best but was made with the best intentions."
Baird also tried to find a sweet spot in his many fire site visits: being present while "staying out of the way," watching for signs of camaraderie and challenges alike, and understanding what the USFS workforce was up against.
His tenure coincided with a brutal five years for California, in which the state saw 13 of the 20 most destructive fires in its history. They were enemies that couldn't think but nonetheless sowed chaos. "Let's face it," Baird says, "some of these were no-win situations."
September hinted at the Golden State's tomorrow. Tropical Storm Kay delivered a year's worth of rain to Southern California days after the Mosquito Fire, the state's largest of 2022, ignited near tiny Foresthill (pictured above).
"If you would have told me that we'd have a tropical storm and flooding in the middle of all the wildfires," says Baird, who also serves as commander of the California State Guard's maritime command, his voice trailing off. "I don't care what people call [climate change]. It's worse, and situations are worse"—particularly for a workforce that's stressed out and stretched thin.
During his 10 years with the Forest Service, Baird was buoyed by the agency's work to honor fallen firefighters and care for their families. He also took pride in its increased emphasis on critical incident stress management and peer counseling. But he was careful to heed the advice of a mentor: Don't wait too long to retire. When you're burned out or bitter, you're not doing anyone any good.
"The inability to control things that are out of your control can be very frustrating," he says. A chief sticking point: pay for his firefighters, which until 2021 began at $13 an hour for entry-level personnel, a sum President Biden called "ridiculously low" after meeting with emergency management officials that summer.
In June, the Los Angeles Times reported on a morale crisis among California's Forest Service firefighters—some of whom are out-earned twofold by their Cal Fire counterparts—resulting in two-fifths of positions going unfilled on the cusp of a fire season that was fortuitously milder than years past.
"The wage gap for firefighters in California is of epic proportions and flawed to the point where even the president's talking about it," Baird says. "There are federal employees who aren't making a fair wage in California, and you can't just expect people to be loyal to the detriment of their families."
Agencies like the Forest Service are doing a "banner job" of managing thousands of fire incidents each year with the resources they're provided, "but they're going to need more," he says. "It's going to take a wholesale reevaluation of how we're spending."
A hotter future demands investment in both people and preparation to remain, as Baird puts it, "left of the spark." That means spending more on training, equipment, citizen education, prescribed burning, and technology, from unmanned drones to more advanced sensors that can improve fire detection and forecasting.  
Whether we prepare for them or not, more—and more intense—wildland fires are on the way, likely soon. The same United Nations report projects a 14 percent jump in extreme wildfires worldwide by 2030. They won't just take place in the dry places that know them best—and a few recent reminders have demonstrated why the West is something of a canary in the coal mine, Baird says. The Great Smoky Mountains complex of fires near Gatlinburg, Tennessee, burned 17,900 acres and killed 14 people in 2016, making it the deadliest set of wildfires in the Eastern US in nearly 70 years. And 2022 saw a 13,000-acre fire in New Jersey's Wharton State Forest, the Garden State's largest in 15 years.
East or West, "it's coming to a forest near you . . . so we have to figure out the right balance between our needs and nature, because nature is going to win," Baird says.
Our best defenses against the bleakest of outcomes are managed forests, well-placed resources—literally, in the case of retardant—and resolute leadership in the woods and in high command. Perhaps the knowledge that the worst is yet to come can light a fire.
Embers Game
58,968 wildfires burned across 7.1 million acres in 2021.
89% of wildland fires between 2017 and 2021 were caused by humans.
6,000 structures burned during the 2021 fire season—nearly two-thirds of them in California.
$11.2 billion worth of damage resulted from Western wildfires in 2021.
Arson
Cal Fire law enforcement made 410 arson arrests between January 2020 and September 2022—nearly double the previous three-year period. Nine percent of California's wildfires in 2019 were the result of arson. Still, in the Golden State and elsewhere, the vast majority of fires are caused by human negligence, including unattended campfires and debris burning.
Risk
One in six Americans live in areas that face significant risk of wildland fire exposure.
California had the highest number of properties (2,040,600) at high to extreme risk from wildfires in 2021, while Montana had the highest percentage of at-risk properties (29 percent).
Between April 2021 and March 2022, 95 percent of wildfire-related State Farm Insurance claims came from California, Colorado, and Oregon. They averaged $224,000.
Workforce
The bipartisan infrastructure law will put $600 million toward temporary pay increases for 16,000 federal wildland firefighters.
A 2021 executive order raised the minimum wage for federal wildland firefighters to $15 from $13.
The National Interagency Fire Center was unable to fill 1,858 crew mobilization orders in 2021, partly due to staffing shortages.
About 20 percent of federal wildland firefighting positions in Oregon were vacant in June. 
High Elevation
Analyzing fires of more than 1,000 acres over a 34-year span, researchers from Boise State, McGill, and UC Merced found that the area of land burned above 8,200 feet from 2001 to 2017 was more than triple the amount from 1984 to 2000. The rate of increase was greater above 8,200 feet than at any other elevation range.
LOSS
85 people died in the 153,336-acre Camp Fire in 2018—more than any other single wildland fire in California history.
39 million gallons of retardant were dropped annually on state, federal, and private land over the last decade.
10,000 giant sequoias were burned by the 2020 Castle Fire, part of a complex of fires that scorched 174,178 acres.
$2.3 billion was spent annually on fire suppression by the US Forest Service and Department of the Interior over the last decade.