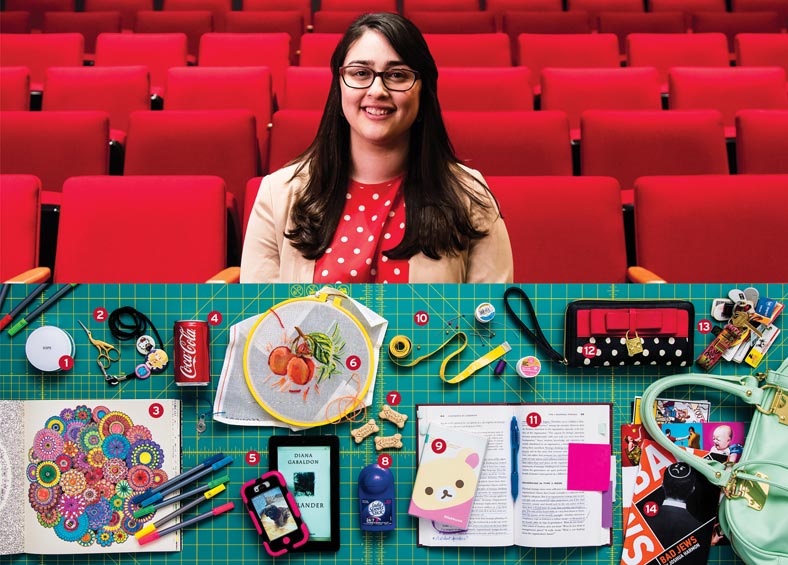 1. Air cushion compacts are new to the United States, but they've been around in Korea for five or six years. I love IOPE, a Korean brand that's a moisturizer, foundation, and sunscreen.
2. I bought these antique snips for $10 during our anniversary trip to Northern Neck, Virginia. I use them to take out seams, remove buttons, or snip threads.
3. A friend gave me the Secret Garden adult coloring book for my birthday. I'm having fun chipping away at it.
4. I start out with coffee in the morning, then at 3 p.m. I have a shot of Coke.
5. I can't read textbooks on the Metro bus; I prefer something light that I can easily put down. My latest guilty pleasure is Outlander by Diana Gabaldon.
6. I've always done knitting, crocheting, and sewing and I recently took up needlepoint. I'm a kinesthetic learner—the motion helps me focus. So, I'll work on this during meetings.
7. We rescued Ollie Bear from a shelter in North Carolina. I always have treats for him—that's why he loves me most.
8. You never know who you're going to meet!
9. I found this Rilakkuma planner in Koreatown soon after I moved to Arlington. Rilakkuma is a cute Japanese character that means "relax bear."
10. Clothing measurements aren't standard. You should know your measurements so you always buy the right size—in spite of what the tag says.
11. I'm in my second semester in the arts management program. As the next generation of nonprofit administrators, we're learning how to stay true to an organization's mission and vision while still challenging people and beliefs.
12. This Betsey Johnson wallet was a gift from my sister. It's whimsical and makes me happy. People can tell a lot about you by what choose to wear. My style's eclectic; I love color and texture.
13. One of the many fobs on my keychain gets me into my internship at Theatre Washington. My duties include cleaning up the development database and helping with the Helen Hayes Awards.
14. I go to two or three productions a month. I'm a huge fan of Woolly Mammoth Theatre in DC; they have such bold, dynamic shows.