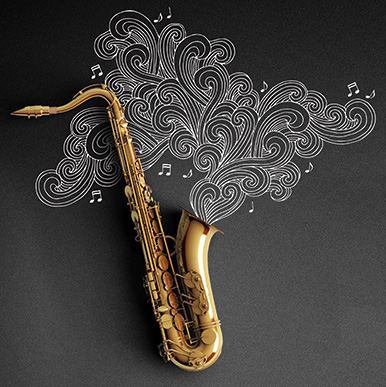 The initial notes dance subtly from the horn section. Then, maybe 30 seconds in—bam!—the sultry play gives way to an explosion of hair-raising sound from the saxophones, trumpets, trombones, and rhythm instruments. Music has a way of commandeering people's attention, and on this April night the AU Jazz Orchestra has the audience's from the first notes of the first number, "Geller's Cellar" by Ernie Wilkins.
Inside AU's Katzen Arts Center, perhaps half of the Abramson Family Recital Hall's 213 seats are occupied. Still, it's an encouraging turnout for an evening of jazz, a genre whose funeral march has been played time and time again. (It died in 1959, renowned trumpeter Nicholas Payton wrote in a notable 2011 essay entitled "On Why Jazz Isn't Cool Anymore.")
One hundred years ago, another ensemble, the Original Dixieland Jass Band (at that time the word was spelled myriad ways), recorded "Livery Stable Blues," generally regarded as the first jazz recording in history. The music, of course, existed long before then. But the question that's dogged what is perhaps America's preeminent original art form for at least the second half of its life is, how many more breaths does it have left?
"I'm not saying jazz is on its last legs, but it's a niche thing now," says Joshua Bayer, AU's jazz studies coordinator. "People that are willing to work to listen to music are in the minority now."
But they're in the majority here. As the concert progresses, the 25-piece big band tears through lineup changes and a 10-song set with focus, fervor, and skill that is palpable to the eye as well as the ear. Kara Suvada, CAS/BS '17, is the saxophone section leader.
"It can be challenging because it can be very complex," she says of her beloved genre. "It might not be as popular as it was, but I don't think it's dead either. If there's one band playing jazz, then it's not dead."
Tonight it lives.
The idea that the Original Dixieland Jass Bandfive white men who formed a group in Chicago—were in fact the originators of jazz is laughable to those who have devoted their lives to studying and performing it.
"Was [Original Dixieland] the first jazz band? Hell no," Bayer says. "Who was going to record African Americans? No one. But white guys? They'll record them no problem. So we have them to thank for stealing it, I guess, because we wouldn't have the art form, and Jelly Roll Morton and Art Tatum never would have had the door opened. Louis Armstrong never would have become a mainstream star."
The history of the genre cannot be told in a race-free context. In their 700-page book, Jazz, (the volume, much like the music, is both intimidating and rewarding to those brave enough to indulge in it), Gary Giddins and Scott DeVeaux trace jazz's predecessor, ragtime, back to the mid-1800s.
"At the time of the Civil War, 'ragged time' would have been heard chiefly on the banjo, the black instrument par excellence," they write. "But over the next half century, black performers were able to take up the piano—the very symbol of middle—class gentility, and yet sturdy enough to find a home in the lower-class saloons on the fringe of every urban community, white or black. Musicians who stumbled onto this instrument found that the same polyrhythms that enlivened banjo playing fit naturally under a pianist's fingers. . . . To 'rag' a piece meant to subject it to this process of rhythmic complication."
Rooted in the African American community, jazz as we know it is the result of a fusion of musical styles, including ragtime, work songs, blues, and Creole, all of which melded in New Orleans in the early twentieth century, says Rusty Hassan. The one-time host of a jazz program on WAMU 88.5, he taught the evolution of jazz and blues at AU from the mid-1980s to the early 2000s.
It's a story with many crests and valleys. In the 1920s and '30s, jazz was popular music. Big band leaders like Duke Ellington, Count Basie, and Benny Goodman were the rock stars of their day. But the genre shifted outside the mainstream in the 1940s, with the rise to prominence of bebop, a style characterized by complex harmonies and rhythms. Live performances moved from happening dance halls to smoky nightclubs, where the audience sat at tables.
"The culture shifted dramatically," Hassan says.
The titans of bebop are among the most respected, if not well known, names in American music: Dizzy Gillespie, Chet Baker, Milt Jackson. Saxophonist Charlie Parker, known simply as "Bird," was mentioned by nearly everyone interviewed for this story as one of jazz's most influential figures.
Antonio Parker (no relation) is an accomplished saxophone player in his own right. Speaking on a panel before the April concert, he reminisced about hearing Bird for the first time while in high school in Philadelphia.
"Nobody had to sell him to me, nobody had to explain it," he said. "When I hear Charlie Parker's sound, it's like a voice crying in the wilderness. I hear him yearning. I hear something deeper than just somebody blowing a horn."
That kind of reverence can be baffling to someone who just doesn't "get" the music. (Of course, not every genre appeals to all ears, which is part of what makes music so magical.) Whether it's the changing tempos or melodies, or unfamiliarity with some of the sounds produced by the diversity of instruments, jazz's idiosyncrasies contribute to its lack of mainstream acceptance.
"Sometimes when we try to dissect everything or conceptualize things, I think we miss the point," Antonio Parker says. "The first thing is to see how the song makes you feel. Listen to it over and over, then try to understand it. Usually, the horns will play a melody. Once the melody is played, that's when improvisation starts. Musicians are composing over the form of the song. They're creating musical ideas."
In many ways, improvisation is jazz's signature concept. When musicians launch into solos they create in the moment (they're not working from any written composition), they're painting an aural canvas that will never be replicated. With no roadmap to guide them, the resulting sound can take them and their audiences to places neither knew existed.
There's perhaps no better example of jazz's potential than Miles Davis's masterful album Kind of Blue. The trumpet player assembled an ensemble of virtuosos that included John Coltrane on tenor sax, Julian "Cannonball" Adderley on alto, Bill Evans on piano, Paul Chambers on bass, and Jimmy Cobb on drums. The opening piano and bass notes of the five-song album's first number, "So What," are among the most recognizable in jazz. By the time Davis blows his first note 90 seconds in, most listeners can't help but be mesmerized by the album's 45-minute unfolding path of power and patience, beauty and brawn.
With more than 4 million copies sold, it's the most successful jazz album of all time. Despite being released in 1959, it still sells about 5,000 copies a week—a figure many jazz aficionados point to as a problem.
"The number one Jazz record is Miles Davis' Kind Of Blue," Nicholas Payton wrote a half-century later. His commentary reads like a sort of improvised jazz haiku. "Jazz is haunted by its own hungry ghosts. Let it die. You can be martyrs for an idea that died over a half a century if y'all want. . . . Jazz is dead. Miles ahead."
Washingtonian Dave Mosick, CAS/BA '90, is even more rare than a political independent in DC: he's a working jazz musician. The Capitol Hill resident teaches and gigs at hotels, embassy parties, and the like. A guitarist who favored rock 'n' roll in high school, he was turned on to jazz for many of the same reasons people are turned off by it.
"Rhythmically jazz can be pretty adventurous," he says. "A lot of times when we hear melody, we're often hearing a few simple notes that related to some underlying harmony beneath it. You can embellish those melody notes that also sound good with the rhythm and the chords. That's part of what jazz is. If you don't have a grounding, a basic sense of harmony and rhythm, it's hard to hear a lot of that music."
Today, jazz accounts for less than 2 percent of music sales. But that figure distorts the picture, says John Edward Hasse, curator of American music for the Smithsonian Institution.
"What counts is how many young people are playing it, listening to it, studying it, etcetera," he says.
With roughly 60 students, AU's jazz program is relatively robust.
"I'm very impressed by the level of the students coming in," says AU jazz piano professor Joe Ozment. In a career that's spanned decades, he's played with heavyweights like Bobby Hutcherson, Al Jarreau, and Maceo Parker. "There are a lot of great young players coming in bringing a lot of originality to the music."
Back when Mosick was in school, AU's program—like those at many other universities—was not nearly as vibrant. He believes the current jazz education renaissance, no matter how modest its scope and size, is producing better musicians.
"There are more and more students coming out of college as fully informed, competent young musicians," he says. "Not only can they play, but they're versed in the history of the music. Now the question is, will there be jobs for those people?"
While Kara Suvada won't be taking one (she's eyeing a career in public health), she's proof that jazz is in good hands. She plans to keep playing her saxophone, and if she does it with the chops she showed during the spring concert, whatever band lands her will be the better for it.
"As long as that centrality of improvisation is upheld, jazz will continue," Ozment says, "and I'm confident that the music and the musicians will find a way to keep it going into the future."
On this April night AU's jazz orchestra is doing its part. After the last notes of the final number, Paul Baker's "Arnge Drank," emerge blissfully from the stage, the sound of the crowd's enthusiastic approval fills every inch of the auditorium.
You would have thought it was a full house.
Listen Up

We asked everyone interviewed for this story to recommend a few jazz albums they couldn't live without. Several, in fact, played during the writing of this piece. We humbly suggest that you spin one (figuratively) now that you've read it.
Kind of Blue, Miles Davis
The bestselling jazz album of all time is a must-have for lovers of all kinds of music. 
Monk's Dream, Thelonious Monk Quartet
The Village Voice called Monk "one of the hippest figures in jazz" and said this album is "an imprint of strange and beautiful blaps and boops that were being electrified in his mind."
The Swingin' Miss "D", Dinah Washington 
The self-professed "queen of the blues" recorded this album in 1957. It featured the song "Makin' Whoopee," arranged by Quincy Jones. 
Somethin' Else, Cannonball Adderly
Miles Davis is featured on this 1958 release by a sax player who's often overlooked.
Ah Um, Charles Mingus
Mingus is known as the "godfather of the upright bass," and this album is considered his masterpiece.
Bird and Diz, Charlie Parker and Dizzy Gillespie
In 1950, two bebop legends collaborated at the height of their popularity.
Live at Carnegie Hall, Benny Goodman
Recorded in 1938, this double album was released in 1950 and is considered one of jazz's seminal live recordings.
Blue Train, John Coltrane
Featuring the iconic Lee Morgan on trumpet and a moving collection of numbers, it's no wonder this was Coltrane's favorite album.
Time Out, Dave Brubeck Quartet
Even non-jazz fans have probably heard the signature track, "Take Five," at the mall or in the grocery store. 
Lady Day: The Complete Billie Holiday On Columbia 1933–1944, Billie Holiday
Jazzwise magazine called it "one of the cornerstones of recorded jazz."
The Bridge, Sonny Rollins
It's named for New York's Williamsburg Bridge, where Rollins used to practice playing his saxophone.
Smokin' at the Half Note, Wes Montgomery and the Wynton Kelly Trio
Guitarist Montgomery is at his best in this live 1965 recording from New York City.