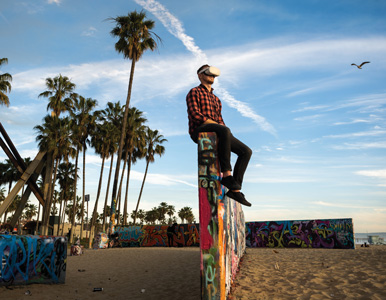 In February 2021, Matthias McCoy-Thompson took a lunchtime stroll to soak in the stunning Andean vistas around him when it struck him that, due to COVID-19 restrictions curbing tourism, he was alone atop Machu Picchu. McCoy-Thompson wasn't visiting the Incan citadel, one of the new Seven Wonders of the World, to cross an item off his bucket list—but rather to share it with the masses.
The Virtual Worlds creative director, along with a team of five photogrammetry artists and three producers, captured millions of images to digitally recreate the landscape for a virtual reality storytelling experience at the Boca Raton Museum of Art. The VR component of Macchu Picchu and the Golden Empires of Peru, which employed headsets and 360-degree Positron motion chairs to immerse museumgoers in the sights, sounds, smells, and historical nuances of the ruins, debuted in October.
"The fun of VR is that it allows people to reach places they wouldn't otherwise visit," McCoy-Thompson says. "It's highly engaging—you have a headset on your head, so you can't really turn away—and that feeling of presence helps people learn about these places because they're part of the experience."
McCoy-Thompson, who also spent three weeks of his 2021 at Abu Simbel and the Tomb of Nefertari in Egypt for an exhibit that premiered at the Houston Museum of Natural Science in November, has been fully entrenched in these experiences throughout his first year with Virtual Worlds, which specializes in building 3D replicas for virtual and augmented reality. In addition to visiting site scans, McCoy-Thompson helps compile scripts, map locations, prepare logic documents to arrange scenes, source musical compositions, and review motions and scents before handing a project over to designers and developers. He has long been in the headset mindset.
An alumnus of the AU Center for Innovation incubator, McCoy-Thompson cofounded Agora, a VR meetings and lectures startup, in 2014 and served as COO through its conclusion in 2017. "The metaverse idea definitely excites me less now than it did back in the day," he says, but he's bullish on its applications in training and education.
As a storytelling device, McCoy-Thompson says, VR offers a world of possibility.