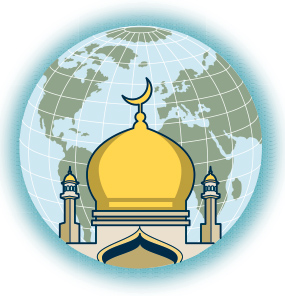 Founded amid the Cold War, AU's School of International Service (SIS) has always been committed to serving the global community and working towards world peace. Nearly 60 years later, SIS remains stalwart in its mission and a leader among schools of its kind. Recognizing that a lack of knowledge about the Muslim world is a barrier to peace, SIS is more determined than ever to incubate ideas and support scholarship that better informs policy making, sparks dialogue, and fosters greater understanding of Islam, one of the world's largest religions.
Promoting Mutual Understanding

Ever since President Dwight D. Eisenhower broke ground on AU's School of International Service in 1957, its faculty, students, and alumni have embodied his charge to "wage peace."
Today, the school is strengthening its focus on the Muslim world with this same mission in mind. The vast and expanding Muslim population combined with the complex cultural and geopolitical climate call for thoughtful policy and deep international discourse.
SIS has been cultivating powerhouse faculty, students, and alumni whose work connects the historical context with the current state of Islam. Among the school's resources devoted to the study of the Muslim world are two endowed chairs: Ambassador Akbar Ahmed holds the Ibn Khaldun Chair in Islamic Studies, a post created in 1981 amid rising concern that greater Muslim-Western understanding was needed. Ahmed is joined on the faculty by Elizabeth Thompson, SIS's newly appointed Mohamed Said Farsi Chair in Islamic Peace.
Yet even with deep global expertise and international recognition, the school is not satisfied with the status quo.
"We hope to do three things," Dean James Goldgeier says. "Add faculty conducting research on other countries and regions with large Muslim populations, such as Indonesia and Iran; produce policy-relevant academic research that informs decision makers in Washington and internationally; and expose our students to a broad historical and current understanding of Islam."
Ahmed—who, according to the BBC, is "the world's leading authority on contemporary Islam"—stresses that this is a critical time for increased study.
"So much of the debate today, internally and externally, is about Islam," he says. The fastest growing religion in the world, according to the Pew Research Center, "Islam will always be in the news. You have a billion and a half people." Ahmed has devoted his decades-long career to fostering a deeper understanding of Islam's complex historical and cultural roots among westerners—and vice versa. That understanding will become even more critical, with the world's Muslim population projected to eclipse that of Christians
by 2070.
Promoting mutual understanding, he says "is the job of the scholar."

SIS is especially well positioned to respond to the public's growing need to understand the Muslim world, an understanding that requires diverse perspectives, Goldgeier says. "SIS is a very unique school in housing such a wide variety of academic disciplines without creating separate departments."
For years, SIS faculty members have worked to foster understanding about the place of Islam in the United States and Europe through books, film, articles, and op-eds. With greater resources supporting these experts, AU's reach will be amplified, encouraging critical dialogue and informing policies that will shape the future of our world.
"At SIS we take great pride in the work our faculty members do to produce transformational research and train the next generation of leaders," Goldgeier says.
The School of International Service's mission to wage peace remains more relevant than ever. AU is committed to seeing that its scholars have the resources necessary to grow and evolve with the ever-changing climate of an increasingly global society.
For information on how you can support the study of the Muslim world, contact Kristie Cole, SIS chief development officer, at 202-885-1631 or kcole@american.edu.

SIS Welcomes World-Class Historian
Elizabeth Thompson, one of the country's preeminent historians of the modern Middle East, is the new Mohamed Said Farsi Chair of Islamic Peace in the School of International Service. Thompson will continue the mission of her predecessor, renowned professor Abdul Aziz Said—who held the post from 1996 until his retirement last year—of working to promote global peace through scholarship and policymaking.

The chair was established by AU trustee Hani M. S. Farsi, SIS/BA '92, through the London-based Mohamed S. Farsi Foundation in honor of his father, an architect and devoted civil servant. The chair, which promotes the study of Islam and peace, is the first endowed university chair of its kind in the United States.

A former journalist with degrees from Columbia and Harvard, Thompson is a scholar of political movements, democratization, and international intervention in the Middle East. "I have long sought to bring my scholarly research to bear on public discourse and policy making and I thought Washington, DC, would be the perfect place to engage in that," says Thompson, who came to AU this fall from the University of Virginia.

She's authored two books—Justice Interrupted: The Struggle for Constitutional Government in the Middle East and Colonial Citizens: Republican Rights, Paternal Privilege, and Gender in French Syria and Lebanon—and is now working on a third, tentatively titled After Lawrence: Woodrow Wilson and the Promise of Arab Democracy, about the establishment of a democratic Arab government in Damascus in 1920.

Thompson describes the book—the first English work to focus on the Syrian constitutional congress of 1920—as "the missing sequel" to the 1962 film Lawrence of Arabia. The project, which includes a movie inspired by the book, was kick-started by a grant last year from the Carnegie Corporation of New York. She is one of 32 such grant recipients who comprise the inaugural class of Andrew Carnegie Fellows.
Thompson also looks forward to engaging with young scholars in the classroom. "Students help me see things from a new perspective," she says. And vice versa.
"I've received notes from students saying how my course changed the way they view the world and inspired them to make the world a better place. That's so gratifying."