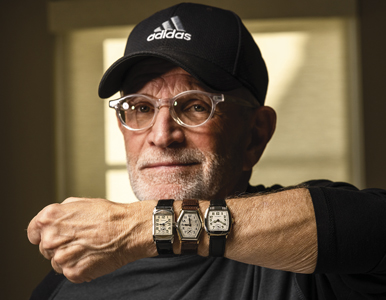 For Fred Friedberg, watches are more than just a matter of time. What started when he bought his first vintage one more than 30 years ago grew into what he now admits is a full-blown obsession.
Friedberg literally wrote the book on timepieces produced by the long defunct Illinois Watch Company. In 2018, he released The Illinois Watch and Its Hamilton Years, a definitive five-volume, 1,648-page history of the company, which made art deco wristwatches from 1928–1933.
At its peak, Friedberg's collection of Illinois watches numbered around 700. "I liked vintage watches even before they were vintage," he says. "As a kid I admired watches that my dad and uncles and grandfather wore."
In his mid-40s, Friedberg, now 77, stumbled into a vintage watch store on Wisconsin Avenue in Washington. Intrigued, he began buying watches whenever he happened upon one. "In the beginning I had no idea what I was looking for; I just wanted old watches. After doing this for several months, I realized that I had a pile of garbage, so I said I had to have a better plan."
Friedberg bought some wristwatch price guides and soon became enamored of Illinois watches. "I had a brand and I would beat the bushes to find them," he says. "I was hooked."
He became such an expert on the subject that in 2004 he released The Illinois Watch: The Life and Times of a Great Watch Company. But Friedberg was frustrated by all the material his publisher made him omit, so over the next decade, he conducted further research on the topic at the Library of Congress, the New York Public Library, and in the company's old hometown of Springfield.
The result is what actor Malcolm McDowell of Clockwork Orange fame, one of several well-known collectors who have bought the set (the Abraham Lincoln Presidential Library and Museum also ordered one), told the Los Angeles Times is the final word on the subject: "There will never need to be another book on Illinois watches. He covered it."
Friedberg never bothered to calculate the value of his collection—for him, the fun was in the collecting itself. Today, he has only about 100 watches, but the retired lawyer still wears one every day. That, he says, won't change until his heart stops ticking.