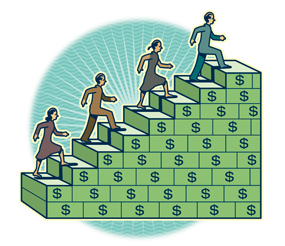 American University is making college affordability a priority. With the launch this fall of the AU Fund for Student Support, we are taking steps to address the rising cost of higher education and connect students with the resources they need to thrive. The fund harnesses the impact of collective generosity and provides donors an easy way to direct gifts of any size to support student access to the full scope of an AU education. For more information and to make a gift, visit go.american.edu/bigidea.
Focus on financial aid
With the cost of higher education rising across the country, American University is taking steps to ensure that students have access to an education that will equip them to lead lives of purpose.  
"At AU we have many students who, with the right opportunity, can transform our world. This benefits entire families and communities—we are all better for it," says Fanta Aw, vice president of Campus Life and Inclusive Excellence. "Financial aid is a gateway to opportunities. As an educational organization, we need the resources to open the doors to talent."
The university is committed to enhancing the student experience—that starts with AU's goal to meet 100 percent of a student's demonstrated need. It is also reflected in AU's commitment to improve affordability while maintaining and growing our rigorous academic programs. The total cost of attendance increased only 2.3 percent in the 2020 budget—the smallest bump in AU history. For the first time, a portion of the tuition increase was specifically dedicated 
for additional financial aid.
"AU's student population has changed significantly over the last two decades. We've increased the academic profile. We are more diverse. I am proud we have been very strategic with our financial aid resources to help make that happen," says Sharon Alston, vice provost for undergraduate enrollment. 
While augmenting financial aid is a critical part of the equation, AU President Sylvia Burwell is looking at many ways to address the troubling cost trajectory of higher education in the United States. "Through the Changemakers for a Changing World strategic plan and other university initiatives, we are working to diversify our revenue stream to ensure educational access, affordability, and quality for AU students now and in the future," Burwell says.
One way to diversify streams of support is through increased philanthropy. Donors at AU have already funded 375 endowed scholarships and awards that help support tuition, research, study abroad, internships, and more. AU's Black Alumni Alliance and the Latino Alumni Alliance have also endowed book awards to help Eagles in need purchase textbooks and other necessary materials. 
There is still more that can be done: giving to the AU Fund for Student Support; expanding emergency financial aid; establishing additional scholarships, including support for the more than 300 students who transfer to AU annually; and growing student participation in enrichment opportunities that often come at an additional cost.
"Financial aid can be life changing," Alston says. "It allows us to invite students to the table and have a diversity of perspectives—racially, ethnically, socioeconomically. Robust financial aid allows us to really make a difference."
Philanthropic investment is essential to create opportunities for AU Eagles to succeed. For information on how to support big ideas in financial aid, contact Courtney Surls, vice president of Development and Alumni Relations, 
at 202-885-5900 or vpdar@american.edu.
A legacy of Learning
Karin Akerson's intellectual curiosity and thirst for knowledge made her feel right at home at AU.
Karin, CAS/BGS '96, who paused her college studies to raise her family, dove back into her degree when her children were older. She chose AU because the university values nontraditional students. "She loved to be on campus and enjoyed the variety of student experiences," says her daughter Gretchen Akerson. "She loved learning. It was a gift to come back to school—she embraced it."
"We would study together at the kitchen table when I was in high school," remembers daughter Beth Yancey. Karin would share stories of her lectures and the two bonded over exam prep. "I was in awe of her dedication," Yancey says. Karin's hard work paid off with a Phi Beta Kappa key and a bachelor's degree. 
As a proud alumna who treasured her AU experience, Karin and her husband, Daniel Akerson, made estate plans to endow a transformative $2 million scholarship. When Karin passed away last year, Dan advanced their plans, establishing the scholarship fund now to make an immediate impact. 
"My parents always believed education is the best investment—it has the power to transform and shape a life," Gretchen says. "We were raised knowing how important it is."
Karin's legacy has already touched inaugural scholarship recipient, Ingrid Schoonover, CAS/BS '22. Schoonover was so sure AU was the right fit that she applied early decision. "I wanted to access mentors and internships. I am a biology major and want to study snakes; the Smithsonian is nearby and is a world leader in conservation," she says. 
But Schoonover's AU studies were in jeopardy when her mother's health crisis changed the family's financial circumstances. The West Long Branch, New Jersey, native thought she would have to drop out of school—until she was awarded the Karin A. Akerson Memorial Scholarship. The scholarship will allow Schoonover to complete her studies, including an internship this fall with the Smithsonian's National Zoo.
"The scholarship has lifted such a large burden off my shoulders," Schoonover says. "After I have a job, I'm going to make a gift to help someone else at AU. I'd like to make an impact."