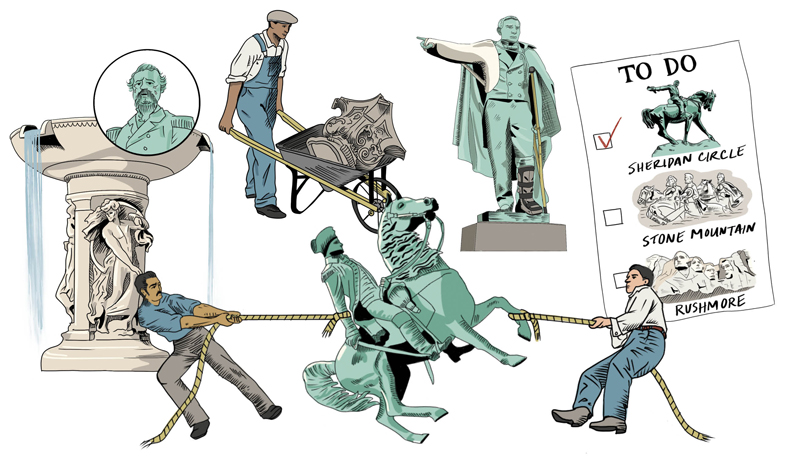 When traversing a DC traffic circle, people's eyes tend to drift from the driver in front of them to the horseman beside them. 
Revolutionary and Civil War figures hold court in many of the city's 30-plus roundabouts that bear their names: Washington and Ward, Sheridan and Scott. Stoically posed on bronze horses or perched on granite pedestals, the statues—many of which were commissioned from the end of the Civil War until the early twentieth century—serve as above-ground time capsules, capturing the United States' reverence for war heroes and the fledgling Capital City's desire to establish its identity.
"I like to think about monuments in terms of the history of the United States in that moment because it's only really in the mid-nineteenth century that the US is becoming a player on the world stage," says M.J. Rymsza-Pawlowska, AU history professor and director of the graduate public history program. "These monuments are an effort to solidify what the United States is. They're very neoclassical in style and supposed to look like they've been there a long time."
Statues—the vast majority of which commemorate white men—give an air of permanence, but the societies that erect them aren't set in precious metal and stone. The diversity of monumental figures throughout history hasn't been reflected in actual monuments, a disparity that has come to the fore as discussions about representation become increasingly prevalent.
A May CBS News report estimated that fewer than 400 of 5,000 outdoor sculptures nationwide depict women. In the District, only two statues—of Marvin Gaye and Duke Ellington—honor native Washingtonians of color. Ward 5 Councilmember Kenyan McDuffie addressed the inequity, introducing a bill in April that calls for eight new statues—one in each ward—honoring DC-born women and people of color by 2030.
As debates continue to swirl about who, what, and where to add, what merits subtraction also remains an important discussion. Between 2015 and 2018, more than 100 Confederate monuments and symbols were taken down, according to the Southern Poverty Law Center, but more than 1,700 remain. In July, Congresswoman Eleanor Holmes Norton (D-DC) introduced a bill calling for the removal of the statue of Confederate army officer Albert Pike from its location near Judiciary Square.
Society is also left to grapple with figures who did both influential and indefensible things. President George Washington helped win our nation's independence, but owned 300 slaves at the time of his death. William Tecumseh Sherman was a successful Union general who held racist views.
Examining our past with a more critical eye gives us several options with respect to a problematic monument: ignore, amend, relocate, or remove. When done right, Rymsza-Pawlowska says, these debates take place in public forums—and are often difficult, even heated.
"We're still learning how best to do this, and it's probably better if it's not smooth because that means we're stopping and thinking about things," she says. "If there's a universal procedure in place for weighing whether we should keep a monument, that would mean we're going through the motions. This should be hard."
A REtelling of our rotaries 
Traffic circles and the art that adorns them often boast fascinating histories shaped by delays, disputes, and detours. Here are the compelling backstories and circuitous paths of 17 DC circles:
Dupont Circle, NW: Samuel Francis Dupont's statue was erected in 1884, his name supplanting the original "Pacific Circle." The new moniker for the circle and community proved eternal. The man himself? Ephemeral. In 1918, Dupont's niece described the statue as not "suitable to the place it occupies." The family commissioned a fountain, finished in 1921, and the Dupont statue moved to Wilmington, Delaware.
Anna J. Cooper Circle, NW: In 1925, Anna J. Cooper, then 67, became only the fourth African American woman to earn a doctorate. The DC Council honored the scholar in 1982 by naming a traffic circle and park near Cooper's former home after her. Built for $90,000, it's the only DC roundabout named after a woman.
Dave Thomas Circle, NE: Home to one of DC's three Wendy's locations, this triangular traffic nightmare—the site of 102 accidents in 2018—is informally named for the fast food chain founder. In March, DC Mayor Muriel Bowser, SPA/MPP '00, proposed a $35 million solution: purchase the Wendy's and redesign the worrisome wedge. 
Peace Monument Circle, NW: Erected in 1877, the 44-foot-high Peace Monument, built to memorialize fallen navy soldiers in the Civil War, is replete with allegorical figures, including Grief weeping on History's shoulder at the top. Perhaps most symbolic is the fact that the Peace Monument, which was supposed to include four streetlamps and a fountain, was never completely finished.
Juarez Circle, NW: In the 1960s, the US and its southern neighbor swapped statues of President Abraham Lincoln and Mexican President Benito Juarez. The northbound journey—which included stretches by truck and rail—was turbulent, and Juarez arrived with a cracked leg and a nearly-severed arm. Both were fixed by a local welding firm.
Lincoln Memorial Circle, NW: The '20s got off to a roaring start for sculptor Daniel Chester French, whose Dupont Circle fountain was dedicated in 1921, followed a year later by his Lincoln statue. The circle surrounding Honest Abe, 760 feet in diameter, is DC's widest—and its least accessible by car. The eastern portion closed seasonally to vehicle traffic for pedestrian safety in 1972 and permanently in 1976.
Washington Circle, NW: A statue of President George Washington as lieutenant general of the US Army—first proposed in 1783 and finally commissioned in 1853—wasn't always thought to sit in a prominent part of DC. Several efforts between 1920 and 1940 sought to move the bronze statue to Lafayette Park to replace President Andrew Jackson's, but the proposed switcheroo was blocked each time.
Pinehurst Circle, NW: Two disconnected halves of Pinehurst Circle are bisected by the DC-Maryland line. The DC side funnels three streets onto Western Avenue, while Maryland's Pinehurst Circle is an elongated driveway that services four homes. It's also the closest of any area traffic circle to one of 40 boundary stones set in place by George Washington in 1791. NW8 sits uncovered in an adjacent driveway.
Westmoreland Circle, NW: The Garden Club of America set Washington's memory in sandstone with markers along the DC line in 1932. On one side of each stone is an image of Washington or Lady Justice, and on the other, the seal of Maryland or Virginia. The two at Westmoreland Circle likely stood elsewhere originally and—not to column out on this—one faces the wrong way.
Garfield Circle, SW: Dedicated to the 20th president, the circle was completed in 1887 by a well-known sculptor with a commander in chief-like name—John Quincy Adams Ward. Commissioned just three years after Garfield's 1881 assassination, the circle was funded by a trio of sources: $28,000 from the Society of the Army of the Cumberland, $30,000 in congressional appropriations, and $7,500 from the sale of condemned cannons.
Truxton Circle, NW: Constructed in 1901, Truxton Circle, named for Revolutionary War naval officer Thomas Truxton, was sunk by DC's move to a more modern traffic grid. The circle, dubbed the District's "most bothersome bottleneck" by the Washington Star, was dismantled in 1947. What remains of the fountain that once stood at the circle's center now rests in Maryland's Fort Washington Park.
Chevy Chase Circle, NW: Since 1933, the site of a fountain named for Francis Newlands—former Nevada senator, founder of the Chevy Chase Land Company, and a purported white supremacist—has cascaded controversy. The circle, which straddles the Maryland line, is also home to two DC entry markers, one of which was feared lost and later found in the backyard of a Foxhall Village home in 1998.
Ward Circle, NW: A $4 million gift to Harvard from the great-grandson of Artemas Ward stipulated that the Revolutionary War general and Crimson alumnus be commemorated in a statue. The university paid $50,000 for it, and the federal government placed it at the center of an existing circle. Its cat's eye design, which services more than 4,000 vehicles during morning rush hour, makes for a complex crossing.
Scott Circle, NW: The last-minute kerfuffle regarding "Old Fuss and Feathers" was his horse, not General Winfield Scott himself. Scott was known to ride a mare into battle, but his family lobbied sculptor Henry Kirke Brown for a more masculine—albeit historically inaccurate—depiction of the US Army commander. Brown relented, and the mare became a stallion in 1874.
Logan Circle, NW: In the middle of the former Iowa Circle, only a hawk-eyed observer will notice the error on the statue of Major General John A. Logan. A relief on its base depicts the war hero-turned-senator from Illinois being sworn in by Vice President Chester Arthur. One problem: Logan took his oaths in 1871, 1879, and 1885. Arthur briefly served as veep in 1881.
Sheridan Circle, NW: Completed in two years, the 1908 statue of General Philip Sheridan was much less time-consuming than sculptor Gutzon Borglum's most famous project—Mount Rushmore—which he oversaw from 1927 until his death in 1941. Borglum, who was a member of the Ku Klux Klan, also worked on the Confederate Stone Mountain monument, but was dismissed in 1925.
Hamilton Circle, NW: Count this among the million things Alexander Hamilton hasn't done: land his own DC traffic circle. Hamilton Circle is reflected in property lines and in the 1921 edition of Baist's Real Estate Atlas of Surveys of Washington, District of Columbia, but it was mysteriously never built. America's first Treasury secretary landed on his feet, though. His statue stands on the south patio of the Treasury building.
You spin me round
America has warmed up to circular traffic patterns in a roundabout way.
According to the Transportation Research Board, there were more than 4,000 modern traffic circles in the United States in 2016—a number that continues to rise but pales in comparison to that of France, the world leader with 30,000 roundabouts.
Traditional traffic circles began funneling vehicle traffic in US cities—like DC, one of their earliest adopters—in the early 1900s. But many of these rotaries had design flaws that failed to curb high-speed merging; give vehicles already in the circle the right of way; and accommodate higher volumes of cars, leading to more frequent gridlock and accidents.
In the 1960s, however, the United Kingdom adopted a "give way" rule for vehicles approaching circular roadways and implemented improved designs that utilized horizontal curvature to reduce speeds while facilitating safer and more effective ingress and egress. These designs made their way across the pond in the 1990s, but they took off after 2005, when Congress passed legislation establishing the Highway Safety Improvement Program, setting aside billions for projects aimed at reducing traffic deaths.
Designated a "proven safety countermeasure" by the Federal Highway Administration, the modern roundabout presents drivers with 75 percent fewer conflict points than traditional, four-corner intersections—cutting fatalities and serious injuries by 78 to 82 percent.
"Initially there was a fair amount of public resistance because they were so different from what people were used to," says Roger Wentz, SPA/BA '71, SPA/MPA '74, president and CEO of the American Traffic Safety Services Association. "But research has found that they're safer for vehicles because they reduce the number of right-angle crashes, which tend to be severe."
Today, DC is home to more than two dozen traffic circles. While they're more car-friendly than their earlier iterations, several factors—traffic signals, stop signs, complicated lane changes, and dangerous right-hand turns from feeder streets—keep most circles from humming like modern roundabouts. The District, unlike smaller communities with more open space to engineer efficient circles from scratch, grapples with a complex grid—and the fact that it's a tourist hotspot.
"If you drive through Dupont Circle regularly, you know what your route is, whereas it's a little more difficult if you're not familiar," Wentz says. "The level of complexity probably contributes to more driver confusion than a simpler roundabout."
Debunking DC traffic circle and statue myths
Myth: Original DC planner Pierre L'Enfant designed Washington with traffic circles to allow for efficient and well-located artillery defense.
Fact: He intended for squares that would serve as hubs for commerce and informal state embassies.
Myth: A bronze horse with all four hooves on the ground signifies a rider who was not harmed in battle; a horse on its hind legs indicates death in battle; and one raised leg represents an injury. 
Fact: While one-third of DC's equestrian statues follow this "hoof code," it's nothing more than a filly-folly. (See: Andrew Jackson's horse in Lafayette Square standing on its hind legs.)
Myth: Dupont Circle, Logan Circle, Scott Circle, Washington Circle, Mt. Vernon Square, and the White House are part of an inverted pentagram L'Enfant drew into DC's street layout as part of either a satanic or Masonic message.
Fact: Relax, it's not a complete star. Rhode Island Avenue doesn't cut across to Washington Circle, and Connecticut and Vermont avenues don't reach the White House.