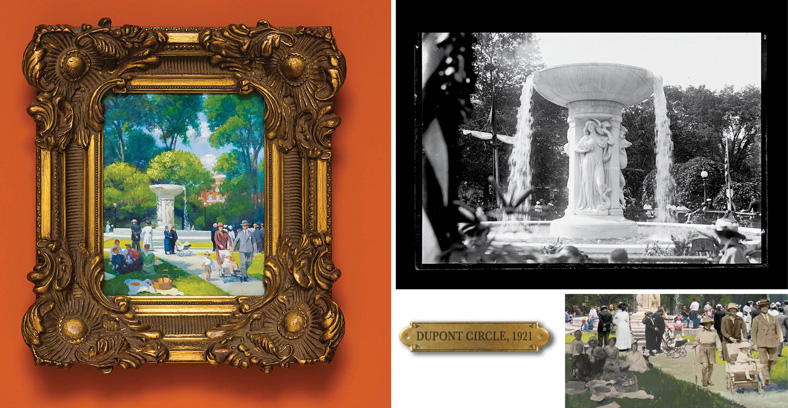 It started with the frame: ornate, heavy, gilded, which came from Etsy by way of the Netherlands. 
"Now," pondered art director Maria Jackson, "what to put in it?"
For our cover story on Blair Bailey, CAS/BA '11, Andrew W. Mellon Fellow in Painting Conservation at the Detroit Institute of Arts, we commissioned Savannah-based painter Michael Wimmer to create a new masterpiece that looked old (and, hence, in need of a little touch-up). In a nod to Andrew Erickson's feature on DC traffic circles, we settled on a portrait of Washington's most icon roundabout—Dupont Circle—circa 1921, when the fountain at its center was installed.
Photographer Jeff Watts snapped the finished painting on a pumpkin spice orange wall ('tis the season) in our Connecticut Avenue studio. Then he and Maria hopped on a plane to to the Motor City, where they asked Blair—who's spent years mastering the art of repairing paintings—to destroy it. 
Sort of.

Through the magic of Photoshop, the image that accompanies Andrew's story features Blair tending to faded paint on the right side of what we titled Dupont Circle, 1921. Of course, the paint, which wasn't even dry when Blair got her gloved hands on it, is perfectly intact, and the framed piece now hangs in Maria's office.
To learn more about about how Blair keeps paintings much older than ours—including works by van Gogh and Monet—looking good as new, check out Andrew's masterpiece on the art and science of conservation.