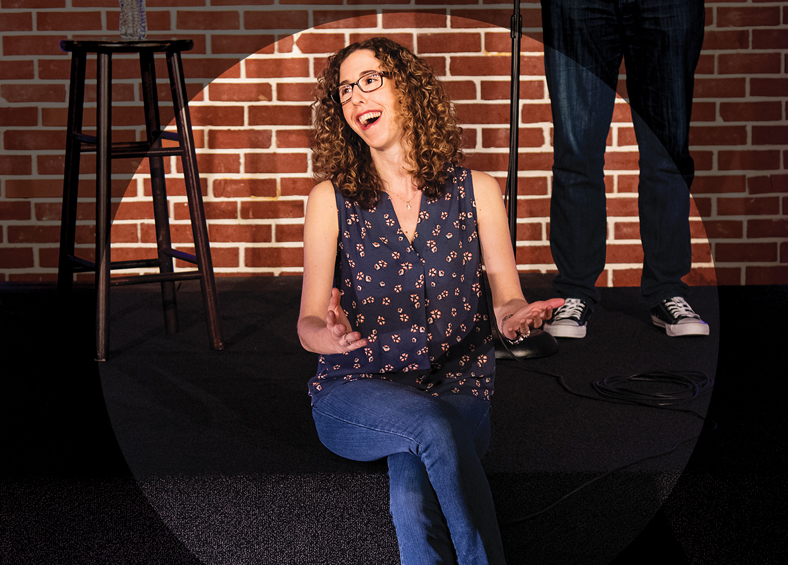 For almost three decades, cackles, chortles, and chuckles have been wafting up from the DC Improv's subterranean showroom in a nondescript downtown office building, beckoning passersby on bustling Connecticut Avenue  to the city's oldest comedy club.   
On a recent Wednesday night, Allyson Jaffe, co-owner of the club—one of 25 franchises across the United States bearing the Improv name—and principal of its comedy school, stands at the back of the room, a smile spreading across her face as jokes bouncing off the low, dark ceilings are met with a crescendo of giggles from the capacity crowd of 285.  
For some, this is date night. Coworkers, still dressed in office attire, sip on a round of cocktails. Parents meet their daughter's boyfriend. Friends enjoy a night away from the kids. 
No matter their reason for being there, Jaffe, SOC/BA '00, delights in offering clubgoers a brief respite from the decidedly unfunny business of working and living in buttoned-up Washington.  
"I love watching crowds because comedy has this power to heal. You can see people walking in the door, they're stressed out. Then you see a physical change," she says. "Life is stressful, but in 90 minutes here, you can let go." 
Standing just a few feet from a heaping plate of nachos on one of the candlelit tables packing the room, Dana Fleitman, host of Pun DMV—a quarterly pun-only show—delivers a tree-themed opening salvo to kick off the night's high-energy dedication to the lowest form of humor. "Thanks for getting all spruced up and coming out tonight. Wood you believe this turnout?" 
Two hours and hundreds of acorn-y jokes later (the tree puns soon give way to musical artists, meat, and more), the laughs swell as Josh, a twentysomething pining for victory in the 24-person elimination-style tournament throws out the winning pun: "You know, my mom kind of sucks, but my pop rocks." 
The crowd—their funny bones tickled, their stress melted away—climbs the 19 steps back to street level, leaf-ing the laughs behind for the real world. 
Jaffe's first attempt to get into the DC Improv was unsuccessful—the Queens, New York, native was turned away from a sold-out show shortly after coming to AU—but she returned in May 1998 in search of a new waitressing gig and exposure to good comedy. During its 27-year run, the DC Improv has groomed up-and-comers and welcomed comedic royalty. Mike Birbiglia started there as a door guy in the late '90s and Robin Williams and Jerry Seinfeld dropped by for guest sets in 1996 and 2002, respectively.  
Jaffe started waiting tables four nights a week—though friends still remind her she did so with limited success.  
"I'm little," laughs Jaffe, who stands just shy of 5'2". "I can't carry a lot." 
She quickly discovered that, at comedy clubs, comfort trumps turnover. Patrons are yours for the night and you can crack jokes and make connections. Jaffe hung out with colleagues and comics, building an off-campus network that supported her in the aftermath of spinal surgery. 
"Part of my experience was recovering from that sophomore year and figuring out who I was," she says. "Comedy helped heal that." 
As a senior, she convinced a professor to green-light an internship at the club. With graduation looming, Jaffe also asked then general manager John Johnson if he needed daytime help. She landed a job for $10 an hour, helping with marketing and promotions and answering phones. 
In the days before the internet, clubgoers purchased tickets over the phone and by fax. Without social media, Jaffe promoted upcoming acts by sending press kits via snail mail. Her introduction to the business side of comedy was a study in stamps, envelopes, and papercuts.  
In 2001, the DC Improv's then owner, the late Mark Anderson, reopened the Old Town Theater in Alexandria, Virginia, and enlisted Jaffe's help to book and promote a lineup of quirky one-person shows. As a token of his appreciation, Anderson gifted Jaffe with ownership stakes in the DC Improv and the Old Town Theater, which closed and was sold in 2003.  
When a night manager left the Improv in 2002, Jaffe was promoted. She extinguished fires on show nights and expanded the club's business during the day, launching the DC Improv Comedy School in 2003. What started as a single class blossomed into a catalog of improv, stand-up, and sketch writing classes that, 16 years later, draws more than 100 students each four-to-six-week "semester."  
Spurred by a difficult breakup, Chris Ulrich took his first class at the Improv in 2005 and now works there as a teacher. He kicks off the beginner course with a few basic questions: Who are you? Do you have experience with improv? "And, uh, what the hell are you doing here in a basement bunker comedy lounge?" The students laugh, then reveal a smorgasbord of motivations. They want to tick an item off their bucket list, conquer a fear of public speaking, rekindle a hobby they lost post-college, or just meet people.  
Awkward silence gives way to belly laughs as students participate in sound and movement exercises, name memorization games, and rapid-fire drills—"Name five movies no one's ever heard of"—and learn to think on their feet. Ulrich says Jaffe has attended all but two intro classes over the last four years. She enjoys hearing students' stories and imagining how much they'll progress in just a month.  
"Once I started working with her, I got to see that [the comedy school] wasn't just something to grow the business," says former student Ryan Conner, who performed a set on The Late Late Show with James Corden in March. "She takes joy in giving people a creative outlet—and not just people who are trying to grow a comedy career." 
Scores of headshots of comedians—including DC native Dave Chappelle, Ellen DeGeneres, and Brian Regan, who performed at the inaugural show in 1992—line the walls of the Improv's checkerboard lobby. Stand-up remains the club's bread and butter, but social media  
and streaming services have changed the comedic landscape.  
Physical comedy albums are a thing of the past—the DC Improv converted a back storage room for CDs into a lounge in 2006—and many stand-ups now build fanbases on Twitter and other social media platforms. Netflix is bursting with quality stand-up specials and the list of comedians with podcasts is laughably long.  
"It's crazy how much the internet—Netflix, all that stuff—has exposed people to comedy," Jaffe says. "People can create these YouTube and Instagram followings and are able to pack the place on an off night. That's the biggest growth thing I've seen—the power of the internet to bring comedy out."  
Traditional stand-up is far from dead, but clubs like the DC Improv have to remain nimble. In addition to the Thursday-to-Sunday headliners, the club has expanded its reach by booking live podcasts, improv shows, and off-beat, participatory events like Pun DMV, where seats are six bucks a pop and willing audience members serve up most of the punchlines.   
Jaffe's role, too, has evolved. When Johnson retired in 2014, she took over the club, overseeing everything from bookings to the box office.  
"She works really hard—sometimes too hard—because she is very hands-on," says Chris White, Jaffe's husband and the Improv's creative marketing director. "Because she came up from the bottom, because she's done so many things along the way, she still feels like it's her responsibility to do a lot of the grunt work. It's amazing how driven she is to try to make sure everyone associated with the Improv is having a positive experience." 
Jaffe is still the person to email if the Five Minutes to Funny stand-up class fills up and you'd like to be added to the waitlist. She operates the lights and emcees improv class graduation shows. Call the club for details about this weekend's shows and it's her voice you'll hear. Land an early-morning radio or TV interview as a headliner, and her white Acura will be waiting for you curbside at the crack of dawn.   
"I want them to know I'm invested. Erik Griffin starts tomorrow night, so I'm picking him up at 7:30 tomorrow morning and we're gonna go do a bunch of press together," Jaffe says one Thursday morning in April. "Would I rather sleep in? Of course. But I want him to know that, 'Hey, as the owner of this venue, I'm with you.'" 
She leaves her fingerprints on everything but the stand-up. Jaffe's debut behind the mic came at 19 at a bar in Stafford, Virginia. She wore her high school prom dress and came onstage with a juice box to comedically denote her youth. She tried it for a couple years, but ultimately, writing jokes and worrying about whether they'd bomb wasn't for her.  
"I would never say I was a comedian," she says. Yet for 21 years she's remained among them, the mortar lining the bricks of this iconic basement.