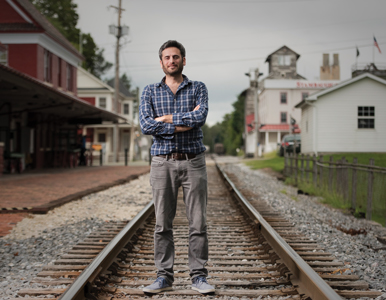 Breaking up is hard to do. That's the premise—with a twist, of course—of Flock of Dudes, the 2016 movie cowritten and produced by Brian Levin.
In the film, which features a big name cast, including Ray Liotta and Hilary Duff, a 30-something-year-old man breaks up with his male friends, and hilarity ensues.
Levin made the movie, which he describes as a "Judd Apatow-type comedy," with longtime pals, but he did break up recently with Hollywood—the place, not the industry.
Last year he left LA for his hometown of Baltimore, where he hopes to continue making movies while providing a boost to the region's burgeoning entertainment field. "What started out with me trying to figure out how to get my next film on its feet turned into a bigger-picture thing," says Levin, who plans to start shooting his next project this year in his native suburban Carroll County. "I'd like to help stimulate the economy and give people opportunities through my relationships and experience in the business."
Levin started making movies with his friends in middle school. He's never stopped.
After earning his master's, he moved to New York, where he cofounded the Post Show, an online sketch comedy program. That led to opportunities in Tinseltown, where he produced content for Disney, Comedy Central, and other networks and studios before venturing out on his own.
Last year he, his wife, Natalie, and their daughter, Mimi, moved to Maryland—in part to be closer to his family. But another benefit quickly emerged.
"Instead of doing a movie or two, I want to do six or seven to generate economic activity for the state and the city and provide artistic opportunities," he says. "I think there's a lot of talent in this town, but it's not just about talent—it's about access. Hopefully I can get these local, talented artists into the national conversation."
A lot of people in Charm City will be rooting for this dude.