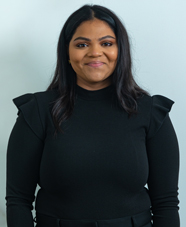 In fall 2019, Darianne De Leon, WCL/JD '20, took a full slate of 3L classes, worked in the pro bono department of DLA Piper's DC office, and—if that wasn't enough—waited on pins and needles for what she hoped would be a timely and favorable resolution to her immigration case.
Today, De Leon is in the first year of a prestigious two-year clerkship with the United States Tax Court and June marked the one-year anniversary of the Trinidad native's swearing in as a US citizen. Two years ago, however, that bright future had been called into question by US Citizenship and Immigration Service. The agency claimed De Leon, who had been sponsored for a green card by her husband, Kevin, held status from a previous green card application, rendering the subsequent application void. USCIS also indicated that it would rescind her permanent residency.
But the case law backed up De Leon, and with the help of the Defending the AU Dream Initiative—a WCL immigration law clinic that provides free legal services to members of the AU community—she eventually got her day in immigration court. And she won.
De Leon joined the 30 Minutes On podcast in August to reflect on her time working with AU Dream—an immigration law clinic by and for Eagles—and what we can all take away from her monthslong ordeal.
Listen to the podcast, or read the full transcript below:
FULL TRANSCRIPT
Andrew Erickson: Hello and welcome to 30 Minutes On , a podcast from American University magazine. I'm American magazine staff writer Andrew Erickson.
Today, in our fall 2021 episode, we're spending 30 minutes on immigration law.
In 2019, Darianne De Leon was on the precipice of becoming a US citizen. But, in the summer leading up to her final year at the Washington College of Law, the Trinidad native received a pair of alarming letters from US Citizenship and Immigration Services. The agency claimed that she still had status from a green card application filed when she was a child, rendering the application sponsored by her husband void. On top of that, it planned to rescind her permanent residency.
The case law, though, told De Leon she was in the right. And after reaching out to her former professor, Jayesh Rathod, she found an advocate in WCL's Defending the AU Dream Initiative, an immigration law clinic that provides free legal services to members of the AU community. Working with Michelle Assad, now a practitioner in residence with WCL's Immigrant Justice Clinic, and student attorney Linda Campos, De Leon risked a lengthy delay, opting to argue her case in a court hearing. And ultimately, she won.
De Leon celebrated the one-year anniversary of her citizenship swearing in ceremony in June and this fall began a two-year fellowship with the United States Tax Court.
In August, she joined the podcast and reflected on a trying year, how she managed it with the help of AU Dream, and what we can all learn from her experience.
"I think that what people need to remember," she says, "Is, one, don't be afraid to speak your truth. And two, and probably more importantly, don't be afraid to listen to it."
Here's our interview. We hope you enjoy.
AE: So, Darianne, thank you so much for taking the time to join us on the podcast. I guess just to get started, can you tell me a little bit more about what you're doing now and how you're applying the tax law that you've learned over the last couple of years?
Darianne De Leon: Sure. Thank you, Andrew, for just giving me this opportunity. Again, I think it's a great platform to receive and hear about resources in the AU community. So while I was in law school, I participated in the Federal Tax Law Clinic as a student attorney. And, you know, it really grew my desire to practice tax law. And so when I graduated law school, I went to Georgetown Law and I pursued a tax LLM for a year. With that tax LLM, I will be starting off as a judicial law clerk at the US Tax Court in DC, and I'm really excited to do that. I primarily will be responsible for drafting opinions and orders for my judge and learning the judicial procedures of court and litigation and really honing in to the principles of tax controversy and litigation.
AE: And just to go back into the story and how you first got involved with the AU Dream Initiative. Was it 2019 when this kind of all started?
DDL: Yeah, it was 2019. So, it was the beginning of my 3L year in law school, so 2019 to 2020 and the AU Dream Initiative, as most people should know, is part of the Immigrant Justice Clinic at AU law. And you know, the initiative is based on helping law students and people in the immigrant community find free legal services and representation for immigration issues. And I did discover, well, they discovered me and I discovered it in 2019 after I received some letters from USCIS about my immigration status. And then I reached out to the director and [my former] professor, Professor Jayesh Rathod, to see if he could help represent me and the school can help represent me. And I was fortunate enough that, one, they had the resources and funding to do so, two, they had the student attorneys' availability and, three, they had the legal capacity to represent me and my case.
AE: And just for people who aren't aware, what was the legal interpretation that you were working through? I know you had mentioned before just how unique this particular case was. Can you kind of walk me through what that was and what it was that kind of prompted this?
DDL: Sure. So I came to the US when I was three years old from Trinidad and Tobago, and maybe when I was about 10 or 11, I was granted a temporary legal status. In that process, I did not renew or remove the conditions of my green card to apply for a 10-year permanent residency card. And the issue was, later on, as I became an adult, my husband and I got married and he sponsored me through, you know, a regular spousal sponsorship. And I was never aware that my former status as a child was still valid. Under the law and under the immigration code, the IRA, you normally get—your conditional green card status is terminated if you don't remove the conditions after two years. I did not personally as a child remove my conditions and no conditions were removed, so I automatically thought that they were terminated as they were under the law, because the law reads that your conditional status is automatically terminated by the USCIS agency if you do not remove your conditions on your green card or it can be terminated by a judge in adjudication. None of that ever happened for me, so when I was an adult, I did the spousal sponsorship and then in August of 2019, at the beginning of my last year of law school, I received two letters from USCIS stating that they had the intent to rescind my 10-year permanent residency. This was after I had filed and passed the citizenship test to become a citizen of the United States. That was it, you know, USCIS sent me two very alarming letters and I had no idea what to do with them. Luckily, I understood that I had some options, and what that meant was either, one, filing to remove the conditions on a sponsorship that I thought was terminated because at this point, it was probably 15 to 18 years later. And so I, one, just never understood the brevity of the first case. I was a child. And then it was never, ever raised as an issue throughout my sponsorship from my husband. The issue was never flagged. I never had any questions about it. I had already gone in front of several USCIS officers, and no questions were asked. Everything seemed to be fine. They approved everything—my work permit, my 10-year green card, my citizenship test. So when I got the letters, I was alarmed. I was like, 'Why have why hasn't this been flagged before?' And then I immediately, I think within 10 minutes of reading the letters, in the middle of the night, I emailed Professor Rathod, who I had been a student of the year before, and asked him, 'Do you know what this is? Do you know what's going on here?' And he responded to me within hours, saying, 'Hey, let's discuss this. Let's see what's going on.'
And we basically found out like this issue had not been raised for 20 years, and the issue was basically, in very simple terms, was can someone who once had conditional legal status have their status automatically terminated without judicial proceedings in order for them to apply for residency in a different manner? And, generally, the answer is yes. According to the written law and the way it's read, the answer is yes. Why? Because the agency will automatically terminate your status and eventually forget or close that first case, allowing you to file for any available options that you may be eligible for. And so that was our reading of the law. And through this process, I did not know that I would have the courage to take it to court. But, you know, I ended up taking it this case and this issue to court, because one of the things that I noticed immediately was USCIS's helpful resources on the back of the letter, you know, the resources that they gave us was a fax number that was not in service, a toll free 1-800 customer service number that was not in service. And my instant thought after getting over the fear, honestly, of what this could potentially become was, 'What is happening to everybody else who's receiving letters like this like and who don't have the 10 minutes of reading a document and saying to themselves, something is wrong.'
These letters and announcements go out to people who really don't have the privilege of having a legal education. Some of them don't even know how to read or write English, they depend on their children who learn the language from being in the US. And I said, 'You know what, we're going to we're going to use my case, even if it just brings about a little change.' I'm willing to do that for my community because I know what it's like to live in fear. I know what it's like to go through the immigration process and the system of immigration. But I was willing to be the guinea pig. And I'm grateful that I had that opportunity, and I'm super grateful for AU and its resources and my professors and the clinic and the donor of the initiative, because without them, I would have had to pay for legal representation.
AE: Well, and as you said when we spoke before, it puts you in this impossible position of either admitting to wrongdoing where it was not committed or, as you said, engaging in what could be a years-long legal battle while, you know, you're applying to clerkships, you're applying to jobs, you're hoping to be admitted to the bar at some point. It puts your life on hold. How do you go about making a decision like that? And can you describe what your emotions were like and having to make that very difficult decision?
DDL: Yeah, you know, I remember opening the letters and for at least five minutes, I just I was overwhelmed with fear and I was overwhelmed with lots of emotion, right? I came to this country when I was three. I learned the Pledge of Allegiance. I learned 'The Star-Spangled Banner.' I had American-born friends. I assimilated as a US child, and [it was difficult] having to think about, 'I may be deported back to a country that I don't even have family members that I know, that I may be deported back to a country that I may not be safe in. I don't even know how to maneuver the country.' People might look at me and say, 'She's really foreign. She's not from here.' That was frightening. And so for me, I quickly got over that fear because I'm very faith-based and I believe that God does not give you what you cannot handle and what you are not prepared to overcome. But it took me a while to get there. I went through a lot of self-doubt because I knew that I did not do anything that was wrong. I knew that by filling out this form that said, 'Hey, remove my conditions to a status, essentially, would be me admitting to something I knew was wrong and I could not in my conscience do that. And so I knew that no matter what it took, really, even with the possibility, the very real possibility of deportation, that I was going to stand my ground because as an advocate, as someone who wants to practice the law, as someone who potentially one day wants to write the law and advocate for underserved populations in any capacity, I have to be willing to do what's right. In order for me to do that, I was privileged enough to go through this experience to understand what my clients may one day feel, my adversaries may one day feel. And it was it was important for me to make a decision, not from my emotions, but from knowing that our legal system, it should be just. And if you can be even a dot of the justness in this system, it may lead to someone having hope. It may lead to legal reform. It may lead to a policy change. It may lead to new precedent, and it may very much lead to the next person who receives a letter like I did to use my case as persuasive reasoning. It might not be authoritative, but it can be persuasive. And I thought to myself, 'Look at where you are. You are an immigrant child. You came from nothing. You were very poor. You could never afford to really get real legal representation if you had to pay for it. But yet you are being used for this purpose, so you can either be grateful and follow this with grace and know that you are doing the right thing, or you can be scared and fearful of the system.'
You know, the immigration system was formed to help immigrants, not to deter them from our society. And when you receive a letter like this, you feel deterred from society. You feel like, 'Even though I contribute to society, I'm still getting punished for something that you may not even know of.' And I thought to myself, 'You were placed in this battle for a reason and you will get through it no matter what, even if it comes to deportation.' That was the main reason why I chose to pursue litigation and I chose to give it to AU. In my law school personal statement, I specifically wrote, 'I want to participate in the immigration in the [Immigrant Justice Clinic] at AU because I knew the work that AU did and I knew the work that student attorneys were given. They're given real cases, and it just so happens that I was not the student attorney, I was the client.
AE: It happened to be your case. Can you walk me through, from once you received that letter to the case being resolved, how that process played out and, generally speaking, how you felt at various turns in this case?
DDL: So, I got the letters in August 2019. A few hours into it, Professor Rathod responded to me and he said, 'Let's meet, let's see what's going on.' And then I met with him the day after. I was also at the time working at DLA Piper, a big law firm in their pro bono department. And I was a full-time law student. I was on journal. I was doing all the right things right and then this happened. And so I spoke with Professor Rathod and I was like, 'Can you help me? I don't know where else to go. I know that this is costly, but can you help me?' And he said, 'Give me a few hours. Let me look it over. Let me consult with my team.' And before the night was over, he gave me an answer and said, 'You'll be the first person to use the AU Dream Initiative, but we can help you. We can represent you.'
There was a sense of community. It was a sense of collaboration. And, you know, that happened within days. And then a few days later, my case was assigned to a student attorney, Linda Campos. And I love I love that it was assigned to her. So I met Linda and the team a few days later. This all happened, probably within three days. At first, I was a little apprehensive because, the letter from USCIS that I had about 13 days to respond, and that included the time that I received the letter. So not only did USCIS give us an issue that had not been seen in about 20 years, they gave me a timeframe that made it nearly impossible to find a legal team, figure out the legal issues, get the resources, and respond. And when I met, the team and everything like that, they were very upfront and very forward with me and told me, 'This could be really long. This could be a really long process because there are appeals and there are things that can be done to stop you from becoming a citizen. There are things that can make you become deported and put you through a whole other process that goes beyond AU and its ability to help. And most importantly, it may take away a lot of options for you.'
You have that option, which is litigation and telling USCIS, 'You're wrong,' or filling out this form with the possibility of maybe it all going away really soon. So I was stuck with that for about a day, and I had to make all of these decisions extremely quickly.
AE: Important life decisions in a span of days.
DDL: I remember being a hot mess throughout the whole process of that first week, and I was also weighing the options of time. This was my last year of law school, and it automatically took away a third of job opportunities for the federal government. It just weighed on so many things, and I had less than a day to make a decision. And so, you know, I put in a lot of prayer. I was so grateful to have such strong mentorship relationships amongst AU amongst my professors. I mean, my employers were phenomenal throughout the process.
I remember speaking to Linda and I said to her, 'I know filling out this form is one the wrong thing to do, and it's going to be the shorter way and I'm graduating soon, but it just didn't sit right with me, like, 'I'm not going to attest and confirm to something that I didn't do and that's going to be on my record for life like. I want to be sworn into bars to practice law in the United States, and this is the wrong move.' So I think it was a day after or maybe like half a day after, I let them know I would like to write USCIS and tell them that I want to take the option to go to court to have a hearing.
We did that, and my first hearing was scheduled for November or December 2019. That was the first time that we went in front of the court, and I expected it to be like an open docket hearing where, you know, you just go up, you hear your issues, you get your number called and you figure out what you do next time. But this was a closed hearing and I was face to face with USCIS and their counsel. And it was just incredibly scary and it was incredibly nerve-wracking because, one, it just didn't go the way that we expected it to go, what I thought would happen. So it's adjusting to that. And then the second thing is just the shock of the arguments. In the law, there's a famous opinion that talks about shocking the conscience of the court, and this shocked the conscience of the court and everyone in the court. When you go against an agency as strong and as discretionary as USCIS, as an immigrant, you become scared. You become kind of a little child in a big world and you forget who you are for a minute or two, right? You forget like, you're the innocent one here. You have to advocate for yourself. You have to remember why you're here. You have to remember who you're representing and you have to remember the bigger purpose.
And so for a very small moment, I remember before the judge came out, because the judge who presided over my case, he took a few minutes longer than anticipated to come into court, and he had told us later on that it was because he was thoroughly reviewing the file just to make sure that things made sense to him. And during that, during the minutes before he came in, I got up and I looked at Linda and I said, 'Linda, I need to use the bathroom.' And, you know, I walked past the opening gate and I looked at one of my friends, Alejandra, who had also been a student attorney in [IJC] that year. And I said, 'Can you come with me to the bathroom?' And I walked in my navy suit to the bathroom and I looked at her and I started crying. I was like, 'I can't believe this is happening to me. I don't even have a speeding ticket. You know, and not only that, but I'm the reason why we're here. I requested a hearing. I requested for this to be adjudicated. I requested to see a judge.' So I looked at her and I was just like, 'Why is this happening to me? Like, never did I think this would happen to me.'
I took my minute, I collected myself, and I remembered, like, in order for you to zealously be a lawyer, in my opinion, you have to go through certain things. You have to go through adverse things yourself. And I said to myself, 'If I am lucky enough to be placed in this position, then I am fortunate and privileged enough to come out of this on top. And if this will help me in the future when I'm representing immigrants or underserved people or a corporation or wherever, you know, I can reflect back and understand that in order to be a zealous advocate, you have to come from a place of humility and trust.'
So we went back to the hearing and the judge was very kind, very thorough, very explicit in his confusion of what was happening. Ironically, in my response to USCIS's two letters, Linda did an extremely, extremely detailed job of going through the arguments that we would have made in a brief, for example, and telling USCIS like, 'You're wrong, and here are the reasons why.' And a couple of days before my case went to a hearing, USCIS issued a policy change that basically agreed with our reasoning and interpretation of the law, the same law that they want to rescind my status for. And so when the judge saw that in their policy update, the judge was like, 'I'm sorry, you are agreeing with her argument and agreeing that her former status did not need to be terminated by a judge. But we're here?' And the USCIS attorneys said, 'Yes, and we are arguing that this policy change does not apply to her. It applies to anyone who came after her.' And so it was just ironic because at that point, you have an agency that is extremely intimidating to a layperson and was extremely intimidating to me, and they're arguing the same thing you're arguing. They agree with your point. Yet they're here, even though they have the absolute discretion to make it all go away. And that kind of lit a fire under me because I was like, 'This doesn't makes sense, you know, this doesn't make any kind of sense.' So the judge was kind and gracious enough to move around his calendar to accommodate having a final hearing in February. The first hearing was also during finals for me. I was also studying for I think at that time it was like five law exams.
AE: No big deal. Just five law exams.
DDL: Five exams and while working and going to law school and dealing with this and Linda explained to him, like, 'Can you please try to make it for February? She's supposed to graduate in May and this is really deterring her employment options?' So the judge agreed.
In February, we went back and the judge ended up ruling in my favor and ruling that my case should not be rescinded. My status should not be rescinded, that it is valid. Through that process, I testified in court and he went through a series of questions from when I was a teenager, you know, to present day and what I had been doing for most of my life and how I got interested in the law and all of those things. Where I had worked, how me and my husband met, and when we got married. I guess to legitimize the process of USCIS. And at the time, I answered very organically because I thought it was like a conversation. But thinking back on it now, I'm so grateful that he went through the strategic questions that he did. Many immigrant children who come here at a young age and grow up, assimilate in the United States, and call this home. It's really the only home that we know. I duly respect him for what he did and for how he did it and for how respectful he was in this process because it was very draining on me. But he did grant my status to stay in place, and the USCIS counsel did not reserve the right to appeal. I think I started crying at that point because and I think I think at that point, I grasped Linda's hand and I just I started to cry because behind me was my husband and the family that could be there and my friends who came to support me, even some of my professors who knew of my story came. I think everybody kind of understood what that meant for me, that I was OK. She's staying here.
The system, it could be just and it could be equitable to the issues that real people face.
AE: And how long was it after this was resolved that you became a US citizen? And once that happened, what were the emotions like, having gone through these trials and tribulations, quite literally in a courtroom? How did you begin to process that?
DDL: I think what happened initially was shock. I think when you go through a process like this, and this goes with any form of litigation or any form of controversy if you are subject in that controversy, is, 'I did it, but is it really over?' I was kind of like at the pinch me stage, like, 'Can you pinch me and make sure this is this is right? Does this mean I can now apply for federal employment?' When I found out that I could apply for federal jobs and that, you know, I would soon be getting a swearing in date, which came in June, I was like, 'Oh my God, is this real?' I think I was shocked. I was overcome, overwhelmed with, with just gratitude, I think was my main emotion. I was sworn in in June and I was just overwhelmed. I mean, when I tell you overwhelmed, I was like, 'Oh my God, it's done. Now it's done, right? We're OK.' We got our little certificate. We said the Pledge. We heard the speeches in the office, and it was during COVID times, so I couldn't have my family gathered around me or even Linda in the clinic gathered there. And I remember when I was applying for clerkships, I kind of proceeded with caution in a way. It was like an optimistic, cautious feeling like, 'No, you can check off US citizen. Here you go, check it off. You're good to go.'  It was just a sense of relief. I did this and everything happened in June, and by September, I had gotten an offer to work at the US Tax Court. And it was just it was just moments of gratitude. I was really grateful for the opportunity.
AE: And as you as you reflect on your experience and what you went through, what can people who are not engaged with the immigration process on daily basis or don't know the ins and outs of how it works, what can they learn or maybe take away from just the outrage of the whole process that you went through from what you experienced to what you saw from the judge and from others? What should people take away and learn from an experience like what you went through?
DDL: I think the main thing that people should take away is, you know, the US is the melting pot of cultures, right? We have a system, an immigration system, that was based on humanity at first. And I think when people hear the US, they think of potential freedom. Freedom from things that they may not be able to practice in their country and fears from where they come from. I think that what people really need to remember is that humanity and humility and gratitude go a really long way in the immigration system, and sometimes all that is needed is for you to take a step back and remove whatever political affiliations you may have and remember that the US is the melting pot of cultures. It's the land of the free. It got that title for a reason. All of that, you know, is centered around certain freedoms. We have a Bill of Rights that that gives us freedoms.
I think that what people need to remember is that, one, don't be afraid to speak your truth. And, two, and probably more importantly, don't be afraid to listen to it. I think, you know, even if you don't have any resources that can help someone, maybe you can just listen to them, and say, 'I read this in a newspaper. I saw this passing by on a bus stop. I may have heard this on the television. Maybe that can help? I know this association gives free help. I don't know if it can help you.' But just listening, I think, is something that's important. And I think really understanding that everybody has a story. Everybody goes through trials and tribulations that you never know of and to lead with kindness. There's something about saying to someone, 'You are wrong,' but doing it in a just in kind matter for the greater good. And there is a difference when you do that specifically to point out a certain person or certain things that you want to see different, that you have the discretion over. The immigration system is a system based on a lot of discretion. And I think that if you can have people who lead with humility and humanity in those positions, because they're very privileged positions to be in. You know, you have actual lives in your hands and you have the discretion to help them or to remove them, essentially. If you remember the fundamental freedoms of this country and really relish on the privileges that you have in a discretionary manner, you can do a lot of good, a lot of just good. And I think that's really important. I also think that again, I want to emphasize using free legal help and using free legal resources. I would have never, 10 years ago if you asked me, 'Hey, would you ever let anybody handle your immigration issues?' Never. Who I'm not paying? Never. Like, 'I'm going to pay an attorney to do this.' But going through it, it really, really shows me that like all of AU's clinics—all of them—and their student attorneys, there really is something to be said, and there really is a reason why we're number two or number one in the country. It's because we represent real people and it's real people representing real people. My student attorney, she didn't have to have the dedication that she did. At the end of it and during the process, you see that you're dealing with real people. You're dealing with real issues. Your level of dedication directly impacts their future, you know, and that's something that is what an attorney does.
What you say, how you say it, what you write, how you write it, is a direct reflection of your client. And that was definitely a learning lesson for me. Again, I'm just privileged that I had the opportunity to be the client.
AE: Well, Darianne, thank you so much for taking the time and best of luck as you as you start your clerkship.
DDL: Thank you so much, Andrew. I appreciate it.
AE: That was the Fall 2021 episode of the 30 Minutes On podcast from American University magazine. Thank you so much to our guest, Darianne De Leon, for virtually joining us and chatting about her budding tax law career and her experience as an AU Dream Initiative client.
Keep an eye out for our fall 2021 magazine, which we're thrilled to introduce to you and which hits mailboxes very soon. It features a bold redesign and many exciting new departments for the AU community to enjoy. The magazine also includes a story on the Defending the AU Dream Initiative, including the WCL staff who run it, the WCL students like Linda Campos who learn from it and help handle its caseload, and the AU community members like Darianne who are represented by the clinical team.
You can find previously recorded podcasts, including the spring 2021 episode with Sierra Club president and School of International Service alumnus Ramón Cruz, and subscribe in the Apple Podcasts App or in the Google Play store. A full transcript of the show is available on our website at american.edu/magazine.
Finally, we'd love to hear from you. Please let us know what you think—about the AU Dream story, the podcast, or the newly redesigned American magazine—by emailing magazine@american.edu or chatting with us on Twitter or Instagram at @AU_Americanmag.
One final thank you to the AU Dream Initiative team for allowing this podcast and the AU Dream story to come to life.
Thanks for listening, stay safe, and we'll see you next time.