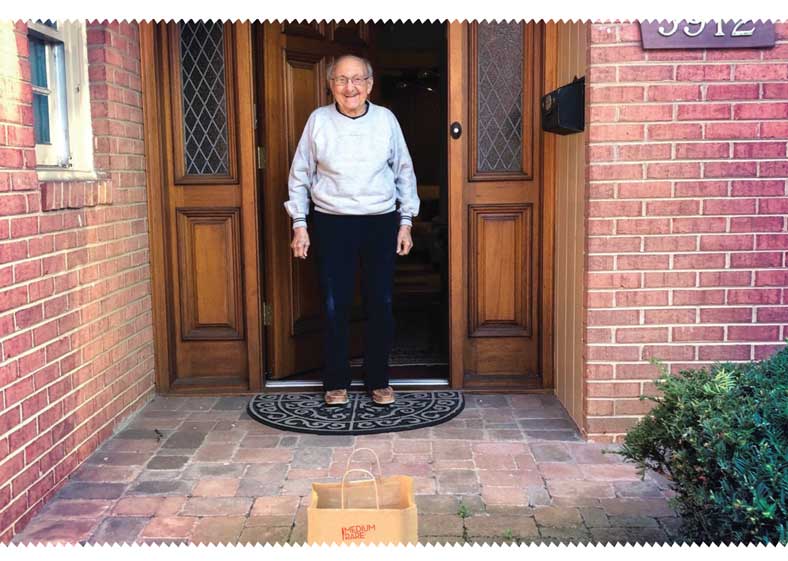 Kathy Norwine was in a frenzy. She had asked administrators at the assisted living facility where her father, David, lives to let her know before a decision was made to quarantine the residents. In the pre-COVID-19 world, Norwine would visit her 92-year-old dad, a lifelong singer whom she calls "a delightful human being," almost every night, and the thought of not getting to see him for God-knows-how-long was unimaginable to her. So after that mid-March phone call came, she rushed to the facility in Springfield, Virginia, packed his bedding and as many of his clothes as she could fit into bags, and took him back to her condo in Alexandria. 
Food was the last thing on her mind. Luckily for her, it's usually the first on Mark Bucher's.
The pandemic had just forced Bucher, SPA/BA '90, to close the dining rooms of the Medium Rare steakhouses he co-owns and transform them from dine-in destinations to carryout-and-delivery joints. It was a brutally tough time for everyone in the restaurant industry, which lost $25 billion in sales and more than 3 million jobs in the first 22 days of March, according to Business Insider. At Medium Rare, sales had dropped 75 percent, and of the 240 people who worked at the three locations (plus a fourth at already-shuttered Nationals Park), just 12 were still employed. 
But in many ways, Bucher had never been more successful. 
When governmental orders to close restaurants across the Washington region were implemented in March, Bucher did what all great businesspeople do—he pivoted. Sensing a need in the community and wanting to keep as many of his employees working as possible, he typed a simple message on Twitter. If any senior citizens in the area needed a fresh, hot meal, his team would deliver one to them. 
For free.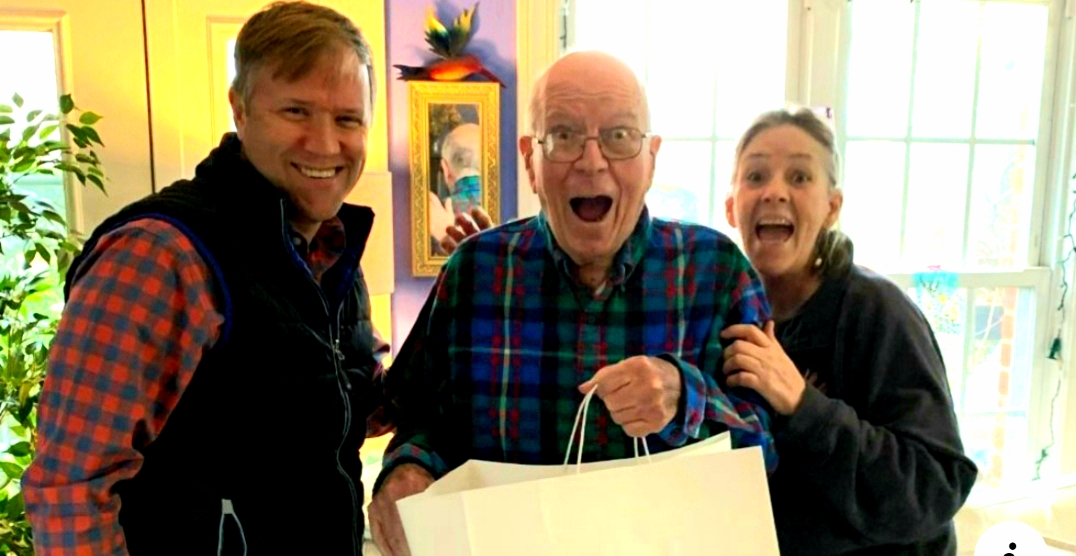 Kathy Norwine (above, with David, center) was among those who responded to the tweet. 
"It was a pretty intense time," she says. "I thought a quarantine could happen in the next week, but I didn't think it would be [so soon] so I hadn't grocery shopped, I hadn't gotten supplies. I was completely ill-prepared. I didn't care if I was eating popcorn and drinking Diet Coke, but my dad needed real food. This nice couple showed up at the door and they handed me this bag with a steak and a salad and a dessert. I was so relieved that this was one meal I didn't have to think about. I could figure out tomorrow, tomorrow. It was such a gift. It turned a stressful time into one of joy." 
Two weeks later, Bucher answered the phone at his home in Bethesda. It was April 1, and he was on day six of a 14-day quarantine with his wife, Amy Huberman Bucher, Kogod/BSBA '89, and their four daughters after having been exposed to someone who later contracted the virus. They'd been taking their three dogs for long walks, watching movies together, and of course cooking. Bucher had made chicken parmesan, about "a billion" pancakes, and not surprisingly, plenty of steak. Thankfully, no one in the household was suffering from anything worse than a little boredom. 
"We've been doing it now for 19 days," he said then of the free meal delivery program. "That seems like an eternity, but 19 days ago when this all broke, before we had so many infections, everyone was worried about those most at-risk: those with compromised immune systems and people over 70. So we were like, well, let's take care of the people over 70 and make sure they get a hot dinner every night. My father, who passed away a year and a half ago, was 82, and if he didn't have dinner ready, he just wouldn't eat."
From those humble beginnings grew a charitable operation that as of June 24 included a GoFundMe page that had raised more than $26,000 and an army of volunteer drivers who had delivered thousands of dinners to hundreds of needy people.
"What we've raised is probably 25 percent of what it's costing us, but we're okay with that," Bucher said. "It's keeping people working, and we can do it. We had enough reserves in the business to be able to do this. Obviously, it gets very expensive to continue to do this, but we can't stop and we won't stop. It's just the right thing to do and we have to do it."
Commercial real estate just wasn't doing it for Mark Bucher. He had worked in the field since graduating from AU but found himself yearning for something different. He'd always loved restaurants, and at one point even considered becoming a chef. But working while his friends were out partying was not exactly optimal for his social life. 
"I saw an ad for a closed smoothie shop in downtown Bethesda," he says. "To buy it was like $5,000. So I said let's try it and open a burger place."
Thus was born The Burger Joint, the first of what became a sizzlingly successful chain of fast-casual eateries he sold in 2013. (Today BGR, as it is known, has locations in DC, seven states, and Kuwait.) Three years earlier, he and a partner had opened Medium Rare on Connecticut Avenue in Cleveland Park. It's no coincidence that the focus of both endeavors was red meat. 
"My approach to this business after seeing all the mistakes everybody else made was heading right down the middle," he says. "America is a steak and potato country. I wasn't looking to do groundbreaking cuisine or take a risk by introducing someone to something else. I wanted the widest market possible." 
That pragmatic approach has allowed Bucher the financial flexibility to do things like deliver free meals to seniors in need. 
"To me it's a business first," he says. "I need these concepts to generate a certain amount of volume, which generates a certain amount of margin to make it worthwhile. If the business isn't worthwhile, you don't continue it. We closed a Medium Rare in Capitol Hill on January 2 of this year. It was an easy decision for us. Business wasn't generating the profits we needed to generate to equal the amount of time we spent on it. 
"We get into these things knowing that we may need to get out. It's making big boy business decisions. Because we were disciplined enough to grow and maintain reserves, we can ride out storms like this. Now we are strong enough and blessed enough to be standing here because of our discipline, to help others."
It's not a surprise then that feeding seniors evolved into feeding first responders, health care workers on the front lines, and lower-income people. 
Becca Menzer, CAS/BS '08, lives in Wheaton, Maryland, where her daughter attends Highland Elementary School. Ninety percent of its roughly 600 students receive free or reduced-price lunches. When Menzer, security systems manager with AU's University Police and Emergency Management, saw a message from Bucher on social media, she immediately reached out. Much to her shock, he wrote back. 
The ultimate result of their collaboration, which involves other members of her community as well, is #food4highlandfamilies, a program that in its first six days provided 35 families with 160 free meals from Medium Rare. 
We're not talking about cheap, leathery meat and soggy fries, by the way. Each of the meals are the exact same as the ones that cost $23.95 at the restaurant—a culotte steak with hand-cut fries, a mixed green salad, freshly-baked bread, and either double chocolate fudge layer cake or key lime pie for dessert. 
"This has given me all the feels because people are so grateful," Menzer says. "We have a family with four kids. The dad is an Uber driver, the mom is a housekeeper. She has been unemployed, the dad is torn between how much does he work and how much does he risk his kids getting sick. Her response was, 'This is amazing, this is so wonderful. We are a simple family, we eat beans and rice and eggs. This is the first time my kids have ever had a meal like this.'"
Bruce Rubin was Bucher's Phi Sigma Kappa fraternity brother when they attended AU together. He's been one of the most consistent volunteer drivers, delivering up to seven meals a night. His 8-year-old daughter, Marissa, often accompanies him, and sometimes leaves a note for the recipients in their bags.  
"You get a lot of different reactions," he says. "A lot of surprise. Some wave through a window, some you don't see at all. It's great to see Mark being such an important leader in the community."
Through his generosity, Bucher has touched the lives of hundreds of people. Kathy Norwine knows how far a seemingly simple gesture can go. 
"My dad has serious short-term memory issues, so he doesn't completely get the enormity of what's going on," she says. "He absolutely loved the dinner. He actually thought he won a prize. He kept saying, 'This is like winning the lottery.'"
Mark Bucher has dished out a lot of winning tickets.