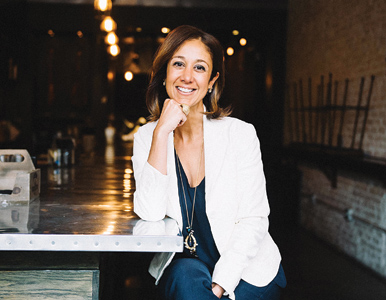 Kathy Hollinger likes to eat out. A lot. As president and CEO of the Restaurant Association of Metropolitan Washington, she leads an organization charged with promoting the growth and development of its more than 950 members. Come dinnertime, she often heads to one of those restaurateurs' establishments.
"What's great about DC is that we have a range of global cuisine, and then we have homegrown, creative endeavors and concepts across our neighborhoods that are many times internationally inspired," says Hollinger, SOC/BA '92.
She travels frequently for both work and pleasure, and food is a major focus of her trips. "When I travel I start at the local markets, then find places that the locals recommend."
At this point Hollinger's eaten at so many renowned restaurants in her favorite cities, like Miami, Los Angeles, and her hometown of Philadelphia (let alone in DC, where she can't pick favorites), that she could publish her own version of Zagat. If she did, here's a peek into some of what would be inside.    
Hollinger's top 10 eateries outside the Beltway:
Guisados, Los Angeles, California: This hole-in-the-wall is as authentic as it gets—they don't allow for any modifications. Their pork is fantastic and their tacos are served on homemade tortillas, of course.
Fig, Santa Monica, California: Believe it or not, in the lobby of the Fairmont Miramar Hotel and Bungalows, there's this great restaurant that serves the most amazing, buttery, homemade, warm chocolate chip cookies.
Gjelina, Venice, California: Gjelina is very rustic, very chic. Their New American food is incredible—they use very fresh seasonal vegetables. I love the eggplant with tahini sauce.
Vernick, Philadelphia, Pennsylvania: I love the crispy Brussels sprouts at this innovative, New American restaurant.
Zahav, Philadelphia, Pennsylvania: Israeli with a twist, Zahav is small-plates-oriented. I leave it to the server to identify the chef's favorites, and I've always been very pleased here, especially with the fried cauliflower.
Dalessandro's, Philadelphia, Pennsylvania: There are definitely cheesesteak wars in Philadelphia, and I grew up with Dalessandro's. I'm not a Cheez Whiz fan; I like provolone and tightly diced—almost like ground beef. I like to pick one up and eat it in my car.
Raw Republic, Aventura, Florida: I've always been intrigued by juiceries. This place is owned by three young guys committed to a raw food lifestyle, who introduced me to a berry called the aronia berry. It has the highest number of antioxidants of any berry in the world. Who knew?
Sushi Room, Hollywood, Florida: Whenever I'm in Miami I go here. It's not the most spectacular-looking place, but it has to-die-for sushi. The tuna inside-out roll is one of my favorites.
Momofuku, New York, New York: Their pork buns are incredible, and they're now open in DC!
Patrice Pâtissier, Montreal, Canada: I have a big sweet tooth, and Patrice is an incredible bakery. They do this delicious pastry that's warm and flaky, and inside is fresh banana with chocolate.