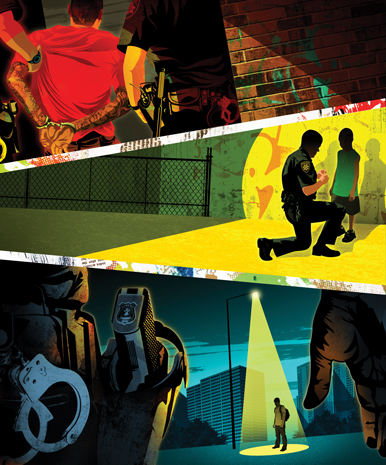 How much force is too much? It's a question being posed to law enforcement agencies in cities across the United States—conveyed by some through tears and protest, by others through support for and solidarity with those charged with protecting their communities.
President Trump complicated the debate when, in a speech to law enforcement officials last July on New York's Long Island, he called for "roughing up" people being placed under arrest. "Please don't be too nice," Trump told his audience, referring to perpetrators of the gang violence afflicting the nation's urban centers.
The president's remarks elicited condemnation from organizations on both ends of the political spectrum, including the ACLU and the International Association of Chiefs of Police. A month later Trump reversed Obama-era restrictions on the distribution of surplus military hardware, such as grenade launchers and armored vehicles, to police departments.
The president's actions drew disapproval from lawyer Julie Ruhlin, CAS/BA '92, who has made it her crusade to reform police departments under increasing criticism for use of excessive force by officers.
"The perception that the police are somehow at war with their community—it's just the wrong message," says Ruhlin, one of a hundred or so self-styled police "oversight practitioners" who work with law enforcement agencies to find alternatives to excessive force. "The conversation has certainly gotten more polarized."
Ruhlin has shepherded reforms in cities that include Denver, Colorado; Portland, Oregon; and Fullerton, California, where in 2011 police beat to death a mentally ill man who was jiggling car door handles at a bus depot. She does her work on behalf of the OIR Group (Office of Independent Review) based in Playa del Rey, California. The five-lawyer cohort and police auditing firm has developed a respected niche reforming law enforcement agencies.
"The goal is to make agencies better, to make them more responsive to their communities, to increase the professionalism of their investigations and the way they deal with these difficult questions—of what force is appropriate, and under what circumstances, and how much is too much," Ruhlin says.
Ruhlin is now auditing the police department in Madison, Wisconsin, after the 2015 fatal shooting of an unarmed black teenager—by a white officer—sparked anger and mistrust in the community. While the department ruled that the shooting was justified, the city council hired the OIR Group to conduct a top-to-bottom appraisal of department practices. After a yearlong review, Ruhlin is expected to propose reforms to the city council in December.
If it's anything like her previous cases, the Madison police department could be subject to dozens of nonbinding recommendations. Ruhlin and her OIR colleague Mike Gennaco targeted 123 areas for change in Portland and 57 in Denver; most of those suggestions, including intensive ongoing training for officers and supervisors, have been adopted. In Portand, OIR proposed that officers involved in more than one use of deadly force be debriefed to "identify any patterns or parallels between the multiple events." Reforms can take months to more than a year to implement; for the most part, says Ruhlin, she's encountered little pushback—which is surprising, given the stakes.
"Law enforcement is trained from day one in the academy that their first job is to go home at night," she says. "It's all about their perception of how to keep themselves safe."
Ruhlin can't pinpoint the origins of her interest in criminal justice and the law. Recently, while going through boxes in her mother's basement, she found some papers that she'd written in high school, one of which considered the efficacy of the death penalty. "It's definitely been in my DNA," she says, "even before high school."
She grew up in Wadsworth, Ohio, perhaps best known for its annual Blue Tip Festival, named after the famous "strike anywhere" matches that used to be manufactured there, in a town where coal was once king. Ruhlin's ardor burned elsewhere, however.
"When I was deciding [where] to go to college, I wanted to be in a big city because I wanted that experience," says Ruhlin, who won a four-year scholarship to play basketball at AU. Although she was an accomplished rebounder, the team didn't play with much distinction
in those days. Still, her time in Washington was formative.
"Being in that city, and experiencing life that was so different from the small town where I grew up, definitely shaped my perspectives on race issues," Ruhlin says. "Seeing poverty in a big city, seeing how that affects people's lives . . . certainly impacted how I moved forward in life. College opened my eyes to a bigger world. It's exactly the experience I wanted."
A history major and criminal justice minor at AU, Ruhlin went on to earn a law degree from the University of Southern California, thinking that she'd land a job at the ACLU. But student loan debt drove her to a Los Angeles law firm, where she did general business litigation. The experience left her cold. She moved to another firm that handled civil rights cases and criminal appeals. Once again, it was a poor fit.
"I'm not really a person who likes to fight," Ruhlin says. "I would much prefer to find consensus and work to mediate disputes. I was definitely looking for something different."
That's when she joined forces with a former colleague, Merrick Bobb, founder of the Police Assessment Resource Center in Los Angeles. The nationally recognized center provides "independent, evidence-based counsel on effective and accountable policing." In 2012 Bobb was appointed by a federal judge to oversee the implementation of a consent decree—a legal reform agreement hammered out between the US Department of Justice and a law enforcement agency—in Seattle, where federal officials identified a pattern of discriminatory policing.
The emergence of professional independent auditors over the past 5 to 10 years is due in large part to the ubiquity of smartphones, whose apertures bear witness and demand police accountability.
That's no easy task. Officers argue that video doesn't tell the whole story. But on one point there is little debate: police must reserve the right to use force. This is where things get murky.
According to the National Institute of Justice, "there is no single, universally agreed-upon definition of use of force." However, the majority of the more than 17,000 law enforcement agencies across the United States subscribe to policies that describe an escalating series of actions that an officer may take to resolve a situation. This continuum has many levels—from verbalization and empty-hand control to less lethal methods, like batons and chemical sprays, to lethal force, including the use of deadly weapons. Depending on the volatility of a situation, an officer can jump from one part of the continuum to another in a matter of seconds.
Despite widespread reliance on the use-of-force continuum, however, there is no consensus among agencies on what constitutes excessive force. It can be the outcome of too much adrenaline, too little training, or outright fear, says Ruhlin. Devising a uniform definition of excessive force may not be the best way to drive the conversation, she notes.
"Different agencies have to define use of force differently, in part because each community has different priorities and different problems and issues. The question is, when is force necessary versus unnecessary, and then how much is too much? It's a really tricky question, and it's becoming even trickier with the prevalence of cameras."
Even the US Supreme Court is ambiguous on the question of excessive force, advising law enforcement agencies to consider the "totality of circumstances." That has led to numerous interpretations and assessments and, in some cases, questionable violence.
The opacity of the debate has prompted many police chiefs and oversight practitioners to tout "de-escalation" techniques. This approach to conflict resolution involves such actions as encouraging officers to modulate their voices when communicating with suspects, wait out a potentially volatile situation, or engage a subject in conversation.
There is a long way to go, but changes are afoot. Some 200 departments, most of them in big cities, have initiated their own oversight systems, either by hiring lawyers like Ruhlin or by forming civilian committees that review police practices and encourage innovations, such as the use of body cameras, which, evidence indicates, make officers more mindful of the ramifications of force. There's no data on how many departments currently outfit their officers with cameras, but there is consensus that it's only a matter of time before the policy is codified across the law enforcement landscape.
Ruhlin's work could be hampered to some degree under the Trump administration. Attorney General Jeff Sessions has voiced skepticism about consent decrees, suggesting that they can prevent police from doing their job. "Now that's not true at all, but that's the line out there," Bobb says. "That seems to reflect the Department of Justice view at this point."
Adds Ruhlin: "There was that concern [among law enforcement agencies], 'We need to be proactive about [reform], or else we might have DOJ knocking on our door.' That fear is gone."
Also unclear is the influence of the President's Task Force on 21st Century Policing, established by President Obama in 2014 and composed of police and oversight officials. Deliberations in 2016 focused on helping law enforcement agencies "live up to the expectations of their communities." The task force called for greater oversight of police departments and more comprehensive gathering of data related to use of force.
Meanwhile, Bobb gives his protégé high marks when it comes to demanding police rectitude. "Julie has an understanding both on the theoretical level and on an emotional level of what's going on in a particular case," he says. "She is warm and engaging and genuinely can see matters from the officer's perspective and also from the perspective of the person that the officer has used force upon. She has a unique ability to communicate concern and empathy."
In the patriarchal world of law enforcement, Ruhlin commands respect, says her OIR colleague Mike Gennaco. Not a small achievement: about 88 percent of full-time law enforcement officers are men, while an estimated quarter to a third of oversight practitioners are women.
"I think she's been able to overcome the gender issue through her adeptness and her ability to listen, understand, and have a good handle on police practices and procedures," Gennaco says. Nevertheless, rank and file officers, along with brass, aren't always happy to see an auditor stalking the halls to probe closely guarded department business.
Not so for Pat Walsh, now chief of police in Lompoc, California. He has worked with Ruhlin and doesn't parse words about the experience: "Julie is low-key, very intelligent, and very thoughtful." Walsh was a lieutenant in Portland when Ruhlin challenged that department's rule allowing officers involved in a shooting to wait 48 hours before being questioned. The practice has been defended as an officer's Fifth Amendment right against self-incrimination—and necessary to allow time for the officer to recover emotionally and physically from a traumatic incident. Critics say the lag potentially allows an officer's story to be colored by media coverage.
Walsh, whose 34 years in law enforcement includes a stint with the Los Angeles County Sheriff Department, served as liaison between Ruhlin, Gennaco, and the department, where Ruhlin conducted an audit and recommended changes to deputy training protocols and
jail procedures.
"She called me and said, 'OK, you're my lieutenant in charge of accountability, and you're going to start a unit that will look at shootings, complaints, and lawsuits. You're going to look at force, and you're going to make recommendations,'" Walsh recalls. "I thought, 'What have I done to myself?'"
But the experience was so positive that three years later when Walsh became chief of the tiny Lompoc department, he asked Ruhlin to travel 900 miles south to review his 51-member seaside operation. "We barely use force, but I was trying to be proactive, and I trust Julie and Mike," Walsh says.
"Why wait until you have a horrible situation to fix a problem you don't even know is brewing?"
Ruhlin made 23 recommendations for the department, a bare-bones operation headed by a chief and two captains. Among them was a suggestion to hire a lieutenant to serve as an accountability trainer. While Lompoc hasn't made headlines for use of excessive force, Ruhlin did identify areas where the department wasn't following best practices.
Walsh has since rewritten what he calls a "pretty generic" use-of-force policy and instituted the practice of creating paper trails. His officers now are required to document, in detail, how and why they used force; those reports are reviewed by a sergeant, who determines whether the level of force was appropriate.
"We really contemplate and learn from it, and then at the end of the year, we're able to look at all of those force reports and see if there are patterns," Walsh says. "In twenty-first-century policing, you do have to have a lot of supervision."
It's a far cry from the old days, when oversight was overlooked, if nonexistent. "Then, you were taught how to defend yourself and your community, and we used a lot of force," Walsh says. "If you attacked a police officer, you were going to get the arm of the law coming down on you hard."
In 2014 Ruhlin was hired as a consultant by the Denver Sheriff Department, which oversees the city's jail facilities, after videos surfaced revealing potential abuses. She made dozens of recommendations—among them, the department should warn inmates, "when practicable," when a Taser could be used against them. She also advised the department to develop a policy requiring deputies to get medical assistance for inmates whose eyes "have been subjected to chemical agents."
The department has incorporated de-escalation in its deputy training, says Nick Mitchell, who, as an independent monitor since 2005, provides external oversight to the police and sheriff departments. Part of Mitchell's job involves outreach to Denver residents, with guidance from Ruhlin.
"We spend a lot of time in the community, letting folks know what their options are if they have a complaint, or if they want to thank a police officer formally," Mitchell says. "Oversight agencies have been growing by leaps and bounds, because people have come to recognize that law enforcement officers have special powers. They're uniquely positioned to use force, to take life, and to take property. With those increased powers comes a need for increased oversight to make sure that the powers are being used appropriately, and that's where people like Julie come in."
Similarly, the Los Angeles County Sheriff's Department, where Ruhlin consulted on the treatment of detainees in the county jail, is now employing de-escalation policies in volatile situations. "Julie is a very professional woman," says commander Alicia Ault. "She is articulate, and her nature is not adversarial. We all understand our roles, and we're working together for a common good."
The stakes are high, and Ruhlin doesn't take her role lightly.
"I hope that our work improves the way people view these issues," she says. "They're complicated, it's not always so black and white—what's appropriate, what's inappropriate. There's often a middle ground, and helping agencies understand the community perspective and helping people in the community understand better the police perspective on some of these issues, I think is a reasonable goal and something I'd like to say I was able to contribute to."