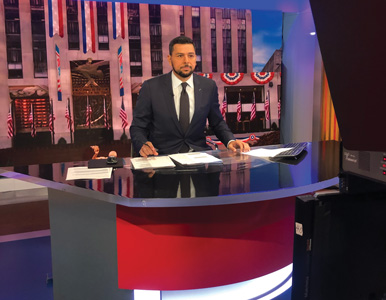 The day after the first presidential debate, descriptions of which ranged from distasteful to disgraceful, Ayman Mohyeldin took to the air. As he has every day since he began hosting the 3 p.m. hour weekdays on MSNBC, he brought thoughtful, measured, and nuanced viewpoints into a highly charged media landscape that often lacks them. 
He began his show by addressing President Trump's comments on white supremacy groups. 
"There's always a 'but,'" Mohyeldin, SIS/BA '00, SIS/MA '01 said. "The sentence is never just a pure condemnation of white supremacists. . . . It's just one of those mind-boggling things."
If Mohyeldin, 41, appeared genuinely baffled, perhaps it's because throughout his nearly 20-year career as a reporter who has covered the biggest stories from the field and behind the anchor desk, he has always strived to deliver the news clearly and succinctly to viewers around the world.
"I think the role of journalism is to offer transparency into how our society is governed, how our leaders conduct themselves, and how our businesses that run so much of our society are held to account," he says. "The more we live in a transparent society, the more we live in a free society, and the healthier we will be as a democracy."  
Even before Mohyeldin uttered his first words on air, he was a globetrotting correspondent of sorts. Born in Cairo to an Egyptian father and Palestinian mother, his family moved to Michigan when he was five. His parents, he says, were chasing the American dream—a better life for him and his older brother. But the family relocated once again when he was about 10, just as war was breaking out in the Persian Gulf. 
"I was living in Jordan at the time and watching CNN and it really shaped my world view about news and journalism," he says. "I was always as a young kid very enamored by the news world and reporting. I would report to my family and friends about living in the United States and living in the Middle East as I bounced back and forth."
Another move meant Mohyeldin attended high school outside of Atlanta. When it came time to pick a college, he was drawn to AU's Washington location, its School of International Service, and myriad study abroad opportunities. He was interested in international relations as a career until a chance meeting with a producer for the Today show led to an entry-level position in NBC News's desk assistant program. 
"The very first day I set foot into a newsroom was President Bush's first inauguration in 2001," he says. "One of the producers gave me a walkie-talkie and told me to go out to the protests that were taking place and to call back to the newsroom. That was my first foray into journalism. I fell in love with it very quickly."
For Mohyeldin, everything changed on 9/11. Because of his background in the Middle East and his fluency in Arabic, he was yanked from the desk assistant program and began working with teams of journalists who were reporting from places like Afghanistan and Iraq.  
Translating tapes of Osama bin Laden and researching international terrorist connections was eye-opening work for a green reporter, but Mohyeldin was a natural. At the tender age of 24 he was hired by CNN to be a producer in Baghdad. It was 2003 and the US invasion of Iraq was underway. 
"The bonds you make with other journalists, the experience that you acquire, the skill sets that you develop reporting in such an intense environment and living there [are incredible]," he says of his three years in the Iraqi capital. "The toughest thing you experience is the death of your friends. I had a really good friend who was killed in an attack. He was working as a translator for CNN in the bureau. We had grown very close. Anytime that you are reporting on something that impacts you directly it's very difficult. The hardest part professionally was the realization that Iraq had descended into a very bloody sectarian war and what that meant for our own personal safety and the safety of the people that we were reporting on."
In 2006 Mohyeldin was hired by Al Jazeera as a reporter and anchor for its English news channel. Originally, he was stationed in Washington, but he soon moved to the network's headquarters in Doha, Qatar.  
It was at Al Jazeera that Mohyeldin covered what he considers one of his most important stories, reporting live from Tahrir Square in Cairo, where Egyptians were demanding democratic reforms during the Arab Spring in 2011. 
"I'll never forget the day President Mubarak stepped down," says Mohyeldin, who was arrested twice by the Egyptian military during the course of his reporting. "That was a moment I was proud of as a reporter because we were the first news organization to be able to broadcast live images from Tahrir Square. I knew that it had an impact around the world, people being able to see the size of the crowds and how genuine and organic these protests were." 
Throughout his career, Mohyeldin has reported from such places as Ukraine, Japan, and South Africa. But it's his work in the Middle East that has set him apart. He believes Americans have many misconceptions about the region. 
"There tends to be a conflation of governments and people and this notion that the Arab world is monolithic," he says. "So what is happening in one part of the Arab world means that it's exactly the same in all parts of the Arab world."
Mohyeldin returned to NBC in 2011, and these days he lives in New York with his wife and their two small children. He loves to cook and watch movies when he gets free time. Not that there's ever much of that. 
"He works around the clock," says Rashida Jones, senior vice president for NBC News and MSNBC. "There have been moments when I've asked him to anchor overnight coverage and then go cover breaking news all day long and his question is, 'What's next?' He's done such a good job of bringing the heart and the life of stories to the screen. He can go out and cover the most dynamic and complicated story in any country, but he always finds a way to find the voices in that environment to help bring it to light."
In May and June he covered social justice protests in the wake of the killing of George Floyd. On August 17, MSNBC Live with Ayman Mohyeldin premiered. 
Part of a daytime shakeup announced by the network this summer following the departure of Hardball's Chris Matthews in March, the program is part of MSNBC's efforts to diversify its newsroom and examine the ways it covers stories on race—a movement taking place in media organizations across the US (see sidebar). 
In July, Cesar Conde, the new head of NBCUniversal's operations, announced he would push for 50 percent of MSNBC, NBC News, and CNBC employees to be people of color and 50 percent to be women. Later that month, Joy Reid made history when she became the first woman of color to anchor a prime-time news show on MSNBC—and the only Black woman currently occupying an evening timeslot on any of the major networks. 
Diversity is also among Mohyeldin's aims. "We want to widen the conversation, the expertise, and the analysis. Because of where [the show] sits in the day, we also want to emphasize breaking news, the strong reporting that we have across our news organization, and provide people with the context that they need to make sense of the critical issues that they're dealing with on a daily basis."
The day after the September 29 presidential debate, Mohyeldin's show was a perfect illustration of what he's trying to accomplish. His last guest was Susan Bro, whose daughter, Heather Heyer, was killed while protesting a white supremacist rally in Charlottesville, Virginia, in August 2017. It was after that violence that President Trump said there were "very fine people on both sides." Bro now runs the Heather Heyer Foundation, which has established a scholarship program for budding social activists.
"I wanted to, before I let you go, get your thoughts very quickly about how you [felt] when Joe Biden called President Trump a racist last night," Mohyeldin asked Bro. "Do you agree with him?"
"If it walks like a duck, if it quacks like a duck, you know," she replied. 
"We'll leave it at that," Mohyeldin responded as a warm smile crept onto his bearded face. "Susan Bro, thank you so much for your time. I appreciate your insight and your wisdom. That wraps up this hour for me. I'll see you right back here tomorrow at 3 p.m. eastern."
Journalists Press for Greater Diversity
John Watson's arrival at his hometown Jersey Journal in 1975 came after a slew of rejections—for internships as a Rutgers journalism student, and a full-time job after he graduated. 
"I was called back because the person they hired instead of me quit unexpectedly," says Watson, a journalism professor in the School of Communication. "They asked me if I could fill in until they found a replacement."
Instead, the Hudson County, New Jersey, paper's only Black journalist stuck around for 21 years. He became the first African American city editor and helped welcome dozens of journalists of color to the newsroom. 
"I wasn't Superman," Watson says. "It's just that once you get someone in that door who recognizes the necessity of diversity, it's going to happen."
Three years after Watson began his professional journalism career, the American Society of News Editors pledged that by 2000, the diversity of newsrooms would reflect that of the nation. Two decades past that deadline, racial and ethnic minorities comprise 40 percent of the US population but just 17 percent of print and online journalists, according to the Columbia Journalism Review. Similarly, the Radio Television Digital News Association reported this fall that only about one-quarter of the TV news workforce are people of color. 
The further up the masthead, the more those numbers drop. But a top-down approach to diversity is important to a news organization's credibility, says Lisa Pecot-Hébert, professor and director of the journalism master's program at the University of Southern California. 
"When you have diversity at the leadership level, you not only have diversity of bodies, but diversity of thought. Often, those are connected," Pecot-Hébert, SOC/MA '94, says. "A less diverse leadership staff might miss out on story ideas—or not even bring them to the table." 
A first step, she says, is acknowledging a lack of diversity. Some news organizations, from the New York Times to National Public Radio, are becoming more transparent by publishing diversity and inclusion reports. This gesture demonstrates an apparent willingness to do better, Watson says, but it comes with a caveat.
"The only true indicator of a commitment to progress is progress itself."—AE