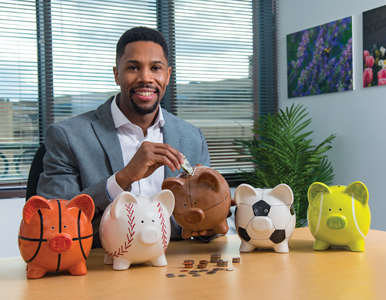 A 2009 survey of former National Basketball Association and National Football League athletes painted a bleak picture of life after sports. 
Seventy-eight percent of former NFL players interviewed were broke or in financial distress two years after hanging up their cleats, according to the Sports Illustrated report, while 60 percent of former NBA players were penniless within five years of retirement. 
Romone Penny—himself a former student-athlete who played on the first AU men's basketball team to reach the NCAA Tournament in 2008—grew tired of hearing those statistics. In 2012, he walked away from a cushy job as a tax accountant at Ernst & Young to start Pursuit Sports Group, a financial strategy consulting company for pro athletes. 
"I told [my mentor] my idea and he was upset because I had a great job," Penny says. "It's not easy for entrepreneurs." 
Penny's DC-based company focuses on dollars and sense—helping clients develop multiple revenue streams, pairing them with financial advisors, and teaching them about basic personal finance. 
He started growing his business by piecing together a roster that includes former AU teammate Andre Ingram, CAS/BS '07—who famously made his NBA debut with the Los Angeles Lakers last April—and former WNBA player Nakia Sanford, but he quickly realized that the importance of financial literacy extends beyond professional sports. And with that, Pursuit Stream was born. 
Launched this year, the digital financial education platform features a curriculum tailored to four audiences: middle school, high school, college, and professional athletes. The coursework, which includes lessons on charting saving and spending, helps students master valuable concepts that they're not exposed to at home or in the classroom. 
Penny hopes to expand Pursuit Stream's client base, drafting both amateur and professional athletes. "We joke that it's the Netflix of financial education," Penny says. "It's a fun way to create awareness and share positive stories."