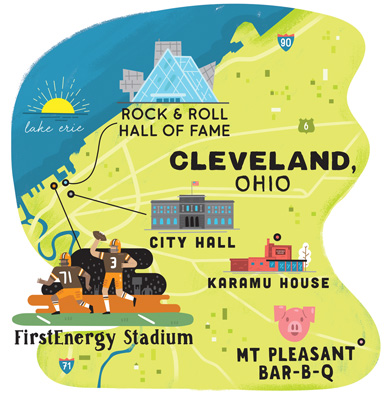 I was born at Hillcrest Hospital in Mayfield Heights, Ohio, just east of Cleveland. Now I live in Cleveland. In between, I've lived in major cities across the globe—including New York, London, and Washington, DC—but Cleveland will always be my home.
The most challenging part about living in Cleveland is rooting for the Browns. Even so, I can't live without Browns games on Sundays, Mt Pleasant Bar-B-Q, and sunsets on Lake Erie.
A movie that accurately depicts life in Cleveland is A Christmas Story. And a TV series that gets it right is The Drew Carey Show. One that gets it wrong: TV Land's Hot in Cleveland. A trait DC and Cleveland share is that each neighborhood has its own distinct character. If I could transport one thing from DC, it would be Ben's Chili Bowl. You know you're from Cleveland if you say, "Here we go, Brownies!" You know you're from Cleveland if you wear shorts in 50-degree weather. You know you're from Cleveland if you eat pierogies.
A perfect day in Forest City includes visits to the Karamu House, the oldest African American theater in the country, which premiered many of Langston Hughes's plays; the Cleveland Museum of Art; and the Rock and Roll Hall of Fame, which I hope someday inducts Drake. The most famous face I've seen in my hometown is LeBron James.
The biggest misconception about Cleveland and its people is that we're "the mistake on the lake." Because in fact, Clevelanders are known for our resilience.
I decided to run for mayor of Cleveland because if I didn't step up and lead, I was worried that nothing would change. And as Cleveland's mayor, equity will be written into everything I do and every decision I make, whether it is addressing police reform, neighborhood revitalization, or the ongoing COVID-19 pandemic. 
When I need a weekend away, I go to New York City. But my nest is best because Cleveland has a big-city lifestyle with Midwest character.