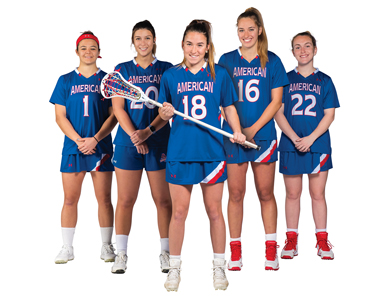 It's a universal truth: no one wants to lift weights and run sprints at 6:30 a.m.
But, as one of four captains on the AU women's lacrosse team, it's Kendall Goldblum's job to motivate her groggy teammates and boost locker room morale.
"Instead of being another one of the players that's just like, 'Ugh, I don't want to wake up to lift right now,' I try to go, 'Hey, we're gonna max out on bench today. We're gonna get five squats in today,'" says Goldblum, SPA/BA '21 (pictured center). "I try to find the good in it."
Goldblum's opportunity to lead came earlier than expected. Her high school coach in Wilmington, North Carolina, only allowed seniors to serve as captains, so election to captaincy as a college sophomore came as a "pleasant surprise." 
The justice and law major connects with the team's eight freshmen because she was in their cleats not long ago. As a midfielder, Goldblum knows how to be a big presence on the field, arranging positioning and coverage patterns.
But captaincy, as Goldblum is learning, is about more than delivering a steady on-field performance. A good leader also knows how to evaluate and address weaknesses. 
Once a month, Goldblum and more than a dozen other AU student-athletes—captains and non-captains—gather in the Palmer-Kettler Lounge overlooking Bender Arena to discuss qualities of leadership. 
In November, the Eagles huddled to brainstorm how to build credibility with teammates (among their ideas: practicing what you preach and being accessible, genuine, and consistent), before putting trust into action with a "blind maze" exercise. In December, they used colorful markers to record their leadership goals, strengths, and weaknesses on a large easel.
The gatherings are part of Rising Eagles, a yearlong leadership course for which student-athletes are nominated by their coaches. It's offered as part of the revamped AU Eagles Leadership Academy, which introduced four sessions this year: 
Emerging Eagles, an introductory, four-week workshop that touches on growth mindset, core values in leadership, self-awareness, and managing adversity
Rising Eagles, a deeper-dive leadership course that includes monthly group seminars and reflection-based assignments
Soaring Eagles, which focuses on life after college athletics, with practical lessons on topics like nutrition and financial literacy
Eagles in Service, a late spring volunteer project; this year's cohort is headed to Paraguay in May to build sports courts in partnership with Courts for Kids
"We want to provide opportunities for the students to have some personal growth but also to put it into action," says Spencer Bonahoom, academic and life skills counselor with AU Athletics. 
Goldblum, who completed Emerging Eagles last fall, says she saw Rising Eagles as an opportunity to become more vocal and outwardly positive with her teammates, improve her patience, and learn not to drop the ball when someone inevitably drops a ball. 
Goldblum's leadership transcends her age, Coach Jenna Petrucelli says. The sophomore has a strong work ethic and is a cheerleader for her teammates. "The final piece to it is she's just well-liked. It's really important to have leaders that are respected, but just because you're respected doesn't mean you're well-liked, so that's an integral cog in the wheel." 
Goldblum smiled as she recalled a teammate thanking her in January for motivating her to pass the grueling running test—which includes a 6:45 mile—after failing the previous semester. 
After a few months of training, an Eagle found her moment to rise.