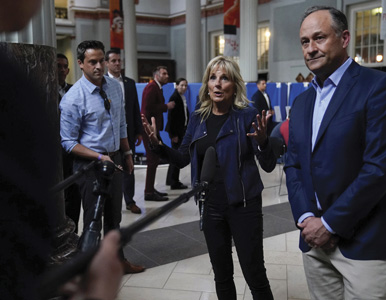 He is a frequent flier on the rarest of jobs.
As the press secretary for First Lady Jill Biden, Michael LaRosa, SPA/MA '10, is responsible for amplifying her key messages: touting the importance of the COVID-19 vaccine; emphasizing the benefits of in-person learning; and, inspired—by her three decades as an educator, most recently as an English professor at Northern Virginia Community College—advocating for free community college as part of President Biden's American Rescue Plan.
A packed agenda means a packed itinerary. LaRosa is often wheels up without downtime, working behind the scenes to ensure the first lady's appearances go smoothly. In June, LaRosa was in Cornwall, England, for the G7 summit, followed by Jackson, Nashville, Orlando, Tampa, Dallas, and Houston (pictured left) to promote the vaccine. In July, the former Division I swimmer was Olympics-bound, traveling to Tokyo on his boss's first solo international trip. And in September, it was back to school—in Milwaukee, Des Moines, and Royal Oak, Michigan.
LaRosa took a swing at politics after six years spent producing Hardball. After a two-and-a-half-year stint on the Hill working for the House Democratic Policy and Communications Committee and the Senate Committee on Energy and Natural Resources under Senator Maria Cantwell (D-WA), he joined Dr. Biden's team in October 2019.
"I knew that I wanted to do more than cover politics," he says. "As exciting as every day was, I was yearning to be involved in the process in a way that was not practical as a TV producer."
Knowing the nuts and bolts of news pays off now that he works for a newsmaker. When a press secretary understands "how the press thinks and what they value, it's easier to predict the questions the press will ask or how they will respond to what your boss says and does," says LaRosa.
He is driven by an important goal—"I never want to let the first lady down"—but also a reverence for the work. The five-year-old LaRosa who grew up in Easton, Pennsylvania, memorizing the presidents and opting for C-SPAN over cartoons, would be proud.
"Every morning and every evening when I drive through the gates of the White House, I have to pinch myself."