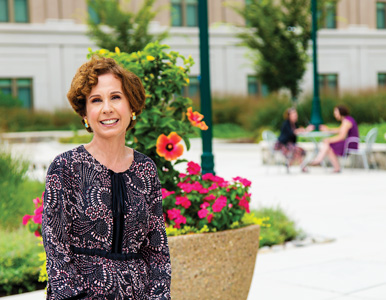 As a child growing up in Alexandria, Virginia, Linda Fotis, CAS/BA '78, and her father would drive to the bank to deposit her babysitting earnings in her college savings account. "My parents felt attending college was something sacred," Fotis says. "At an early age, I was told, You're going to go to college, and in order to go you have to help earn your way." 
When Fotis received her degree in music performance from American University, she became the first woman in her family to earn a bachelor's. Today, the accomplished pianist owns Joy of Music, which offers lessons for children and adults, in Spring Valley near AU.  
She and her brothers Stephen Fotis, WCL/JD '86, and Bill Fotis are creating an endowed scholarship in honor of their parents, Charles Fotis Sr., SPA/PhD '59, and Dorothea Fotis, that will support students who are the first in their family to go to college. The late Charles Fotis established a trust with the request that his children use the funds for charitable purposes close to their heart.
The scholarship's focus on first generation college students reflects the experience of the Fotis family, who emigrated from Greece—much like the family of AU President Sylvia Burwell, whom Fotis admires. "My family knows that getting an education is not an easy thing," she says. "My father started collecting bottles when he was three" to help pay for college. "He received a scholarship and worked hard; it gave him the opportunity to be a success." In addition to Charles Fotis's career with the Department of Defense, he worked as an adjunct professor at AU and George Washington University. He often brought his children to campus, exposing them to higher education at an early age.
Linda Fotis named the scholarship to honor her parents, who "gave me life, values, and education—all that you need to be a happy person." Yet in creating the scholarship, she discovered another of life's pleasures: philanthropy. "Giving brings joy—and joy has no price tag."  
For information on how your charitable estate planning can create a legacy at American University, contact Seth Speyer, executive director of planned giving, at 202-885-3411 or speyer@american.edu; or visit american.edu/plannedgiving.