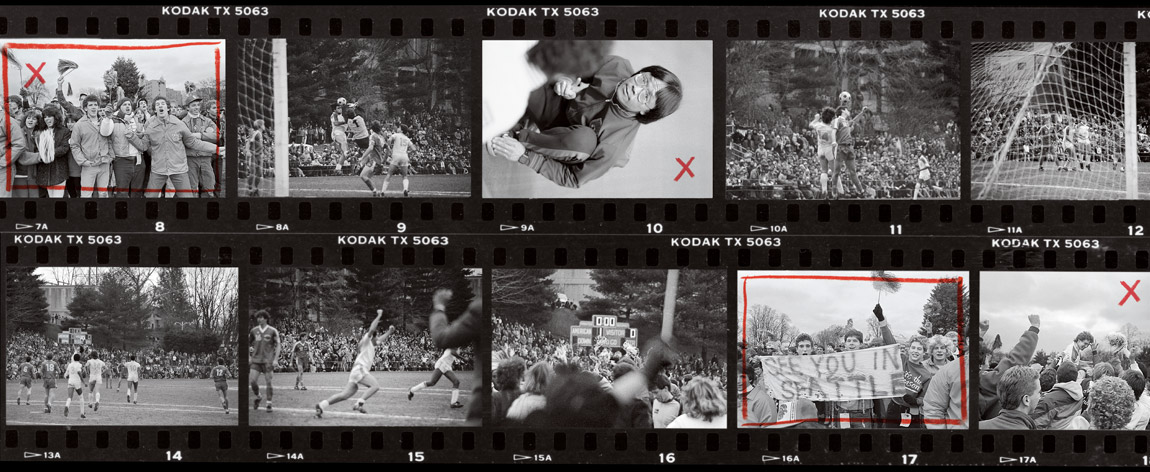 The crowd was so large, students were hanging from the trees. Thirty years ago, on December 7, 1985, the AU men's soccer team won a NCAA tournament semifinal soccer match on a hastily upgraded Reeves Field in what was almost certainly the greatest sports triumph in school history. It was also the day that secured the place of Peter Mehlert, CAS/MEd '75, in the annals of AU athletic history.
Rented bleachers trucked in from Maryland couldn't accommodate the record-setting crowd. Some 5,300 tickets were sold, but hundreds more spectators gathered around the field on the chilly Saturday afternoon. They gave a deafening cheer when Fernando Iturbe headed in a goal in the 77th minute, securing the Eagles' 1-0 victory over heavily favored Hartwick College. "I've never heard a sound like that at this university," David Aldridge, SOC-CAS/BA '87, veteran TNT sports broadcaster and former Eagle editor, has said of that moment.
When the final whistle blew, the dam burst, flooding students, faculty, and alumni onto the field to revel in the rarity of being a national sports powerhouse. The triumphant chords of Bruce Springsteen's "Glory Days" rang through the air as the crowd hoisted onto their shoulders Mehlert, the coach who had led the team through this remarkable season.
A spontaneous campus-wide celebration followed. Tickertape made of shredded newspaper and toilet paper rained down from dorm windows, students booked spur-of-the-moment flights to Seattle for the championship game, and entrepreneurs mocked up "Battle in Seattle" T-shirts that they hawked in a special edition of the Eagle.
Mehlert coached AU men's soccer from 1972 to 1991 and helped create the women's team in 1990, leading the inaugural squad to an impressive 11-3-1 record. A star player in his own right-Mehlert earned a soccer scholarship to Boston University, where he started all four years and was named MVP as a senior in 1971-he was inducted into AU's Stafford H. "Pop" Cassell Hall of Fame in 1998. The Hong Kong native, who moved to Bethesda, Maryland, as a teenager, retired from his teaching post in AU's College of Arts and Sciences this year.
He's understandably proud of the magical '85 season, which earned him NCAA Coach of the Year honors, but when Mehlert looks back, he is just as proud of his 1978 and 1979 squads. Those teams, featuring his first recruits, accomplished several key milestones: among others, the program's first NCAA Division I tournament berth and the school's first-ever victory over the University of Virginia, then coached by Bruce Arena, who went on to lead the US national team.
Recruiting and relationship building were key to Mehlert's success, says Steven Goff, SOC/BA '88, who covered sports for the Eagle during the 1985 season and now reports on soccer for the Washington Post. "He's a personality that people were attracted to," says Goff. "Pete was the face of the team and he built that program up."
Mehlert sometimes landed a key recruit with simple courtesies, like being the only coach to respond to a prospective player's letters. Other times it took an in-person visit, which Mehlert accomplished with marathon hours and bare-bones resources. To convince one player to come to AU, he drove his VW Beetle to Lexington, Massachusetts, and back without stopping to sleep.
Not every player Mehlert sought came to AU, but he always put in the effort. "I never gave up on any of these kids, and as a result I got these top, top players," he says.
Alumni of the Mehlert years have résumés stacked with championships, national and international professional play, and other successes. And many of them got their start in youth soccer leagues.
In the four decades since Mehlert first took the field at AU, youth soccer has exploded in the United States. Slipping on shin guards and lacing up cleats has become a rite of passage for millions of American youngsters-including Mehlert's own kids, daughter Keara and sons Peter and Patrick, Kogod/BA '14.
The number of high school soccer players increased tenfold from 80,000 in 1971 to nearly 800,000 last year, and the boom in youth leagues has been even greater. The US Youth Soccer Association had about 100,000 players in 1974, its first year, but now tallies more than 3 million.
According to Dennis Seese, an AU research librarian and author of The Rebirth of Professional Soccer in America, soccer was a fixture in immigrant communities as far back as the 1920s. Much of the growth in youth soccer visibility came from a desire in affluent, suburban communities to provide athletic, relatively safe, and structured activities, and an alternative to tackle football. "It became a participatory sport for the middle class," Seese says, "and we saw the birth of the soccer mom culture."
Soccer also got a boost from Title IX. In 1971, there were a mere 28 schools nationwide with a girls' soccer team, but now one in five high school girls play, and it's the third most popular team sport for girls, behind volleyball and basketball.
Mehlert's youngest son Patrick, who scored a game-winning goal for the Eagles himself when he started at midfielder for AU, now coaches several youth teams in Maryland's Montgomery County, on the same fields where he once played as a kid.
In addition to improved technical skills, more connected play, and better passing, Patrick measures success as a coach with other metrics: "Are they enjoying it? Are they coming to practice with smiles on their faces? Are they leaving with smiles? That's how I know I'm doing a good job."
Mehlert readily acknowledges that his demanding and hard-driving coaching style differs from that of his soft-spoken son. "I'm a little more contentious, more emotional," he says. It's an approach that drove some away-but one that also got results.
A week after AU's historic 1985 victory over Hartwick, the Eagles fell to the UCLA Bruins in the NCAA championship game in Seattle's Kingdome after eight grueling overtimes-the longest collegiate soccer game in history. (The marathon match changed the NCAA rules; now, tournament ties are settled with penalty kicks.)
Despite the heartbreaking loss, Mehlert and his 1985 squad, whose 19 victories are still the record for the winningest season, gave the AU community something to cheer about.
"For the first time ever, AU was in the national spotlight," wrote Goff in the December 16, 1985, issue of the Eagle. "It had beaten the 'name' schools-South Carolina, Maryland, Old Dominion, Hartwick-and stretched powerful UCLA to a 166-minute marathon.
"Whether the Eagles fade cannot be answered now. But it doesn't really matter because this was AU's year. This was the year AU made some noise. No matter what happens, always remember the 1985 AU soccer Eagles."