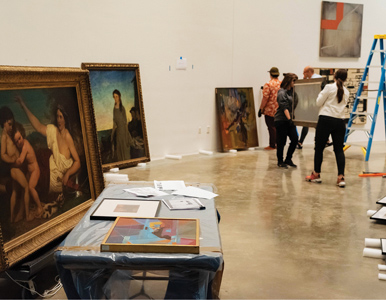 When it came time to select works for the first exhibition from the 9,000-piece Corcoran collection given to AU in May 2018, the students were running the show. 
Moves Like Walter: New Curators Open the Corcoran Legacy Collection, which runs through December 15 at the AU Museum, features 87 paintings, photographs, and works on paper hand-picked by 18 grad students in the College of Arts and Sciences. The guest curators were enrolled in Jack Rasmussen's spring course on curatorial practice.
"Their job was to put together an exhibition that means something," says Rasmussen, museum director and four-time CAS alumnus. "For me, it was the idea of a young curator coming into a collection basically formed in the late nineteenth, early twentieth century, and seeing what's relevant today."
The result is what the Washington Post called "a coming-out party for the dormant [Corcoran] collection"—a provocative and playful juxtaposition of old and new, traditional and radical. The exhibit explores five themes as diverse as the works themselves: race, gender, motherhood, abstraction, and nostalgia of place.
The inspiration behind the show is the late American curator Walter Hopps, who served as director of the Corcoran from 1970 to 1972. Hopps was known for being erratic, challenging—and always late. Yet he brought a fiercely personal and imaginative perspective to his work—one that the students embraced as they conceived, curated, and supervised installation of the exhibition.
The Corcoran Gallery of Art, one of the first private museums in the US, was established in 1869. After it was shuttered in 2014, the Corcoran's 19,493-piece collection—including works by Pablo Picasso, Rembrandt, and Andy Warhol—was divided among the National Gallery of Art and 10 other Smithsonian museums, several DC universities, and the US Supreme Court. The gift, one of the largest free art distributions in American history, is a "once-in-a-lifetime opportunity," Rasmussen says.
Moves Like Walter is just the first of many opportunities for the public to enjoy AU's masterful new collection.
"We hope that the exhibition will prompt viewers to take more risks, ask more questions, and love art feverishly," says art history student Abigail Swaringam, CAS/MA '20.