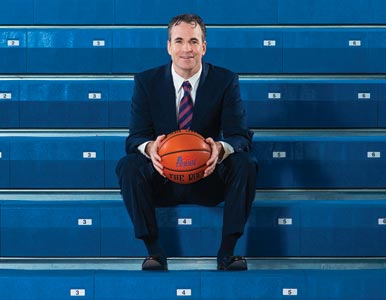 Timing is essential in the Princeton offense, a system of basketball that stresses constant motion, passing, and back-door cuts. As a scrappy 6-foot guard, Mike Brennan ran it to perfection at the Ivy League school, leading the Tigers to two NCAA Tournaments. Later, as an assistant coach under its inventor, Pete Carril, and for the past four seasons at Georgetown, Brennan was an integral part of teams that employed it to great success.
Sandwiched between those stints, Brennan, 41, worked as an assistant at AU during the Eagles' best two seasons ever, the Patriot League championship years of 2007–2009.
"We had the best players in the league—I timed it right," he says of his AU experience. "When I was here as an assistant, I knew in the back of my mind that this would be a great place to be a head coach. Academics are important here. Having kids who want to get a degree and compete at a high level is important."
When Jeff Jones left AU after 13 seasons, Brennan was ready. He was named head coach in April.
"Mike embodies all the qualities we were looking for in a coach: integrity, character, experience recruiting at a high-end academic institution, ability to connect with players, toughness, and unmatched skills in player development and teaching," says Billy Walker, AU's director of athletics and recreation. "Above all, Mike is the ideal role model and mentor for our young men to emulate. Mike understands the primacy of academics but knows we can compete for championships as well. He's the perfect fit."
A native of New Jersey, Brennan graduated from Princeton in 1994 with a degree in English. He coached the freshman team at his high school before playing professionally in Europe. When he returned, he joined Carril's staff at Princeton.
Now, in charge of a collegiate program for the first time, Brennan is drawing on the lessons he's learned throughout a career spent working with some of the top coaches in the game.
"We're going to play as a unit, compete, and defend," he says.   
No doubt the team's timing, like its coach's, should be exquisite.