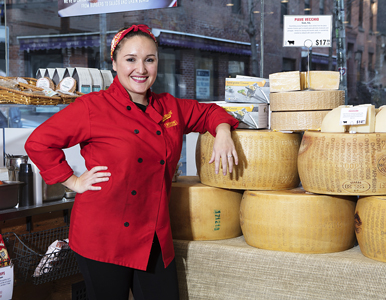 All of Lauren Toth's answers to our questions were cheesy.
"When it comes to cheese," she says, "I don't discriminate."
As national projects assistant manager at Murray's Cheese, a legendary shop in Manhattan's Greenwich Village, Toth, SOC/BA '07, creates training content for more than 2,000 employees in New York and around the country. (Murray's is owned by the grocery chain Kroger and has more than 400 US locations.)
It's a dream job for a woman who has been enamored with cheese since she peeled her first stick of Polly-O as a little girl. Today she enjoys pairing cheeses not only with wine, but with beer and cider as well. 
"When you have a great pairing, one plus one equals three," she says. 
While Toth's palate has evolved, the comfort food that sparked her passion—mac and cheese—hasn't lost the whey to her heart. 
"I was all about the Velveeta—that's a guilty pleasure to this day."
Ten cheeses Toth finds gouda

Up in Smoke: This goat's milk cheese from Oregon is lightly smoked over alder and maple, then wrapped in maple leaves that have been smoked and misted with bourbon. Light in texture, it's terrific paired with a pinot noir or bourbon.
Greensward: This gooey, custardy cheese is woodsy—thanks to its spruce bark wrapping—with a hint of bacon. 
Mozzarella di Bufala: We can't forget this simple but mind-blowing classic. Water buffalo's milk is much richer than cow's milk, and the resulting cheese is light and delicate while full of flavor and tang. 
La Tur: An Italian treat that features cow's, sheep's, and goat's milk, it's creamy, rich, and decadent, like a scoop of ice cream. I like to serve it with oatcakes topped with cherry preserves. It tastes like a bite of cherry cheesecake.
Coupole: The surface mold on this dome-shaped, aged chevre from Vermont Creamery makes it look like a brain, but the taste is creamy and sweet, with a dense, fudgy texture. 
Ewephoria: This aged sheep's milk gouda smacks of butterscotch and toasted sugar. It's great for dessert with some sherry or a porter. 
Weinkase LeGrein: Despite the German sounding name, this cow's milk cheese comes from northern Italy. Sometimes called "salami cheese" because of its flavor notes, it's soaked for days in local wine, garlic, and spices. 
Bayley Hazen Blue: Made by Jasper Hill Creamery in Vermont, this Stilton-style cheese is wonderfully balanced, with subtle notes of bacon, chocolate, and hazelnut. It's snackable and good for cooking too.
Flory's Truckle: This aged and cloth-bound cheddar comes from Milton Creamery in Missouri. Grassy and sweet with a hint of acidity, it's crumbly and crunchy. Try it with apple slices or dried apricots.
Challerhocker: Hailing from the Swiss Alps, this firm yet creamy raw milk beauty is nutty and sweet. It's also an excellent melter.