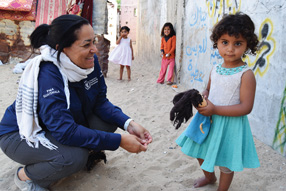 In the middle of a Microsoft Teams call in October, Valerie Guarnieri's phone lit up with exciting news about her team. The United Nations World Food Programme (WFP)—which every year distributes 15 billion food rations and other aid to 100 million people in 83 countries—had been named the 135th laureate of the Nobel Peace Prize.
"It was a huge recognition of the link between hunger and conflict, and a huge acknowledgement of our colleagues who put their lives on the line," says Guarnieri, WFP's assistant executive director, who has managed policy and programs from its Rome headquarters since 2018.
The agency is one of the first on the ground in global emergencies caused by conflict, climate shocks, and pandemics and on any given day, has 5,600 trucks, 30 ships, and 100 planes on the move. For Guarnieri, who joined WFP in 2000, the urge to serve stems from growing up abroad in Indonesia and India, where her father did trade union development work.
Her introduction to humanitarian aid came in 1992 when, as a young USAID staffer in Somalia, she and a small team coordinated a 15-aircraft food relief effort at the outset of a famine that killed 220,000 people. "Dozens of people in the town where we were [stationed] were dying on a daily basis," Guarnieri says. "I saw how quickly peoples' situations could turn around, as long as we could reach them and get them the food they needed."
She continued to globetrot for good, serving in Rwanda in the aftermath of genocide in 1994; in Macedonia with the National Security Council, as refugees fled Kosovo in 1999; and in Zimbabwe, the Philippines, Kenya, and Italy on WFP assignments.
Amid the pandemic, Guarnieri's field visits have stopped—but the need for WFP's help has not. One in nine people don't have enough to eat, and the world's acutely food insecure population has multiplied to 270 million. And donor nations that contributed $8 billion in 2020 are facing economic pressure that threatens their ability to meet the rising demand.
"COVID has shown us the importance of connection between people, but that needs to translate into support for those who are furthest behind," says Guarnieri. Her team will continue to face that challenge, providing food assistance, building resilience, and making investments that "save lives today and change lives tomorrow."