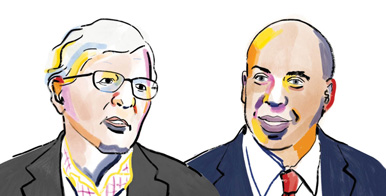 The School of Public Affairs celebrated the retirement of its most senior professor by hosting the junior senator from New Jersey.
The James A. Thurber Dialogues on American Democracy series—which commemorates the distinguished professor's 47-year career—kicked off on January 29 with Democratic senator Cory Booker. More than 700 people tuned into the hour-long conversation, which explored the most pressing threats to democracy.
"You asked me what keeps me up at night," said Booker from his home in Newark, where he served as mayor for seven years. "It's how much we hate each other. There's more vitriol for other Americans than there is for the people I know from my intelligence briefings are plotting every day—like the Russians—to undermine our democracy. 
"I'm worried about us losing our edge because we fail to come together and think big, look to the future, and have a president—I don't care who they are—that doesn't just speak to my next election cycle, but says, 'Hey, at the end of decade, we'll do our moonshot in this generation and defy gravity.'"
While Booker—who won a second full term in November, capturing 57 percent of the vote—admitted he's "a prisoner of hope and always will be," he told Thurber that he's "not naïve to the challenges before us." Among them: white supremacy, which Booker calls the gravest security threat facing the US, and systemic racism.
"There are more marijuana arrests in recent years for possession than all the violent crime arrests combined," he said. "People have had their lives destroyed for doing things that two of the last four presidents admitted to doing. 
"The problem is, we have grown comfortable with these injustices. And it's hard to grapple with something that you don't even admit is a problem. We are all hurting from this, but it's more like we're frogs in boiling water. We don't realize that our country is at risk if we don't find a way to start speaking truth to reality and have constructive strategies to address those injustices."
Sponsored by the Kennedy Political Union, the US Capitol Historical Society, and the Center for Congressional and Presidential Studies (CCPS), which Thurber founded in 1979, the series also featured journalist Anne Applebaum and political scientist Robert Putnam. It was a fitting tribute to a professor who's contributed so much to the political dialogue.
Thurber authored and edited more than 50 books and 100 chapters and, as director of CCPS until 2016, he sponsored 350 public events and conferences and lectured at 100 universities. He also founded SPA's biannual Campaign Management Institute and Public Affairs and Advocacy Institute. 
"Jim is American University," said CCPS director David Barker.