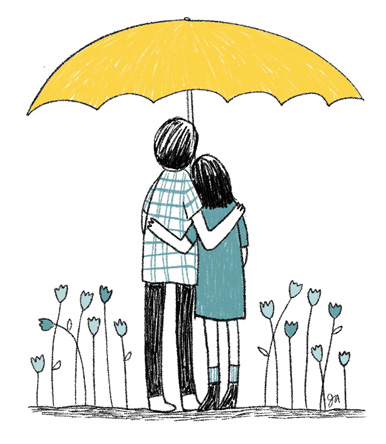 From his perch at the dining room table, Jason Rosenthal, SPA/BA '86, looked up from his laptop to watch his wife, resting on the living room couch, tap away at her own. 
I'm facing a deadline, in this case, a pressing one, she wrote, the family's loyal black Lab mix, Cougar, napping at her feet.
Nestled on a tree-lined street near Chicago's Wrigley Field, the cozy house had for two decades been abuzz with the joyous chaos of children. Once the site of Friday night Shabbat dinners, spirited games of Scrabble and Uno, and Backwards Nights—a whimsical Rosenthal family tradition that began with bedtime stories and baths and ended with dinner—the space now had an ethereal feel. The candles Jason made out of old soup cans and mason jars flickered in every nook and cranny, while the sounds of the pianists and classical guitarists he hired to play for his wife wafted gently through the house. 
He is an easy man to fall in love with. I did it in one day.
Blindsided by the diagnosis that had come 18 months earlier—"tumor," the doctor had said; then, in January 2017, "terminal"—Jason was now absolutely clear-eyed about his mission. To make his wife, the "witty, smart, masterfully creative woman" with whom he'd spent fully half of his 52 years, as comfortable as possible in her waning days. To never let her forget, even as she slipped in and out of morphine-induced micro-naps, that she was loved: truly, deeply, eternally. 
Here is the kind of man Jason is: He showed up at our first pregnancy ultrasound with flowers. This is a man who, because he is always up early, surprises me every Sunday morning by making some kind of oddball smiley face out of items near the coffeepot: a spoon, a mug, a banana.
This is a man who emerges from the mini mart or gas station and says, "Give me your palm." And voilà: a colorful gumball appears. (He knows I love all the flavors but white.)
On March 13, 2017—10 days after "You May Want to Marry My Husband" appeared in the New York Times—beloved children's author and memoirist Amy Krouse Rosenthal passed away in bed next to her beloved. Although her Modern Love column has been read by more than 5 million people, it was written for an audience of just one.
I am wrapping this up on Valentine's Day, and the most genuine, non-vase-oriented gift I can hope for is that the right person reads this, finds Jason, and another love story begins.
I'll leave this intentional empty space below as a way of giving you two the fresh start you deserve.
With all my love, Amy
Amy was Jason's first and last blind date. After dinner and live music at a local blues joint, Amy knew she wanted to marry the third-year law student. A year later, in 1990, she did. 
Around their second anniversary, they welcomed son Justin, followed soon after by Miles and Paris. As for most working parents, life was hectic but happy for the Rosenthals. Amy wanted "to pack in as much fun as possible in a day, a week, a year, a life," writes Jason in his new memoir, My Wife Said You May Want to Marry Me, and was always up for adventure—whether cooking cobbler with the kids over a fire pit in Wyoming or meeting up after work for a picnic in Millennium Park. 
Amy was a creative force and in 1998, she turned the page on a successful advertising career to write children's books. As her catalog grew—35 books in 14 years, including Encyclopedia of an Ordinary Life, Little Pea, and Duck! Rabbit!—so did her profile. Jason, a personal injury lawyer and real estate developer who didn't even have a social media presence, was happy to let her shine. 
"I was a very private person. If you googled me, you may have gotten the other Jason Rosenthal who was a lawyer in Chicago," he says with a gentle laugh. "And, in fact, I got many of his faxes."
By 2015, with their youngest heading off to college, the couple was excitedly preparing for their next chapter as empty nesters. A consummate list maker, Amy jotted down a few to-dos: live in a foreign city, go to Burning Man, see the Marfa Lights in Texas, spend more time in New York.
But before they could even pack a bag, Amy fell ill.
She was at the National Book Festival in DC in early September when she felt a pain in her side. Her smile masked her discomfort as she read from her new book, I Wish You More, and signed hundreds of copies for her young fans with a swooping heart. 
The next day, Jason rushed her straight from the airport to the emergency room at Northwestern Memorial Hospital. 
Appendicitis, he thought.
Tumor, the doctor said.
The next 16 months were a rollercoaster: surgery, chemo, remission! But by fall 2016, the cancer was back—and it was spreading. 
As the calendar turned to 2017, Jason knew he was going to lose his wife to ovarian cancer. If there was a silver lining—and sunny, gregarious Amy was always one to find it—it was that there was time for goodbyes. Family and friends visited the house in small groups to share one more laugh, a final thought, a last kiss. Nothing was left unspoken. She and Jason even talked of her hope that he would continue to move forward and eventually move on with someone else—but not too quickly. ("She was always able to find the humor in things," Jason says.)
But even when the end is certain, you're certainly never ready for it. Amy was a petite woman—tinier still after cancer ravaged the once strong body that practiced ashtanga yoga for years with Jason. But when she died, she left a void exponentially greater than her 5 feet and change. 
Amy had given Jason the gift of life at the end of hers, but he was too gutted to know if he could accept it.
In the months after Amy's death, "there was no sunlight," Jason writes, "only a few smiles, and certainly no laughter." A love of music, the seed of which was planted on their first date, marked the couple's life together, and certain songs would bring Jason to his knees. So, too, would the sight of anything yellow—Amy's favorite color.
Jason sensed her everywhere. But he also felt the love and support of family and friends who circled around him and the children, in whom he saw Amy's strength and grace.
"They comforted me as much as I comforted them," Jason says. Slowly, the foursome learned how to "live with this huge void we feel while remembering the beauty we all share."
For Jason, the son of a social worker, therapy also helped. But when he started experiencing panic attacks, he knew it wasn't enough to tend his mental health. He got back into the yoga studio, began meditating, and formed his own "grief group," reading stories of loss by people like Sheryl Sandberg. 
His buddies also organized the Heal Jason Tour, taking him to see one of his favorite groups, Tedeschi Trucks Band, at Colorado's breathtaking Red Rocks Amphitheatre. The trip reignited something in him that had been dormant since Amy died. 
"Experiencing music had been so important to my life with Amy," he writes, "but rather than feel sadness when I was at shows without her, it felt like I was reconnecting with her, like perhaps I was starting to understand my blank space for the first time."
He returned to the Windy City feeling happy for the first time in a long time.
Amy saw a creative streak in Jason that he didn't see in himself. Early in their marriage, Jason learned to cook and paint at her encouragement, demonstrating a talent for both. She also encouraged him to find purpose in his life. (They knew lawyering wasn't it.)
That he's found it—and healing—in connecting with others "would have Amy jumping up and down and clapping her hands, as she was wont to do," Jason says. 
In April 2018, he traveled to Vancouver to deliver a TED talk about grief, which has since been viewed more than 2 million times. The experience "was emotional and extraordinarily cathartic," he says. The once anonymous attorney was also surprised to discover just how much he enjoyed using his voice to help others navigate loss.
Two months later, the New York Times invited him to pen his own Modern Love column to mark his first Father's Day as a single parent. His essay, "My Wife Said You May Want to Marry Me," begins simply: "I am that guy." In it, he offers readers the same gift Amy presented him: "A blank space to fill. The freedom and permission to write your own story." 
Jason's memoir of the same name, chronicling life before, with, and after Amy, debuted in April 2020—just as the world began grappling with the loss of what would become more than 2.5 million people to COVID-19. 
"We who were so fortunate to love so deeply have to live with grief for a long time—forever," says Jason, who established a foundation in his wife's name, dedicated to children's literacy and early detection of ovarian cancer, which kills 14,000 American women each year. "I've often wondered: If Amy hadn't expressly given me permission to move on, would I be at the end of a bar at noon with my head in a beer? But I'm still here, and the world is still rich and wonderful and full of what Amy always called 'the crevices of life'—these simple moments of beauty."
In the final pages of his memoir, Jason reveals that he met someone special. They're happy, as are his kids. He knows Amy would be, too.
"What I finally came to realize was that being happy again would actually be, in a way, a testament to the thirty beautiful years I'd had with Amy, and my memories of them that, no matter what happens along the way, I'll cherish for the rest of my life," he writes. "It's because of her that I know I have the capacity to love deeply and embrace every minute of joy I can possibly create.
"Thank you, Amy, for giving me that gift."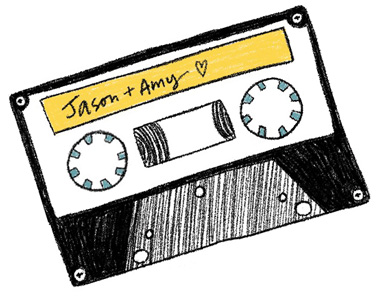 The Tale of the (Mix) Tape
In his book, Jason writes of ducking out of a wedding in downtown Chicago with Amy—who stashed her heels in a planter—and gleefully running down Michigan Avenue to catch one of their favorite bands at Lollapalooza. After the show, they dashed back to the reception "and directly to the dance floor, as if we'd been there the entire time." 
The Rosenthals shared a passion for music, and it's been integral to Jason's healing as he wrestles with the loss of his favorite plus-one.
"In the beginning, when grief had a very tight grip on me, I was drawn to 'sad songs' that allowed me to have a good cry," he says. "Then I remember very distinctly, this old song I loved came on and I was jamming in the car, and I thought, 'Wait, was I just singing again?' I realized I was going to be OK."
Tune into the playlist Rosenthal created for My Wife Said You May Want to Marry Me:
"Darling Be Home Soon," The Lovin' Spoonful
"The Beginning of the End," Nine Inch Nails
"The Parts," Manchester Orchestra
"Entre Nous," Rush
"Harmony Hall," Vampire Weekend
"One of These Things First," Nick Drake
"Can't Stop the Feeling!," Justin Timberlake
"Pink Moon," Nick Drake
"Son of Sam," Elliott Smith
"Something to Talk About," Badly Drawn Boy
"Not Fade Away," Grateful Dead with Tom Constanten 
"While My Guitar Gently Weeps," George Harrison
"I'm the Man Who Loves You," Wilco
"Jesus, Etc.," Wilco
"I Just Don't Think I'll Ever Get Over You," Colin Hay
"Just Breathe," Pearl Jam
"We Used to Wait," Arcade Fire
"The Suburbs," Arcade Fire
"Ghosts," The Head and the Heart
"Young Man Blues," The Who
"Testify," Rage Against the Machine
"Dear Mama," 2Pac
"Bound for Glory," Tedeschi Trucks Band
"Anyhow," Tedeschi Trucks Band
"High and Dry," Radiohead
"Lay Down Sally," Eric Clapton
"Killing Me," Luke Sital-Singh
"The Alien," Manchester Orchestra
"The Sunshine," Manchester Orchestra
"Other People," LP
"Fields of Gray/That's Where It's At," Bruce Hornsby
"Anemone," The Brian Jonestown Massacre
"Monsoon (featuring Mia Mark)," Amber Mark 
"Lose My Cool (Franc Moody Remix)," Amber Mark 
"Going Back to Cali," LL Cool J
"Begin Againers," Scott Mulvahill
"I Can Change," LCD Soundsystem
"Circle of Life," Carmen Twillie and Lebo M
"Blessings (featuring Jamila Woods)," Chance the Rapper 
"It's Alright to Cry," Rosy Grier
"No Fear (featuring Donna Missal)," Rudimental and the Martinez Brothers 
"The Bleeding Heart Show," The New Pornographers
"Still Feel Like Your Man," John Mayer
"Stick to the Hip," Dave Specter
"Stolen Moments," Cautious Clay
"Oliver!," 1994 London Palladium cast recording
"If It Feels Good (Then It Must Be)," Leon Bridges
"Waste," Rhye
"Song for You," Rhye
"Phoenix," Rhye