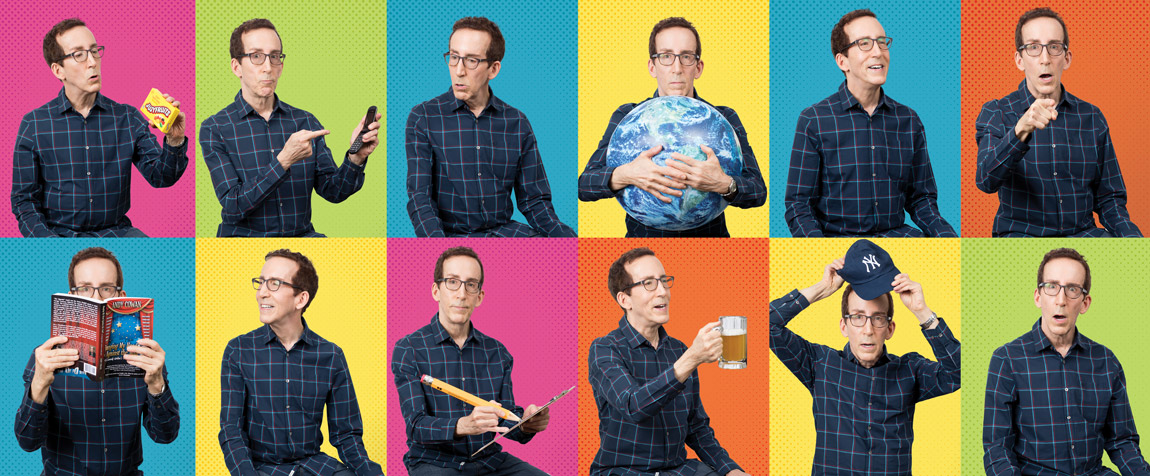 Andy Cowan is not funny. Because he lacks comedic instincts, he never wrote scripts for some of America's most-beloved sitcoms, or worked on a major talk show pre-interviewing hundreds of stars. He certainly isn't clever, which is why he hasn't penned hundreds of witty cartoons. He can't carry a tune, so he's not a jazz singer. He has no ambition, which is why he isn't busy producing and starring in a reality television series that he thinks just might redefine the genre. Deficient in intellectual capability, Cowan wasn't able to chronicle the ups and downs of a life in show business that he never had in Banging My Head Against the Wall: A Comedy Writer's Guide to Seeing Stars. 
"After reading this lovingly executed groundswell of creativity, you too will know Andy remains one of the industry's sharpest comedy minds," legendary comic Louie Anderson didn't say about the memoir. "This is the first book I've ever recommended that doesn't have recipes in it."
Of course, the opposite of everything you just read is true. For Cowan, CAS/BA '73, whose brilliantly self-effacing idea spurred the classic episode of Seinfeld, "the opposite" has come to define his comedy-writing career. It's a theme throughout his book (released this year by Black Rose Writing) and even in his real life, which he's devoted to entertaining people.
"For years I would think—somewhat humorously, but realistically too—gee, where would I have been if I had done the complete opposite up to now?" he says. "Maybe I would have been better off."
Doubtful. Cowan's credits include episodes of comedic heavyweights like Seinfeld, Cheers, and 3rd Rock from the Sun. Listen to him reminisce with giddy wonderment about his time as a talent coordinator on the Merv Griffin Show—"It made you fantasize about the glamour of show business"—and it's clear that he was destined for a life in Hollywood. Unlike many entertainers' memoirs that read as if the famous author (or more likely a ghostwriter) has composed their own 250-page eulogy, Cowan's book is filled with honest tales of both his hits and misses. 
"It took me four years to write about 40 years of writing and performing, which is why I say I'm like Moses wandering the desert of show business in Southern California," he says. "This is like my Ten Commandments. I say, 'Let my people go.' In show business they let people go all the time."
After a lifetime spent making people laugh in shark-infested Tinseltown, Cowan hasn't yet been devoured. Might he get the last laugh?
From the early days of his childhood in the Philadelphia suburbs, humor was a means of survival for the slight Cowan. 
"I found that comedy and mimicry and doing impressions of my teachers would start to draw in the cool people," he says. "Even the bullies were laughing. I think it sent that first signal that this is a way that I can kind of endear myself to the powers that be."
A psychology major at AU, Cowan earned a master's in broadcasting from Boston University before jumping into the radio business in Reading, Pennsylvania. He was working in TV news in Lancaster when the urge to try stand-up comedy became too strong to ignore. His first gig was at Grandma Minnie's on Chestnut Street in Philadelphia, where his Walter Cronkite impression got a few laughs. 
"Had I bombed I probably would have packed it in right then and there," he says. "But I got enough laughs where I was hooked."
Suddenly, he needed his next comedic fix. So when he read an article in the Philadelphia Inquirer about a relatively new comedy show whose producer was looking for on- and off-camera talent, he hopped on a train to New York.
A friend from college, Bob Ingram, Kogod/BS '73, worked at NBC, the network that aired Saturday Night Live. One way or another, Cowan was determined to land an interview with its emperor, Lorne Michaels. 
"We called his office and used Bob's childhood buddy's name, Sandy Troy, as my alter ego. I said I was a hotshot producer in from LA who needed to meet with Lorne Michaels, and they took the meeting!" he says as if he still can't believe it 40 years later. 
The sit-down was set for 6 that night. Ingram had to leave, but Cowan couldn't go with him. Cowan had no other access to the famed 30 Rock, so he spent most of the afternoon hiding out in men's rooms and stairwells. 
When he finally met Michaels, the famed producer extended his hand and said, "Hello Sandy. What is this all about, and it better be important."
With Dan Aykroyd looking on, Cowan did his shtick while Michaels exuded a "Zen-like calm."
"That indicated to me that either he was used to this happening or he sensed I was a phony from the get-go," Cowan says. Nothing came of it other than a story, but for Cowan, there was no going back. In 1978, he headed west. 
Two and a half years into his LA story, Cowan was working as a substitute teacher, doing stand-up on the side, and had few prospects for breaking into the industry. He was writing spec scripts for shows like Taxi, but the positive feedback he received along with rejection letters didn't pay the rent. 
Finally, in 1981 a producer he knew from the Merv Griffin Show (to which he had sent his impression of Merv) called with some good news. A talent coordinator position was open. It was Cowan's if he wanted it. 
For the next five years Cowan was responsible for pre-interviewing the guests, as well as writing for Griffin. (Cowan wrote the final words Griffin spoke on the show in 1986: We "will not be right back after this message. Th-th-th-th-that's all folks.") The celebrities he spoke with included Orson Welles, Tony Curtis, Andy Kaufman, and Jay Leno (who wrote the foreword to Cowan's book). Griffin even allowed Cowan to perform on the show five times. During one of his on-air appearances, Cowan asked the host, "Out here, can I call you Merv or do I still have to call you 'Your Excellency'?" The line broke the ice with the audience—and His Excellency himself. 
While working on the show, Cowan and a writing partner sent a spec script to Cheers. Eventually, three of their scripts made it onto the air. In the "Cape Cad" episode, which aired in season five, Diane is arguing with Sam about their wedding—never mind that he doesn't want to get married. "What do you think of Vivaldi at the ceremony?" she asks him. "You can invite anybody you want, I don't care," he replies. 
Cowan may or may not have written that line. In the world of sitcoms, script rewrites are as common as cheesy laugh tracks. ("My tombstone will read: 'To be rewritten over my dead body,'" he writes in his book.) This is a lesson Cowan learned early on, and one he experienced again when he started sending story ideas to Seinfeld cocreator Larry David. 
"Andy was always a great story guy," says Bruce Kirschbaum, a Seinfeld staff writer for three seasons. "Larry's attitude was he was not concerned about how good your script turned out. He always felt he could take an idea and Seinfeld-ize it. What he really needed were story ideas, and you could immediately see the opposite thing that Andy did could go 30 different ways and be very rich."
The idea stemmed, as so many great ones do, from desperation. Cowan had been sending David pitches, including one in which lovable loser George Costanza discovers a large bra in a dryer and becomes obsessed with finding the woman it fits. David liked the idea, but already had a bra-related Costanza storyline bouncing around in his head. What else do you have? he asked Cowan. 
"I threw the opposite thing at him as a last-ditch effort, and he grabbed onto it," Cowan says. "He knew something was there."
The episode eventually became the season five finale and is routinely listed among the top five in the show's nine-year run. In it, George realizes that his life is going nowhere and begins doing the opposite of his normal routines. At the coffee shop where the Seinfeld gang hangs out, George orders chicken salad on rye instead of his usual tuna on toast. After Jerry points out that salmon actually are the opposite of tuna because they swim upstream while tuna swim downstream, Elaine tells George that there's an attractive woman checking him out. 
"So what. What am I supposed to do?" George says.
"Go talk to her," says Elaine.
"Elaine, bald men with no job and no money who live with their parents don't approach strange women."
Jerry chimes in: "If every instinct you have is wrong, then the opposite would have to be right."
Emboldened by his new philosophy of life, George approaches the woman. 
"My name is George. I'm unemployed and I live with my parents."
Shockingly, the woman isn't repulsed. She turns to him, smiles, and says, "I'm Victoria. Hi."
It's an iconic scene in an iconic episode of an iconic show, and it landed Cowan a spot as a staff writer for its next season. 
"It is famous and revered and loved because it speaks to so many different people about why things go wrong in our lives," Kirschbaum says. Indeed, there was no storybook ending for Cowan at Seinfeld. None of his scripts made it on the air during his year at the show. Still, he's proud of his work, and in the book details dozens of his ideas that didn't see the light of day, including a story about Elaine fake laughing at her new boyfriend's crummy jokes, and George taking dates only to movies that feature actors who aren't good-looking.
Since his Seinfeld days, Cowan has worked on a number of projects including pilots, writing comic panels, and singing in jazz clubs. He's discovered that he takes the most pleasure from creating projects for himself.
"Most writers are would-be performers who never had the guts to do it," Kirschbaum says. "He's very sensitive and takes things to heart, but he still has the courage to go out there on stage, sing, perform in his own pilots. I shake my head and say why the hell do you want to do this? I guess the answer for him is, it's still fun. And what he's thinking is still very much worth your attention."
Cowan's latest project, cocreated with Emmy-winner Rich Ross, is The Lost Sessions, a comedy docuseries they're developing that explores the anxieties, fears, and neuroses of a man of a certain age living in a millennial world. Cowan, who still uses a flip phone and an AOL email account, plays himself, so the role is not a stretch. It will include footage of his real-life sessions with a therapist and occasional thought bubbles depicting the difference between what he says and what he thinks. The show also will be musically scored and feature field pieces of his interactions with real people in the wild, not actors playing passersby.
"The Lost Sessions will be about not only me trying to connect with the twenty-first century world, but also still trying to find the right woman," says the lifelong bachelor. "It's like the Vietnam War of my life: searching for Ms. Right."
Cowan's humor is particularly sharp when it relates to his experiences with the opposite sex. In the book, he recalls hitting on actress Meg Ryan outside a Hollywood bar one night. 
"My track record of needlessly killing a tree that goes into the business card I hand to a female stranger (famous or otherwise) I never heard from again remains unblemished," he writes. 
Romance, come to think about it, is a lot like comedy writing. To succeed at each, you need timing, chemistry, and a little luck. Banging My Head Against the Wall is the story of a man who's experienced his share of successes and failures in a dog-eat-dog business, but always persevered with the opposite of a frown on his face.
The puffy shirt. Festivus. The Soup Nazi.
Two decades after the last new Seinfeld episode premiered, the show remains a part of our cultural lexicon. Andy Cowan's "The Opposite" episode certainly occupies a prominent place in the show's storied history, but it wasn't his only idea for Jerry, Elaine, George, and Kramer. As he details in his book, while these didn't make it onto the air . . . yada, yada, yada . . . we think you'll get a kick out of them.  
Jerry fills every moment of silence to avoid his girlfriend incessantly asking, "What are you thinking about?"
While combing through old photos, George's new girlfriend makes a crack about how goofy he looked as a kid. That prompts him to poke fun at her homely young likeness—which turns out to be a recent picture of her daughter.
After George tells his girlfriend he's out of change at a wishing well, she calls him cheap when she hears the telltale jingling in his pocket.
Kramer gets a cold, which leads to orgasmic sneezing.
As Elaine and another job seeker wait to be interviewed, an assistant returns with two coffees, forgetting who wanted which: "One cream and sugar, one black?" As the interviewer enters, Elaine responds, "I'm black." Later, she gleefully informs the gang she got the job, but eventually realizes they hired her because they think she's black.
Elaine raves about Paul, a new guy in her life that none of the others have ever seen. "That's because I don't like being with him," she says. Elaine connects with the guy over the phone but it's never the same in person. 
Kramer tracks down the perpetrator who missed a loose button on his new shirt, "inspector number five" (per the slip of paper in the shirt pocket).
Jerry dates an inappropriate smiler—a woman with the disconcerting habit of grinning when relaying depressing or sad information.