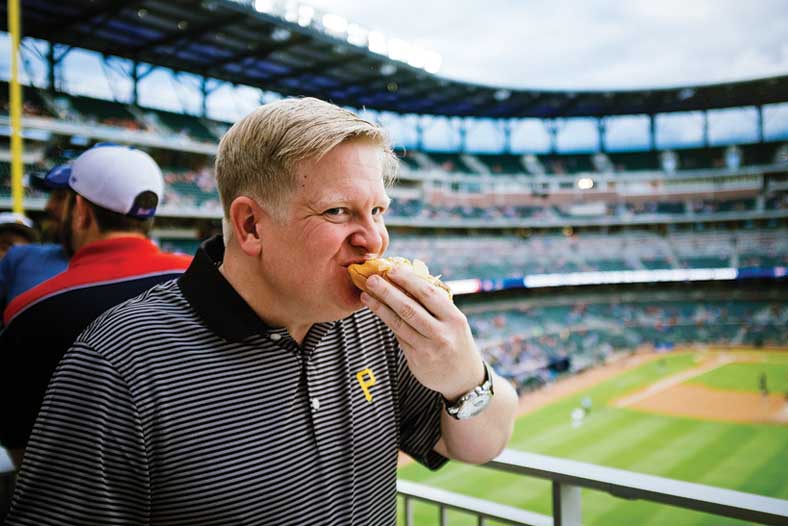 His quest began, unbeknownst to him, in the tiny coal mining town of Carmichaels, Pennsylvania, near the West Virginia border. There, in his grandfather Ernest's family room, young Tim Titus would sit on a couch in front of the console television, watching baseball game after baseball game into the wee hours of the night until the weight of his eyelids proved tougher to fight off than a Zach Britton sinker. 
The power of the hitters, speed of the runners, and slickness of the fielders mesmerized him, but Titus was equally awed by the stadiums in which they showcased their talents. The impossible greenness of the grass, the unique configurations of the outfields, the skylines looming beyond the centerfield bleachers. It all spoke to him. 
We've built it, you should come.
In May, Titus, SPA/BA '93, settled into a seat along the third base line at the new SunTrust Park outside Atlanta, where he watched the Braves play his beloved Pittsburgh Pirates. There was nothing remarkable about the game itself, a meeting between two mediocre National League teams, but it was a special evening nonetheless. For Titus, baseball is more about the journey than the final score. 
The suburban stadium was the 253rd venue in which Titus, 46, has watched a professional baseball game. It was the last of the 30 Major League ballparks he needed to check off his list, although he counts the Braves's old home, Turner Field, and 17 other retired stadiums among his career stats. The back of his baseball fan card, were such things to exist, also would include 192 active minor league parks and 15 shuttered ones. Less than a dozen North American ballparks—including ones in Grand Prairie, Texas; Kissimmee, Florida; and Quebec City, Canada—remain on his to-see list.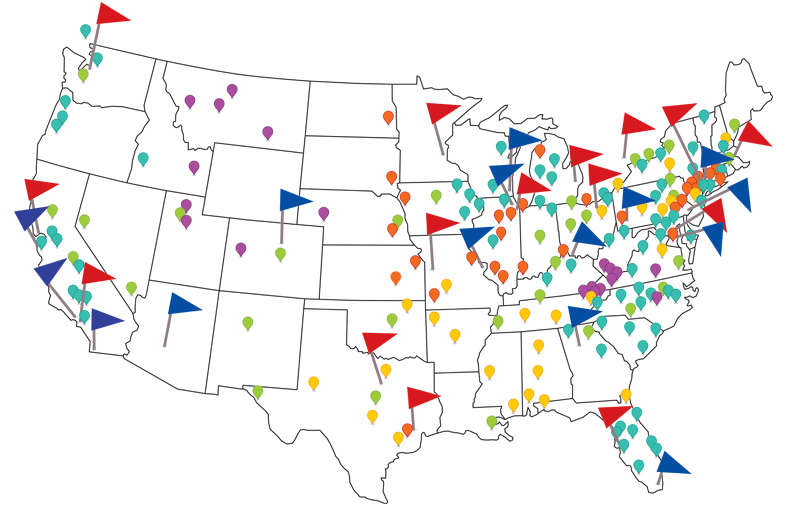 "Every summer I try to go to at least five or six new ones," says the School of Public Affairs adjunct professor. "Some summers I've had great luck and I've hit 25, some I've gotten just three in. I become obsessive about this stuff. I try to control it, but once I latch onto something that I want to accomplish, I kind of go full bore into it."
Clearly. Titus's first stop was the now demolished Memorial Stadium on 33rd Street in Baltimore. He rattles off details of that April afternoon in 1981 as if it happened last week.
"The Orioles played the Kansas City Royals," he says. "Clint Hurdle, who's actually the manager of the Pirates now, hit the first home run I ever saw. I remember going in and seeing the size of the field, eating a hot dog, and getting some sun. The crowd was so into it. I also remember we left school early that day, so it was a big thrill."
Titus was a fourth grader then, and while he attended a smattering of games with his family in the ensuing years, it wasn't until the summer before his senior year at AU that he became consumed by his baseball wanderlust. He picked up his then eight-year-old cousin, Josh, in his 1990 Toyota Corolla, and the two cruised to games in Baltimore, Philadelphia, Pittsburgh, and Cleveland.  
Titus was hooked. The next summer they extended the road trip to two weeks, adding Detroit, Chicago, Milwaukee, Minneapolis, Kansas City, and Cincinnati to their resumes. Visiting baseball stadiums became his life's leisure work. Over the years he's brought his ex-wife, current fiancée, mother, father, sister, uncles, various other relatives, and friends with him to places like Burlington, Vermont, and Grand Rapids, Michigan, to watch minor league games. Sadly, Josh no longer rides shotgun. He passed away in 2011 at the age of 26.
"Every time I go to a new park, it's sort of like a bright memory of him," Titus says. 
In 2012 he and another cousin's son went to every ballpark in Oregon, Washington, Idaho, and Montana, hitting several national parks and parts of the Lewis and Clark Trail along the way. They'd have gone to Wyoming, too, but it's one of only three states with no professional baseball team. (Alaska and Hawaii are the others.)
"I have probably been to about 100 of them by myself, just because it was the only way it would work," says Titus, who often shoehorns ball games into business trips. He works for Law360, a legal news service. "When you go to Iowa on a 10-day vacation, it's kind of hard to get a whole lot of people to go."
Last year he did convince his fiancée, Genifer, to join him in Seattle, where they enjoyed a little hiking in the Olympic Mountains between Mariners games. Checking out the local sites, like the Babe Ruth Birthplace and Museum in Baltimore and the Ted Williams Museum and Hitters Hall of Fame in St. Petersburg, Florida, is a highlight of many trips.
As is eating. Baseball stadium cuisine has come a long way since the days of peanuts and Cracker Jacks. Titus has indulged in Tex-Mex tacos in Albuquerque, the fish variety in Pensacola, barbecue in Memphis, and oysters in Mississippi (at a Biloxi Shuckers game, appropriately enough).
Titus has plenty of time for noshing, because he never leaves a game early. Once he soldiered through an October doubleheader between two noncontenders in Detroit on a day so frigid that the Tigers offered free coffee and hot chocolate to anyone willing to stay.
"The only time I've ever left is when the game became official," he says. "I was at a game in San Antonio [when] a huge thunderstorm blew through. There was no power for miles around. We were all huddled in a little tunnel and finally they were like, Get out of here. Go!
"In order for me to count it, it has to be an official game. I went to a game in Bowling Green, Kentucky, that got rained out in the fourth, so I had to go back the following year."
That's either dedication or insanity. We'll go with the former, which raises the question: what will Titus do when he finally runs out of ballparks to visit?
"Generally one or two new ones open every year, and the independent leagues continue to grow, but the number of new parks is dwindling," he says. "I have talked about starting to do parks in the Japanese or Korean leagues. There are winter league parks in the Dominican Republic and Puerto Rico that I could go see."
Let's face it: Titus's stadium-seeking pastime likely will never end.
"Most baseball games you go to, even if there are two teams that don't like each other, you don't normally see people getting too into it," he says. "The environment is extremely friendly. If you go to an Orioles-Yankees game you might see some tension, but for the most part everybody's pretty relaxed. Plus there are 162 games a year, so if you lose one, who cares? There's a game tomorrow."
And there's a good chance Tim Titus will be there.