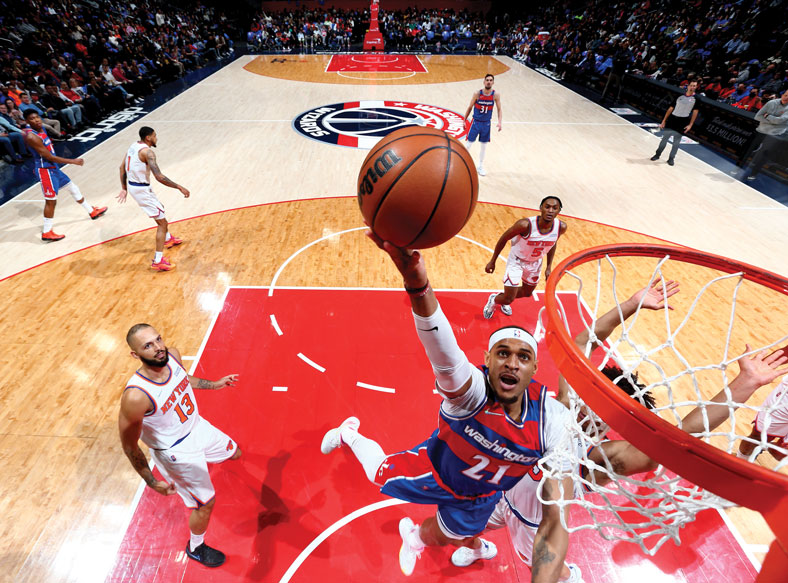 Much like the NBA players whose athletic talents he documents, Alex Diamond, SOC/BA '10, keeps his head on a swivel.
On Washington Wizards game nights—at home or on the road—the Monumental Sports and Entertainment (MSE) electronic news gathering shooter sits along the baseline, a Sony FX6 video camera resting atop one of his shoulders. Diamond keeps both eyes open, one squinting through his viewfinder, the other scanning the hardwood for players on the move. "I don't have time to look down at my tiny LCD screen then look back up at the court. By then, you'll miss the ball and miss the play," he says. "[NBA players] are incredibly fast. Their reaction times are instantaneous." So his must be too.
Diamond has spent seven years behind the camera for MSE—owner of the Wizards, the NHL's Capitals, and the WNBA's Mystics, among a dozen other brands—and this fall embarked on his second season focused solely on shooting video of DC's basketball franchise at games, practices, events, and more. 
His careful camera work lives on as Wizards social media posts, in-game jumbotron content, marketing commercials and promos, and more, but it's not just layups and press conferences that light up his lens.
On the road, he arrives at arenas four hours early to catch players showing off their fashions on their way to the locker room, and he has a keen eye for celebrations, from parents and kids high-fiving to bench players celebrating after a big dunk. "I leave myself room to get some different angles that bring out the humanity and personalities of players and fans," he says. "I love to look for the little side moments that help tell the story of the night."
Diamond has captured thousands of hours of footage for Monumental, filling memory cards and his passport. He joined the Wizards this fall on their five-day preseason trip to Japan and tagged along with the Mystics to Abu Dhabi in 2020. And, after the Capitals won their first championship in 2018, he documented the Stanley Cup's summer travels to players' hometowns, from Russia with Alex Ovechkin to the Czech Republic with Michal Kempny to small-town Saskatchewan with goaltender Braden Holtby.
Each new assignment is a chance for Diamond to "unlock visual puzzles," from how a sunbeam will cast shadows at a charity event to how a subtle nod between a guard and forward hints at the play to come. Whether it's an alley-oop or a corner three, the MSE shooter will capture it. His frames rate.