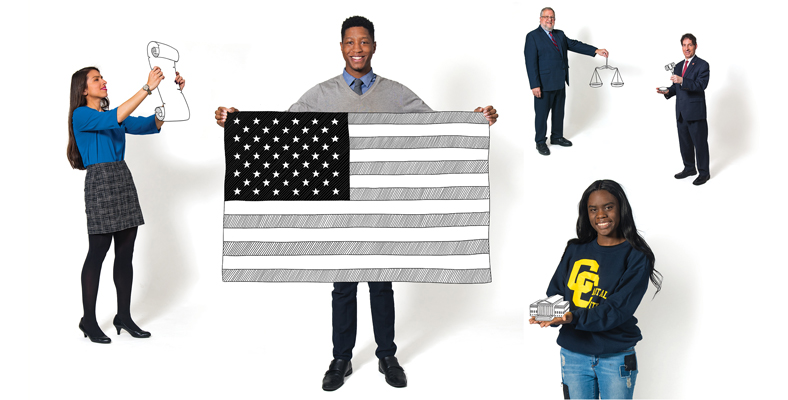 Someday, Travis Holmes hopes he'll be an attorney at a midsize-to-large firm in New York, practicing administrative or public interest law.  
Ericka Cruz also has sights set on the Big Apple, where she'd like to be an immigration lawyer. 
But on a chilly Tuesday in early January, the two second-year Washington College of Law (WCL) students are known as "Mr. Travis" and "Ms. Ericka." They stand in front of their six high schoolers—the bulk of the regular class, but not the whole bunch. Two are absent; one will walk in 15 minutes late, munching on an apple; and another, they learn, transferred schools over winter break.  
"He was tired of y'all," one student jokes.  
Within the blue walls of room 144 at Capital City Public Charter School in Northwest DC, flanked by the bass drums and headphones used by Mr. Martin's music students, Holmes and Cruz have an important job on Tuesdays and Thursdays.  
As two of 16 fellows with WCL's Marshall-Brennan Constitutional Literacy Project, which marks its 20th anniversary this year, they will teach two civics courses—constitutional law and youth justice, one each semester—to upperclassmen. Their goal: to help students understand how the law applies to their lives.  
But before the teachers begin planting those seeds, they'll wait for a few stragglers to arrive after the 9:31 a.m. bell.   
"Welcome back," Holmes says, eventually. "It's been a while—it's been a year since we've seen you."  
The dad joke draws both chuckles and eyerolls.   
With winter break barely in the rearview, Cruz and Holmes want to grab students' attention from the start. A tap of a laptop projects a grainy, YouTube video onto a screen at the front of the room, introducing them to Bernhard Goetz. 
In 1984, the white Goetz shot four black teenagers on a New York City subway car, paralyzing one. He claimed self-defense, as he believed the men intended to rob him. 
Jade, a senior, raises her hand to get the discussion started. She notes that a few of the men had screwdrivers on them, but that they never drew them.  
"Very good thought. You're picking up on the legal parts of this," Cruz says. 
The class dives into the specifics: location, perception of danger, and the fact that the teens were retreating as Goetz fired his pistol.  
"Wait, wait, wait," Gabriel, a junior, interjects.  
"If they're actually trying to do him harm, then it's self-defense. But because they're trying to run away, that can't be self-defense." 
After 30 minutes of lively discussion, Holmes and Cruz reveal that the "Subway Vigilante" was acquitted of attempted murder and sentenced to a year in prison for carrying an unlicensed firearm. He served eight months.  
Puzzled, a junior named Austin asks: "So he didn't get life?" 
"The only thing he got was carrying an unlicensed weapon," Holmes says again. 
The rust of winter break now shaken off, the class moves on—but not to a lighter topic. Next up: stand-your-ground laws.  
Marshall-Brennan, named for former United States Supreme Court Justices Thurgood Marshall and William Brennan, both of whom championed civics education, was founded in 1999. But the program, started by WCL professors Jamie Raskin, now a US representative for Maryland's eighth congressional district, and Steve Wermiel, WCL/JD '82, traces its roots back three  
years earlier.  
In 1996, Raskin received a phone call from a group of students in the communication arts program at Montgomery Blair High School in Silver Spring, Maryland.  
The teens produced Shades of Grey, a monthly debate show, for the Montgomery County Board of Education's public access channel. After arranging a debate on same-sex marriage, the students received a note from the station manager: the network wouldn't broadcast the show.  
When Raskin asked why the station had pulled the plug, the program director replied that a guest on the episode "brought up the issue of religion and God in a very heated and controversial manner."  
"I said, 'That's as close to a smoking gun as you're ever gonna get in a First Amendment case,'" Raskin recalls.  
He offered to take the students' case to court, but they wanted to first bring their fight to the Montgomery County Board of Education. It worked. In April 1997, the board voted 5–3 to air the episode.  
The students celebrated—and Raskin's mailbox flooded.  
The letters poured in from newspaper and yearbook staffers who believed they had been censored, and from a student who had been asked to cover up her tattoo on school grounds. Raskin realized he couldn't take all of the cases, but he noticed a trend—schools that should have been educating students on their rights were instead trampling on them. With funding from the Supreme Court Historical Society, he decided to write a book, We the Students, about the rights of students in public schools.  
Raskin had more than enough Supreme Court case law to pack between the covers, from Tinker v. Des Moines Independent Community School District, which set the standard for First Amendment rights in public schools, to West Virginia State Board of Education v. Barnette, which protects students from being forced to salute the American flag or recite the Pledge of Allegiance. He also knew students would be captivated by discussions on locker searches, drug testing, and censorship.  
But Raskin found many schools were concerned about the repercussions of educating students on their rights. He huddled with Wermiel, and together they breathed life into Marshall-Brennan. That first year, about two dozen fellows taught at eight DC public schools and the city's Oak Hill juvenile detention center. The following year, the number of participating schools doubled.   
"We thought it was important to try to convey to high school students what a court does and what the justice system is about," says Wermiel, the project's former associate director and now its faculty advisor. "We didn't want to just teach them rules, we wanted to try to have them read cases—heavily excerpted—[to] actually try to grapple with some of the justices' words and concepts." 
One benefit for high schoolers: mentorship from law students not much older than them, who, in some cases, look like them. Cruz, who was raised in a bilingual home in Jamaica, Queens, and Holmes, an Albany native who is black, teach at a school where 59 percent of students are Latinx and 35 percent are African American.  
"One of our students actually came up to us one day and he's like, 'You get it,'" Holmes says. They were talking about some new dance, and I knew the dance. And they were just laughing, because we're old to them but not that much older. But it helps just to build the connection." 
As any Marshall-Brennan fellow can attest: teaching is an art, and not every class turns out a masterpiece.  
Most come to WCL without a background in teaching. Many have volunteered with tutoring and mentorship programs, but 85 to 90 percent have no formal experience in front of a classroom prior to their fellowship, says associate director Lisa Curtis, WCL/JD '11.  
Jessica Waters, SPA/BA '98, WCL/JD '03, dean of undergraduate education and vice provost for academic student services, got into education, in part, because of her Marshall-Brennan experience. But she remembers those first days teaching constitutional law at Cardozo High School in Northwest DC as "totally terrifying."  
She learned that earning students' trust required effort and persistence, and that different backgrounds led to disparate interpretations of the law. Waters, who comes from a family of white police officers, realized that her life experiences gave her a rosier interpretation of the Fourth Amendment than that of her predominantly African American classroom.  
"I said something to the effect of, 'I was always taught, if you're in trouble, find a police officer.' And all of the kids in the class are like, 'What are you talking about? It's the opposite. You don't understand my life, whatsoever,'" she says. "They were, of course, entirely right. I learned a lot of lessons the hard way, and had to completely change my worldview in a lot of ways, which was one of the most beneficial things that ever happened to me." 
Cruz—who worked for two years with Teach for America at bilingual schools in Hartford, Connecticut—is more comfortable in the classroom than most fellows. But she was still nervous about teaching high school students for the first time. Holmes worked for Envision, an education company, and had no formal teaching experience. 
They knew they'd have to set aside a few classes to break the ice, with PowerPoint presentations about themselves (Cruz is a die-hard Yankees fan and Holmes once worked as a boxing trainer) and silly games.  
"If they're not buying in and they're not interested on day one, that can set the tone for the rest of their semester," Holmes says.  
Watch them teach and it's clear that buy-in is a two-way street. They allow occasional tangents—on Holmes's new wedding ring, traffic in New York, and rappers XXXTentacion and DJ Khaled—but always find a way to steer the conversation back to the task at hand. And their Thursday lesson is deliberately light because it's 2:30 p.m. and the kids are tired and more slouched over than they were on Tuesday morning. As a teacher, you have to find a way to keep the class on the rails.  
Striking the right balance of lighthearted chitchat and heavy case law takes time many WCL students—who are juggling classes and building resumes—simply can't invest. 
Fellows are teaching at six Washington schools this year, down from a high of 21 in 2001. Curtis says the program remains selective—but a deeper pool of civic-minded applicants is necessary for Marshall-Brennan to further its impact. And volunteerism can be a tough sell.  
 "It's about appealing to law students' sense of service, sense of duty, [and about] them not seeing it as separate from what [they're] learning, but something that's integrated," Curtis says. 
There are two schools of thought when it comes to programs like Marshall-Brennan. Some students—perhaps feeling the crunch of rising law school costs—believe that, in order to land a good job, they need to score the most prestigious internships and stay on top of their grades. There isn't time for anything else.  
Others prioritize service and community-oriented programs, and believe they round out a rigorous law school education. 
Professional development should be a focus over three years of legal study, WCL Dean Camille Nelson says—but not at the expense of the personal growth that can come from programs likes Marshall-Brennan. After students collect their diplomas, both will prove critical in the workplace.   
"This type of program allows students to connect the dots between what they're doing in the classroom [and] in the clinic with the real-world need for access to justice," she says. "It's really important to operate at that intersection, combining theory with practice and impact." 
The ability to make it all fit requires surgical time management. During her first semester of teaching, Cruz also balanced an externship in client immigration services at a nonprofit called Ayuda and a full course load, but often sacrificed sleep. This semester, she traded her Ayuda post for an internship at the American Immigration Council. Her sunshine alarm goes off at 4:55 every morning.  
Holmes supplements Marshall-Brennan with an internship at the Equal Employment Opportunity Commission. "Coffee helps," he says.  
"Public interest drift" is a known phenomenon in higher education. Students who enter law school intent on public service are increasingly steered toward the private sector as a result of economic and peer pressures. Leaning into her service commitment helped Waters land a highly competitive DC District Court clerkship with Judge Emmet Sullivan.  
Running late from Cardozo, Waters walked into her interview with Sullivan wearing a dusting of chalk on her black suit. The fashion faux pas broke the ice with the judge, an alumnus of McKinley Technology High School in the District.  
"[Marshall-Brennan] certainly impacts DC public schools. It impacts the students in the schools, it impacts the law students in terms of giving needed perspective, but then also it was a career boost," she says.  
Since 1999, more than 500 law school fellows and 10,000 students from 20 high schools in DC and Maryland's Montgomery and Prince George's Counties have participated in the Marshall-Brennan program.  
Many of the alumni will gather at a four-day event in April—which includes a symposium on constitutional law in the classroom, the national moot court competition, and an appearance by Mary Beth Tinker of Supreme Court case fame—to celebrate the program's history and the WCL professors who launched it.  
"I've got three kids in their 20s, but other than that, nothing could make me prouder than what has happened with the Marshall-Brennan Project," Raskin says. "It's a great model for what law students can do, and it's a great reflection of WCL and the public ethos it has." 
The size and scope of the program has fluctuated over two decades. But Dean Nelson wonders what will change look like—or have to look like—over the next 20 years. 
She hopes to improve Marshall-Brennan's outreach to alumni, both high schoolers and fellows, and collaborate with campus partners like the AU's School of Education and the Antiracism Center to provide a broader experience to students.  
WCL is also considering an online platform that would expand the curriculum beyond high schools and foster interaction between participants in different locations.  
The heart of Marshall-Brennan, though, has been and will always be in the classroom.  
Cruz and Holmes conclude their Tuesday lesson on stand-your-ground laws with a discussion of Marissa Alexander, a black Floridian sentenced to 20 years in prison in 2012 for aggravated assault after firing a weapon while fleeing her allegedly abusive husband. She was released three years into a sentence that many believed to be a miscarriage of justice.  
With time running out in class, Christian, a junior, raises his hand.  
"I don't understand. The stand-your-ground law applies to [George Zimmerman], the man who shot Trayvon Martin, even though he was following him," he says. "Then [Alexander] felt threatened and was using a gun to protect herself and did what the law classified. She defended herself by any means necessary . . . and then she got arrested."  
It's a well-reasoned argument, but one that Holmes and Cruz will have to pick up on Thursday. The bell rings at 10:26 a.m., and the young law students file out.  
Class dismissed.