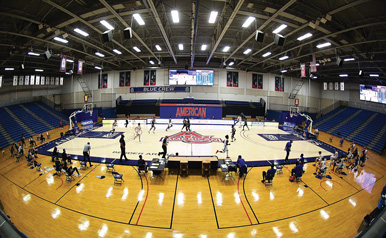 It's Saturday, January 23. Sarah Stroh, SIS/BA '15, SIS/MA '20, is at Bender Arena by 8 a.m., hoping to give AU men's basketball a clean start for its long-awaited home opener. Before the Eagles tip off against Loyola Maryland, Stroh and the facilities team will use two Clorox 360 misters and a fogging machine to sanitize locker rooms, hoops, and door handles.
But there's no need to slide out the bleachers for this fan-less affair.
Luke Bennett, SOC/BA '22, an AU swimmer and Blue Crew organizer, normally arrives 30 minutes early to stake out his spot three rows behind the AU bench. Instead of screaming from the student section, he's streaming from home in Atlanta. Season ticket holder Kevin Grasty's perch of 15 years—section 103, row C, seat 12—is also tucked out of sight. A hoops head since the '70s, Grasty, AU's assistant vice president for creative services, likes to come early to grab a hot dog, chat with friends, and decompress. Today he's tracking updates on Twitter.
When senior guard Jamir Harris, SOC/BA '21, jogs onto the court for warmups, he scans the arena for family and friends. If his dad, Laquan, makes the trip to Bender, as he did four times last season, he'll be seated near midcourt. Laquan's at home in New Jersey for this game, "a nervous wreck, regardless."
Kurtis Cross misses the fans' enthusiasm as he works the scorer's table mic. But after arriving early to practice calling starter intros and three-pointers from behind a mask, the public address announcer still projects his booming voice, keeping the environment as close to normal as possible. Play-by-play broadcaster Dan Laing, working his first AU game in 324 days, also shows no signs of rust. Despite a "hint of asthma" and foggy glasses, he calls with gusto a frenetic first half, which ends with the Eagles up, 39–34.
Like so many things amid COVID, this season looks and feels different. Pep band director Will Esterling isn't leading his Screamin' Eagles in rousing renditions of "Bang, Bang" and "Land of 1,000 Dances," synchronizing the final notes with the buzzer at the end of timeouts. Haley Mahon, SIS/BA '21, and her cheer squad aren't jumping and chanting during timeouts and showcasing their standing tumbling skills for free throws. And there's no halftime performance by the dance team, led by captain Shannon Touhey, CAS/BA '21.
Coach Mike Brennan—who has swapped his suit for a polo shirt—finds it easier to get the ref's attention, call plays, and "help the guys through each possession a little bit more" without crowd noise. But one thing remains the same: his "no nonsense" Eagles are playing with energy.
And, as Harris demonstrates, plenty of poise.
With 7.6 seconds remaining and the Eagles leading by one, the senior walks to the free-throw line while the Loyola bench chirps. "When there are no fans and it's just the other team, you can hear everything they're saying," he says.
Harris exhales and focuses. His first heave rattles in. The second is even more precise, icing a 71–70 victory.
In a season defined by imperfect circumstances, AU's first win is punctuated by a perfect swish.