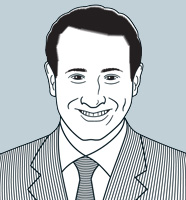 Malcolm Gladwell's book Outliers: The Story of Success offers a formula for success-being born at the right place and time and investing at least 10,000 hours in pursuit of your goal. Bram Weinstein, SOC/BA '95, always knew he wanted a career in sports. When it became painfully apparent that he didn't have a future on the soccer field or basketball court, he set his sights on describing the action rather than participating in it. A winding path took Weinstein, 41, from television to radio back to TV, and today he works for the four-letter pinnacle of sports broadcasting, ESPN, as a SportsCenter anchor.
1979-1983: The Silver Spring, Maryland, native sat in front of the TV and pretended he was announcing football and basketball games. "My parents were religious readers of the Washington Post, so I always dove right to the sports page and read box scores and stats."
1982: Began attending Washington Bullets basketball games and Capitals hockey games at the Capital Centre in Landover, Maryland.
1984: Started consistently attending Redskins football games at RFK Stadium. He's now a season ticket holder. "My neighbor's grandparents had Redskins tickets, which back then were impossible to get. I wish younger people could have experienced RFK. Regardless of how the team performed, there's no way to describe what it was like going to Redskins games there."
1990-1991: Served as assistant editor of his high school newspaper, Springbrook's Blueprint. Also worked as P.A. announcer for school basketball games.
1991: Applied to four universities, including Syracuse. Chose AU because he got a partial scholarship. "I was torn between both schools, but I loved DC. This was a way for me to stay home and go to a great communications school."
1993-1995: Played intramural basketball and coached his fraternity's flag football team. Interned at SportsTalk 980 radio station and WUSA Channel 9 in the sports department. "One of the best parts of going to AU was the internships. I was around veteran, established people in a top market."
1995: After graduation, worked at CNN as an entry-level production assistant in Washington.
1996: Landed his first on-air job in the sports department at the NBC affiliate in Hastings, Nebraska.
1999: Joined what is now ESPN 980 radio station, where he covered the Redskins for six years. Among the stories he reported was the murder of Sean Taylor, which he calls the worst he's ever had to cover.
2002: Was on the court when the University of Maryland won its only NCAA men's basketball national championship.
2006-2007: Cohosted Redskins coach Joe Gibbs's weekly radio show. "That was special for someone who grew up as a Redskins fan and admired him as the face of the team when they were at their best in the 1980s."
2008: Joined ESPN as an anchor at ESPNews. "I auditioned on the SportsCenter set, and I felt no pressure because I never thought they'd hire me. I couldn't believe they hired me. It was the opportunity of a lifetime." Moved to Connecticut with his wife and children, Alexandra, 5, and Archer, 1.
2009: Anchored his first SportsCenter. "I liked the show Entourage, and I remembered Ari Gold was wearing this sharkskin-gray suit with a black tie. I bought it because I wanted to wear that on my first actual SportsCenter."
2013: Starred in his first "This is SportsCenter" commercial with tennis legend Rafael Nadal. "I never pictured going to ESPN. But if you're going to be in sports broadcasting, you want to be in the best place. I feel like I'm playing for the Yankees."