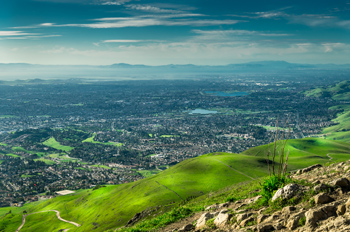 Silicon valley's tech roots stretch back to the late nineteenth century, when it emerged as a hub for the early telegraph and radio industries. Today the region, nestled in southern San Francisco Bay, is the epicenter of innovation—the birthplace of some of technology's biggest names and an incubator for thousands more consumers haven't even heard of yet.
The area is home to about 250,000 IT workers, 39 Fortune 1000 companies, and one-third of all venture capital investment in the US. Its moniker dates back to 1971, when reporter Don Hoefler chronicled the large number of companies specializing in silicon-based MOS transistors and integrated circuit chips. Silicon Valley has since weathered busts and celebrated booms, inspired  the HBO series by the same name, and made many people very wealthy. (A single share of Apple stock purchased during the initial public offering in 1980 would be worth nearly $18,000 today.)
The birthplace of VCRs and LEDs, Tesla and Uber, the iPhone and eBay, Silicon Valley is among the Wall Street Journal's "10 most influential towns in America." Slip into your favorite black turtleneck, then venture into the tech world with two of the AU Eagles who call it home.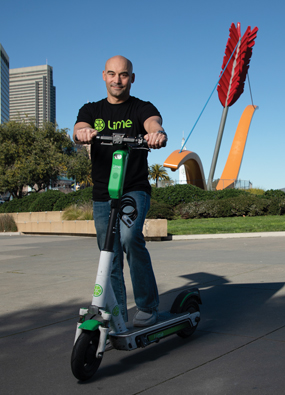 Michael Kronthal, CAS/MA '97, Head of research, Lime
Michael Kronthal is helping cities go (lime) green. 
Twice a week, he exits a Caltrain station in San Francisco, taps the Lime app on his phone, and zooms away on the nearest citrus-colored electric scooter. These mile-long rides to and from Lime's headquarters south of Market Street not only shorten Kronthal's commute from Redwood City, they also enable him to road test his company's product. In tech parlance, this is known as "dogfooding," and it's a treat for someone who has spent two decades focused on user experience. 
Since late 2019, Kronthal has served as head of research for the three-year-old dockless electric scooter unicorn, representing the customer in cross-departmental discussions, overseeing a team of researchers, and designing studies and analyzing data. Lime logged its 100 millionth ride last September and rents scooters to people in more than 30 countries on five continents. It's up to Kronthal to glean insights into their attitudes toward transportation.   
"It can be easy to just look at metrics about how the business is performing in different cities, but understanding why cities perform differently—that's the role of research," Kronthal says. "By identifying the complexity of what's going on, we can better serve customers and grow the business in a good way."
In 2000, Kronthal was working as a staff anthropologist with the Environmental Protection Agency, on rotation in the City by the Bay. He soon realized that his experience teaching biologists and chemists how to interact with laypeople could make him a valuable broker of information between engineers and product users. A year later, he made the leap to tech.
After an 11-year run at Yahoo!, Kronthal joined Twitter just a year after it went public, Uber as the sharing economy boomed, and Lime as society grapples with how micromobility can make transportation more accessible and environmentally-friendly.
"It's great to be able to work at a company where I can blend interesting questions at the forefront of software and hardware in a marketplace and, in the process, help cities become less congested and hopefully reduce pollution," he says.
One research insight at a time, Kronthal is putting two tiny wheels of change in motion.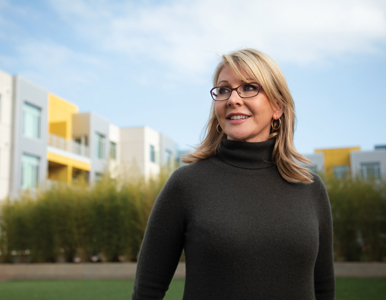 Kimberly Vogel, SPA/BA '94, executive, entrepreneur, investor, and writer
It was 1999—the peak of the dot-com boom—and Kimberly Vogel heard rumblings of an upstart company hoping to challenge Yahoo! for search engine supremacy. Vogel sent her résumé and got a call from Susan Wojcicki, then the startup's marketing manager, now the CEO of YouTube. Vogel recalls Wojcicki saying: "I have these two guys in my garage. I like them, except at night. One of them has this old Porsche, and when it backfires, it's like a gunshot."
Those two men were Larry Page and Sergey Brin, cofounders of Google. And though it seemed like they were running a goofy operation, the Google guys meant business. The tech giant's 28th ever employee, Vogel worked in public relations and later business development, where she helped devise a "Pepsi-style challenge" to show skeptical reporters how well the search engine—which included the now-famous "I'm feeling lucky" tab—worked. 
"We would say, 'Why don't you type a keyword in the search engine and then search it on Google?'" Vogel says. "We felt so confident that we thought the first result would get you exactly to what you needed." 
That's just one of the anecdotes bound for the book that Vogel, who's enrolled in a writing class at Stanford University, is penning. The memoir chronicles her difficult New Jersey childhood—Vogel's father was frequently out of work and she largely paid for AU herself—and her rise as a successful Silicon Valley tech executive. 
As CEO of Medina Medical, she raised money for a brain aneurysm treatment device. While marketing the product, she witnessed the oft-criticized Silicon Valley "bro culture," but she's also been part of a supportive network of women in technology. In 2015, Medina Medical was sold to Medtronic for $200 million.
Vogel embraces the Bay Area lifestyle, hiking in Portola Valley, sitting amongst tech innovators at Coffeebar in Menlo Park, and eating Vietnamese food at Pho Vi Hoa in Los Altos. But, even with a family and financial security, she's always wanted to work.
"It's important to me to improve myself and constantly evolve," she says. "Living here is vibrant. It's a place where you're always meeting someone interesting, who's doing something interesting."  
It takes one to know one.