Perched along the River Thames on the island of Great Britain, London is one of the world's most historic cities and also one of its most contemporarily relevant ones. 
Settled by the Romans in 43 AD, today the city and its 32 boroughs comprise the third most populous metropolitan area in Europe, with nearly 9 million people (who speak more than 300 languages). A global financial center, 75 percent of Fortune 500 companies boast a London office. And the city holds the world record as a three-time Olympic host.  
Arguably one of the greatest college towns on the planet, London harbors 40 universities and more than 400,000 students, and it is the birthplace of Led Zeppelin, the Clash, Queen, and a hundred other iconic bands. It's also home to the BBC and Buckingham Palace; Europe's tallest Ferris wheel; the world's oldest subway system, which handles 4.8 million passengers a day; and more than 3,600 pubs, where you can enjoy a pint of stout or a Beefeater gin and tonic. (If a cuppa and a scone are more your speed, London's got plenty of tea houses.)
Hop across the pond and get to know two of AU's Londoners here.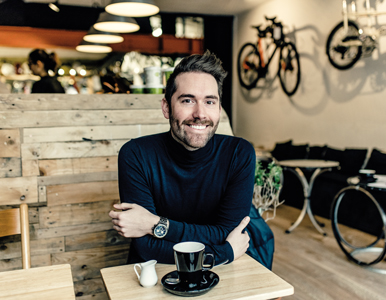 Kyle Taylor, SIS-SOC/BA '06, national campaign director, Best for Britain
Running a few minutes late for an interview, Kyle Taylor emails that he will "ring" shortly. 
A native Californian, he's picked up more than his share of Britishisms since he moved to London in 2012. 
"I take the 'lift' instead of an 'elevator,'" he says. "Instead of putting something in the 'trash,' I 'bin' it. A lot of British versions of American words are literal and action-orientated. Oh, 'orientated' instead of 'oriented'—that's another."
Taylor owns his own consulting firm, and these days he works as the national campaign director for Best for Britain, the largest anti-Brexit group in the United Kingdom. The 'organisation'—"I spell things the British way," he says, "which they would say is the correct way"—wants a meaningful vote on any Brexit deal (which could be a referendum), and it wants "No Brexit" to be an option on the ballot. 
A globetrotter who has visited more than 100 countries, Taylor spends much of his free time pushing his body to its physical limitations in the name of charity. In 2009, he completed a successful swim in the UK's Dover Harbour, a 26.2-mile journey that took nine hours in frigid, 60-degree water. His mission was to raise money for a four-year-old boy who needed prosthetic legs. He's since trekked to base camp on Mount Everest, run the London Marathon, and summited Mount Kilimanjaro twice, raising more than $20,000 for the Cure Cancer Foundation. 
Taylor has lived in China and lists Iceland, Laos, and Argentina among his favorite countries, but he's put roots down in England. 
"London feels like it's the place where the world comes together," says Taylor, whose favorite way to get around town is on his bike. "You get the best of DC and New York in one place, because it's the political, economic, and cultural center."
In fact, he's so "enamoured" with the city that he bought an apartment there three years ago. Whoops, make that a "flat."
Omar Al-Ghazzi, SIS/MA '06, professor, London School of Economics and Political Science
London's Westminster district—home of Buckingham Palace, Westminster Abbey, and Abbey Road Studios of Beatles fame—boasts another British institution, perhaps off the tourist track but no less venerable than its neighbors. The London School of Economics and Political Science (LSE) is renowned worldwide: nearly 70 percent of students hail from outside the United Kingdom, and 133 countries and more than 100 languages are represented on the urban campus in the city's center.  
Omar Al-Ghazzi, an avid traveler himself, feels right at home at LSE, where he's worked as a professor of media and communications since 2017. "[Our] students are very diverse, and that makes classroom discussions particularly rich."
Of Lebanese and Syrian parentage, Al-Ghazzi grew up in Beirut and Damascus. His first lengthy experience outside the Middle East was at AU, where he pursued a master's in international communications as a Fulbright Scholar.  
Al-Ghazzi's research interests include global communication, comparative journalism, and digital activism. His most recent work analyzes the role of digital media in the Arab uprisings, the Syrian civil war, and the seismic changes roiling the Middle East and North Africa. 
"The new media environment affects news, activism, politics, and authoritarianism. Governments across the Middle East and North Africa are trying to control the media narratives and prevent independent voices from reporting the news," Al-Ghazzi says. "Unfortunately, we are seeing this trend develop across the world."
Before he devoted his career to studying the media industry, he worked in it—first, as a New York-based reporter for Al-Hayat, a leading pan-Arab international newspaper, and later, as a BBC media analyst in the United Kingdom.
The multilingual Al-Ghazzi says the megacity, which teems with cultural and ethnic diversity, is a perfect place to teach and research international communication—and to call home. "You feel that you belong here, regardless of where you are from. Few cities around the world offer that. London is definitely one of them."