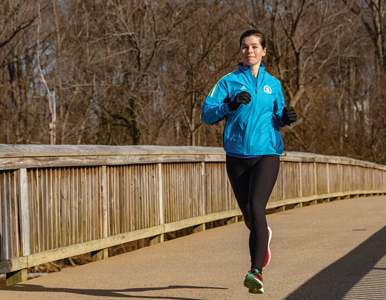 The JFK 50 Mile begins on the roadways of tiny Boonsboro, Maryland, and funnels onto the Appalachian Trail, climbing 1,172 feet in its first five-and-a-half miles. The incline serves as a warning of the mental and muscle fatigue to come.
Runners have 13 hours to conquer more than 10 road miles, a half-marathon along rocky ridge terrain, and 26 miles on the hard-packed dirt of the Chesapeake and Ohio Canal towpath. Mara Gramling needed just 8:30:20. The North Dakota native crossed the finish line 116th among 959 competitors, clobbering her personal best by four hours.
"I'm pleased with my time," she says. "It was long and hard, but I did what I wanted to do."
Gramling didn't catch the long-distance running bug until college, finishing her first marathon, Revel Rockies in Morrison, Colorado, in 2014. She has tamed 26.2 (or longer) every year since, including twice in Boston, where she ran a 3:17 in April 2019.
On November 23, 2019, Gramling laced up her Brooks Ghost running shoes and toed the start line with her husband, Joe, confident in her rigorous training regimen. She peaked at 60 miles a week, a mix of tempo runs, track workouts with the DC Road Runners, and long-distance runs to build speed and stamina. On race day, she was powered by a lightweight water backpack and a smorgasbord of salty snacks, including grilled cheese, potato chips, pretzels, Coca-Cola, and broth.
A numbers-savvy bank supervision analyst with the Federal Reserve Board, Gramling doesn't listen to music on the trails but instead calculates fractions in her head to pass the time and control her pacing. Fifty-fiftieths done, she quickly set her sights on her third World Marathon Major, the Tokyo Marathon, in March.
"I would like to beat (my marathon PR of) 3:14—hopefully by a lot," Gramling says. "I'm not trying to set my bar too high, but I think I'm capable of a lot more if I put in the time."
Just days removed from the 58th annual JFK 50 Mile, Gramling nursed blistered feet and creaky quadriceps, but was already pushed by another goal from deep within her sole.