Summer is prime scream time in America. When school lets out, millions of families flock to amusement parks, where the longest lines are for the biggest draws—the twisty, turny, speedy, shaky, and hopefully scary roller coasters.
Joseph Pudlick, SOC/MA '14, has been enamored of coasters since he conquered his first one at Waldameer Park and Water World in his hometown of Erie, Pennsylvania. Since then he's ridden more than 200—and hasn't lost his lunch once.
That experience comes in handy at Six Flags America in Bowie, Maryland, where he's marketing manager. Part of his job is to entice customers to climb aboard coasters like Apocalypse: The Last Stand, Bourbon Street Fireball, and the aptly named Roar.
"I love wooden coasters," Pudlick, 26, says. "A lot of people categorize them as rough, but I like to say they have character. My favorite coasters use terrain to build out their ride path. Geography is our best tool when we're designing an attraction and utilizing the space that we have. It makes for a more dynamic ride experience."
While Pudlick has no plans to slow down, he has changed his plan of attack at amusement parks.
"I'll ride everything once and go get something to eat and catch a show," he says. "Then maybe I'll go back for seconds."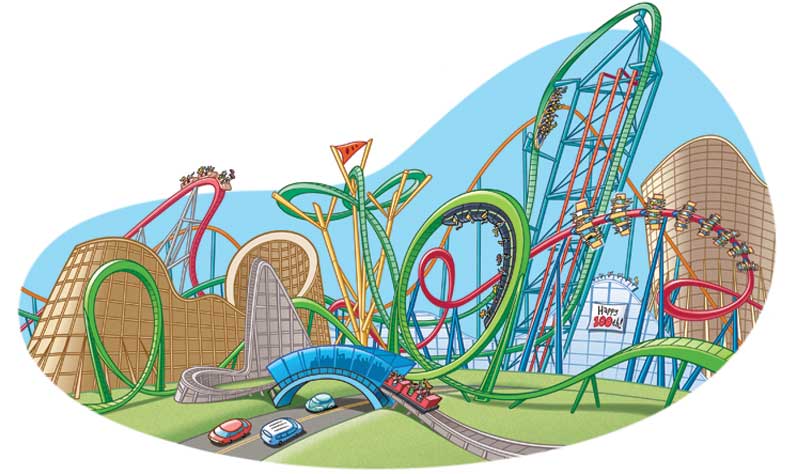 Pudlick thrills us with his favorite roller coasters:

Phoenix, Knoebels: It looks like a standard, classic wooden coaster, but once you clear the first drop you'll understand why it's a must ride.
Maverick, Cedar Point: With an initial drop of 95 degrees, you hurdle through a variety of elements and experience a 60-mile-per-hour launch.
Ravine Flyer 2, Waldameer Park and Water World: Overlooking Lake Erie, this coaster hangs off the side of a bluff and features a bridge that spans a four-lane highway.

Cheetah Hunt, Busch Gardens Tampa Bay: This triple-launch steel coaster was inspired by the fastest land animal on earth.
Mind Bender, Six Flags Over Georgia: A classic family coaster, it features the first of its vertical loops as it winds through a valley.

Goliath, Six Flags Over Georgia: No seat is needed on this 200-foot-tall hypercoaster featuring intense air time and hills.
Kingda Ka, Six Flags Great Adventure: The world's tallest and North America's fastest coaster features a height of 456 feet and speeds up to 128 miles per hour.   

The Wild One, Six Flags America: One of the oldest coasters in the world, this wooden gem is celebrating its 100th birthday this summer.

El Toro, Six Flags Great Adventure: This is one of the tallest, fastest, and most intense wooden coasters on the planet.
Superman, Six Flags America: Feel the speed as you drop 200 feet at more than 77 miles per hour.