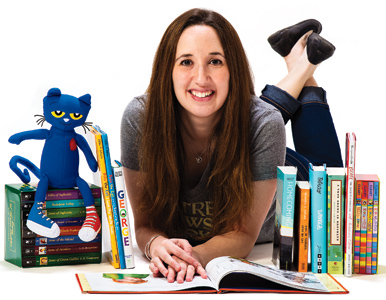 A budding bibliophile at the age of 5, Annie Lyon, CAS/MA '03, always had her sights set on a career in the stacks.

"I knew I wanted to be a librarian since I was a little girl. I loved reading and talking about books—and scanning things was a huge draw," she laughs.

Now as a children's librarian at DC's Martin Luther King Jr. Memorial Library—the city's central branch—Lyon hosts story time for toddlers and book clubs for teens; helps middle schoolers with research reports; and leads craft projects for preschoolers to commemorate such literary holidays as Beverly Cleary's 100th birthday (April 12) and the 90th anniversary of A. A. Milne's Winnie the Pooh (October 14).

Perhaps the best part of Lyon's job, however, is introducing young readers to some of her childhood favorites: Caps for Sale, Madeline, and Curious George.

"I'll always recommend the classics to kids. From Charlotte and Wilbur of Charlotte's Web to Maurice Sendak's Max, children's literature is full of characters who make indelible impressions on readers."
Lyon's favorite children's literature characters:
Anne Shirley: As a kid I harbored a secret wish to be L. M. Montgomery's Anne of Green Gables. She marries Gilbert Blythe and gets to wear that dress with the puffed sleeves! I love Anne for her prattling tongue, her ability to get into and out of scrapes, and her imagination.
Pete the Cat: The easygoing feline's mantra—"it's all good"—relaxes readers and puts life's little mishaps into purr-fect perspective. Reading one of James Dean's books has the same effect as one hour of meditation.
Melissa: Melissa is a girl who the world sees as a boy named George. Alex Gino's sweet, moving novel centers on a conflicted transgender child who isn't sure how to come out until a performance of Charlotte's Web sets everything in motion. George reminds readers that books are both windows and mirrors.
Alexander: Judith Viorst's tale of one boy's terrible, horrible, no good, very bad day taught me that it's okay to be cranky sometimes. I can relate to Alexander's frustration with life's little irritations; I still read this on no good, very bad days.
Dicey Tillerman: With quiet dignity, Dicey, the eldest daughter in Cynthia Voigt's Homecoming, leads her siblings across several states in search of their mentally disabled mother. She faces one roadblock after another but refuses to give up.
The Logan Family: Roll of Thunder, Hear My Cry is a must read for all children. The strength of the Logan family, sharecroppers in Depression-era Mississippi, ties Mildred Taylor's book together. Sassy Cassie is my favorite.
August Pullman: R. J. Palacio's Wonder lives up to its name as a charming chapter book about courage, friendship, and acceptance. Auggie is the real wonder, though, bravely facing a pack of middle schoolers who aren't always kind.
Francie Nolan: Betty Smith's A Tree Grows in Brooklyn was my first favorite "grown-up" book. Francie's love of reading opens doors for her, lifting her out of poverty. I cheered her every success.
Eloise: Much of Kay Thompson's Eloise went over my head as a child, but the adventures of the Plaza Hotel's naughtiest resident never fail to delight. Whenever I'm in New York I stop by the hotel's lobby to pay homage to Hilary Knight's painting of the perennial six-year-old.
Ramona Quimby: Beverly Cleary's Ramona has irresistible spunk and energy that invites trouble. I felt just like her as a child—we shared big mouths and worries about parent-teacher conferences. We would've been best friends.