Television & Film
Roaming Wild: Horses, Cowboys, Activists, and Controversy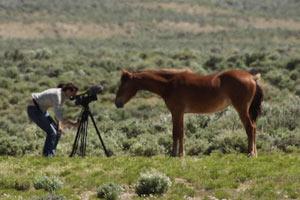 A new documentary production by a team of American University students and alumni, Roaming Wild, seeks new solutions to old problems related to wild horses. The all-female production crew is led by Sylvia Johnson, SOC/MA '06, director/producer/cinematographer, who will receive her MFA FMA in December as will Kari Barber, Assistant. Angelica Das, Center for Social Media Assistant Director received a MA in International Media in 2010; and Shelby Krick, Research Assistant, CAS/BA '12.
The group has been working on the film for over a year, and completed filming and is in post-production. They have set up a website and Facebook page and an online campaign on indiegogo.com to fund this phase, including hiring a finishing editor, graphics, color correction, sound design, and music phase. There, the team members explain what inspired them to make the film and some of the complexities they found as the process of making the film unfolded. 
From the site:
Why a documentary about wild horses? Wild horses are icons of the American West, symbols of freedom, opportunity, and our incredible wealth of natural resources. The truth is that our wild horses roam on public lands - lands managed and used by a variety of people, lands necessary for family ranchers, lands open to natural resource exploration, and lands with limited water sources. The truth is also that horses are rounded-up by the federal Bureau of Land Management, sometimes for administering birth control, sometimes for adoption, and sometimes these horses slide through the cracks and end up in slaughterhouses.
The truth is complicated.
Ranchers who make their living off the land, a disappearing way of life, are heartbroken to see horses dying of thirst in the wild. Activists are heartbroken to see horses chased by helicopters, separated from their bands, and sent to slaughter. A land management agency is charged with managing competing interests of people and wild animals. The indomitable wild horses are struggling to survive in a gritty and unforgiving landscape with ever-encroaching human neighbors. 
Roaming Wild is an opportunity to share in the beauty and resilience of these enduring animals and celebrate our entrepreneurial spirit.