Alumni
Patricia Harrison, CAS/BA '68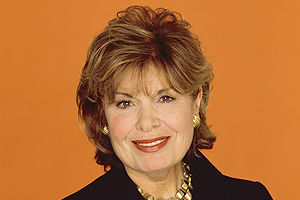 The career of the woman who occupies public broadcasting's top office was hatched four decades ago on the campus of the university that changed her life.
Patricia Harrison, president of the Corporation for Public Broadcasting (CPB), started in the business as an intern at WAMU, writing copy and learning about marketing. Her professional voyage took her into the world of public relations and government, but in 2005 she found her way back home.
"Public television and radio is the only place where you really can find programming that is not selling the viewer or listener something," she says. "It provides the time to focus on an issue in depth. We're very proud to be associated with such a powerful force of democracy."
Born and raised in Brooklyn, New York, Harrison boldly ventured away from the Big Apple borough and headed south for college.
"It caused a minor controversy in my family, because 'Why would anyone ever leave New York?'" she recalls the family asking. "But you really felt connected to something very different at AU."
In Harrison's case, that connection lasted for quite some time. While in Washington she married and had a child, which slowed her studies. She graduated with a bachelor's degree in English in 1968, 10 years after first setting foot on campus.
From that point on, Harrison hardly took her foot off the gas pedal. She started a public affairs firm with her husband, Bruce, which was ranked among the country's top-10 firms of its kind prior to its sale in 1996. In 2000, President Bush appointed her assistant secretary of state for educational and cultural affairs, a post in which she served until CPB came calling five years later.
"I found a great similarity between what I was doing in educational and cultural affairs and the mission of public broadcasting, which is to bring people together through content that elevates and doesn't denigrate," she says. "It's news beyond a sound bite."
Under Harrison's leadership, National Public Radio and public television are collaborating for the first time on coverage of the Republican and Democratic conventions.
"We will be using multiple channels, multiple platforms, new media," she says. "We want to make sure we are reaching everyone who wants to know about the political process."
Despite the changing media landscape, Harrison believes the future is bright for public broadcasting, which she feels is a unique American entity.
"PBS is still ranked as one of the most trusted institutions in America," she says. "I want to see public television and radio utilized across all platforms and to be more participatory toward people formerly known as the audience. They want to create content and be part of the process. It's a whole new exciting age made possible by technology that's getting cheaper. I'm looking forward to nurturing a whole new generation of filmmakers and broadcasters."