Arts
Audio Tech Debuts New, State-of-the-Art Studio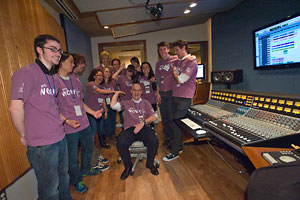 The Kreeger Building was alive with sounds of music, April 1, during the grand opening of American University's audio technology studios.
Located in the Kreeger terrace, the state-of-the-art space — home to 70 students and six faculty  — features three recording rooms, mixing and post-production suites, and a digital audio room.
"We're very proud to give a first-rate program a first-rate home," said President Neil Kerwin during the ribbon cutting festivities. In the studio, "students and faculty have a facility that's worthy of their talent."
Peter Starr, dean of the College of Arts and Sciences, noted that the program, once part of the Computer Science, Audio Technology, and Physics Department, has come a long way since its inception in 1978.
Once housed in a physics lab in the basement of McKinley, audio tech students worked with jerry-rigged equipment, nestled between chemical wash basins. In 2004, the program got a dedicated classroom and — four years later — an infestation of palmetto bugs and mice.
"Life in ATEC has gone uphill rather markedly since then," laughed Starr, as he welcomed about 100 guests to the pristine, new studios.
During the grand opening, faculty, staff, students, and alumni — all with VIP, all-access passes around their necks — browsed the facilities, taking in all the bells and whistles. Professor William Brent demonstrated the interactive synthesizers, while John Geraghty, CAS/BA '11, mixed a song in the mixing suite.
The highlight of the evening was a performance by The Dean's Band in the main studio. The group featured Starr on guitar; James Merrifield, CAS director of facilities administration and information systems, on drums; Matt Boerum, computer and audio technician and adjunct faculty member, on bass; and Jack Rasmussen, director of the AU Museum, on vocals.
Kicking off their set with Secret Agent Man, the group treated the crowd to covers by the Rolling Stones and Chuck Berry.
The new audio tech studio comes as interest in the program continues to crescendo. Audio tech has seen a 15 percent increase in enrollment over each of the last two years.